Rava Upma, Simple South Indian Breakfast Secret Recipe👌
Restaurant Style Soft Fluffy Upma Recipe with no onion or Garlic, Quick & Simple Indian Breakfast Recipe. Secret Recipe For Perfect Upma and Coconut Chutney. Learn how to make the easiest and healthiest Tamil Style Rava Upma recipe with step-by-step pictures. Rava Upma serves a quick & healthy breakfast or dinner!
This simple Home style Rava Upma has vegetables. In our family, we don't even add onions in this recipe. It is just tempered with the regular South Indian spices of mustard, & chana dals. The main flavoring comes from finely chopped green chillies, finely chopped ginger and fresh curry leaves.
What is Rava Upma?
Rava Upma is nothing but Semolina Poridge. Rava is nothing but sooji, semolina in english. The semolina is cooked with vegetables and tempering. Some people prefer it sticy and some like fluffy and non sticky. But both versions are too good in taste. Actually Upma is an excellent food choice for weight loss as it digests slowly and also gives you a feeling of fullness. It also has the goodness of vitamins and minerals, making it a nutrient-packed meal. Thus, you can have upma for weight loss in many different forms.
Different Forms of Upma:
Arisi Upma made with Broken Rice, Millet Upma recipe, Tomato Rava Upma(Tomato Bath), Gothumai Rava Upma
Secrets of Perfect Rava Upma?
Use Good Quality Rava(Bombay Rava) also depending on how you roast the Rava. If the Rava is roasted on low flame, the rava upma comes out with a nice texture and taste.
The dal must be roasted nicely so that a little crunchiness stays even after cooking and tickles the palate. you can add roasted cashews too
Add a tsp ghee while boiling the water it give nice texture to upma.
Cook vegetables 80 % so that you will get the crunchiness.
Add some oil at the end to make the rava upma soft for a long time.
Ingredients and Ratio of Rava Upma:
The ratio I usually add 3 parts of water for 1 part of rava. Today I used 1/2 cup of Rava and Added 1 &1/2 cups of Water. With this ratio, you will get a little sticky Upma-like vazhu vazhu texture that we get in restaurants. If you want a little grainy you can reduce 1/4 cup water.
1/2 cup rava
1 & 1/2 cup water
1 tbsp + 1tsp oil
1/2 tsp mustard seeds,
1/2 tsp chana dal
1 green chili chopped,
1/2 tsp ginger finely chopped,
1/2 cup carrot & beans chopped
1 tsp ghee
1 tsp salt
Rava Upma Preparation:
Take 1/2 cup sooji(Bombay rava) dry roast, till you get a nice aroma & keep it aside. 
Heat 1 tbsp oil, add 1/2 tsp mustard seeds, 1/2 tsp chana dal, let it sputter, and chana dal should turn golden.
Add 1 green chili chopped, 1/2 tsp ginger finely chopped, carrot & beans.
Add 1 and ½ cups water, salt + 1 tsp ghee and mix well. Water should come to a rolling boil.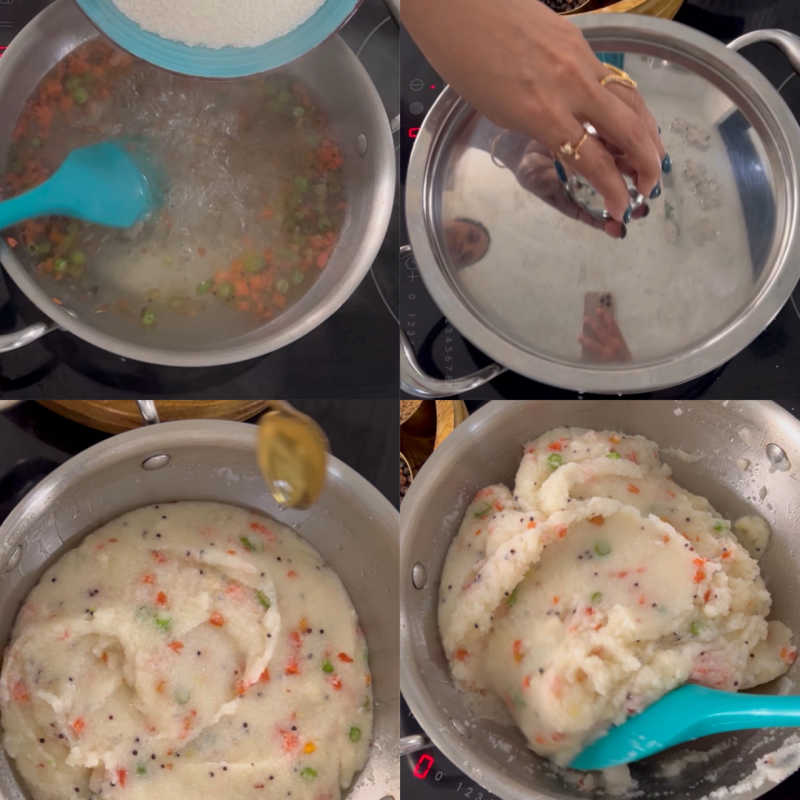 Now add roasted rava little by little and mix well.
Cover and cook, till the water is absorbed.
Add 1/2 tsp oil. Give a quick mix. Switch off. Keep covered for 5 mins.
Rava upma ready!
do try this yummy upma and here you go some chutney, Coconut chutney recipe.
If you are a fan of Rava Umpa or Kichadi do check out these recipes,  Broken wheat Rava kitchadi, Buckwheat kichadi recipe, Sadudana Kichadi, Semiya Kichadi Recipe.
More Saravana Bhavan Style recipes, Saravana Bhavan Mini Meals, Saravana Bhavan Style Bisi Bele Bath, Saravana Bhavan style Kara Kuzhambu, Kara Dosai, Paneer Masala Dosai, Saravana Bhavan Veg Kurma, these are some Saravana Bhavan Special dishes which I shared. Do try and let me know your feedback!
Hope this post will help you to make Perfect Upma at Home. If you have any Doubts about making upma or If you want any specific recipes you can email me at cpremas79@gmail.com. Do Follow me on Instagram for more Recent updates and every cooking recipe video
Do share your thoughts with me, Also tag our page on Instagram @premasculinary with hashtag it on #premasculinary
Thanks & Have a Good Day! 😉Enjoy Cooking and Mindful Eating!