How to make Desi Ghee, BUTTER, and BUTTERMILK at Home, from Malai(Homemade Ghee)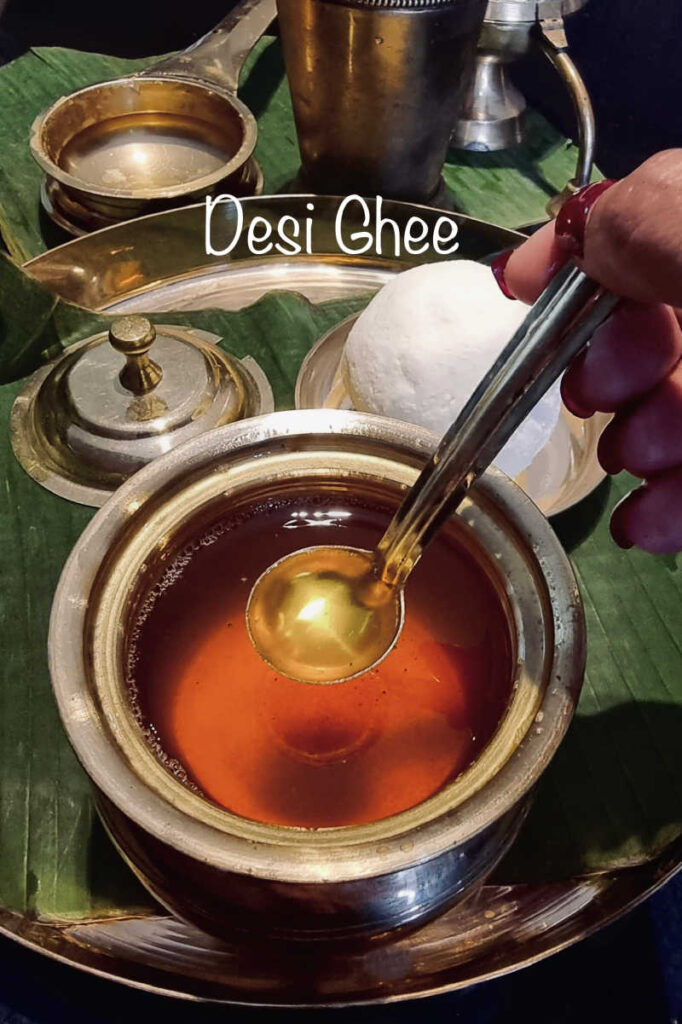 How to make Desi Ghee(Nei) from Malai? Making Ghee from Scratch is therapeutic agree? While making the ghee the whole house smells divine. The dashing of murungai keerai at the final stage takes the ghee to a vera level. Yeah, it's not a one-day process collecting malai every day, and making ghee is quite a tedious job, but worth our time and energy! You can check my post on how to make Ghee from malai with step-by-step photos and Videos which is posted long back. Today I want to share tips to collect more malai and the procedure of making ghee in a proper way, ALSO STEPS TO MAKE BUTTER, CHAS AT HOME!
The most beautiful thing in Malaysia is everything you will get in fresh! The Milk Wala comes to our doorstep with fresh cow milk every day, the milk is so fresh and creamy with foam on top you can see in the PIC. We can make Curd, and butter everything at home. The best part is that they don't use the plastic container we can give them our own bottles or container, or they will give in bottles. I used to keep a sombu(Brass container) just near the grill gate, every day at 7 am, they pour the milk on that and ring the bell and go. If you see the milk it looks frothy and creamy!
How do I collect Malai?
I used to buy milk only half a liter every day because I and Arvind will not have coffee or tea with milk only for making curd I buy milk. If I need more milk, I will tell them a day before they will bring it. Every day morning I boil the milk and keep it in the fridge by night the malai will get separated on top. I remove the malai and make curd with the milk. Even though we remove the malai the curd is still thick and creamy. Keeping milk in the fridge and collecting malai you will get more malai. This is the Secret I follow to collect malai.
If you are looking for more Short procedures for making ghee check this post, How to make Ghee using Amul butter, Ghee from Malai
STEP-BY-STEP PROCEDURE FOR MAKING BUTTER & Butter Milk:
STEP:1 Take fresh ½ liter of cow milk or any full cream milk, and boil it well. Keep stirring and it foams and Forthy on the top. Do this on low to medium flame not on high flame. Once it becomes thick and well boiled switch off the stove.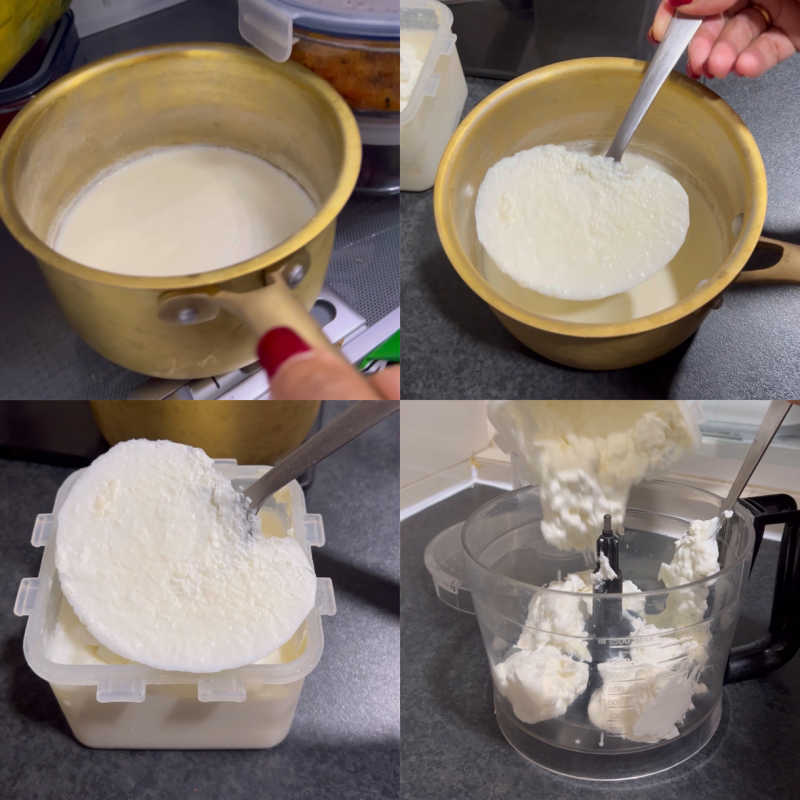 STEP:2 Cool down completely and keep in the fridge overnight(or 5 hours minimum) and the next day collect the malai from the top. Repeat this step for 7 to 10 days and you will get approximately 300g of malai. If you are collecting malai for more than 10 days you need to refrigerate it otherwise it will spoil. Before making ghee, bring it to room temperature. Now transfer the collected malai into a processor or you can do it in a mixie too. add a cup of cold water.
STEP:3 Start blending with high speed for 3 mins and then to low for 3 mins. After 6 mins the mixture becomes thick(if mixie struck in between you can add cold water and again start blending). In 5 to 7 mins the butter gets separated and you can see the water on the sides(use cold water then only the water gets separated). Drain the butter in a stainer, the collected water is buttermilk.
STEP:4 This buttermilk you can drink or you can use for cooking. Now butter is collected and it is ready to use. You can keep it at room temperature for up to days. Store Butter in the Fridge for up to 10 days. For more than 10 days you need to refrigerate. Let's Melt the butter and make Ghee.
STEP-BY-STEP PROCEDURE FOR MAKING BUTTER & Butter Milk: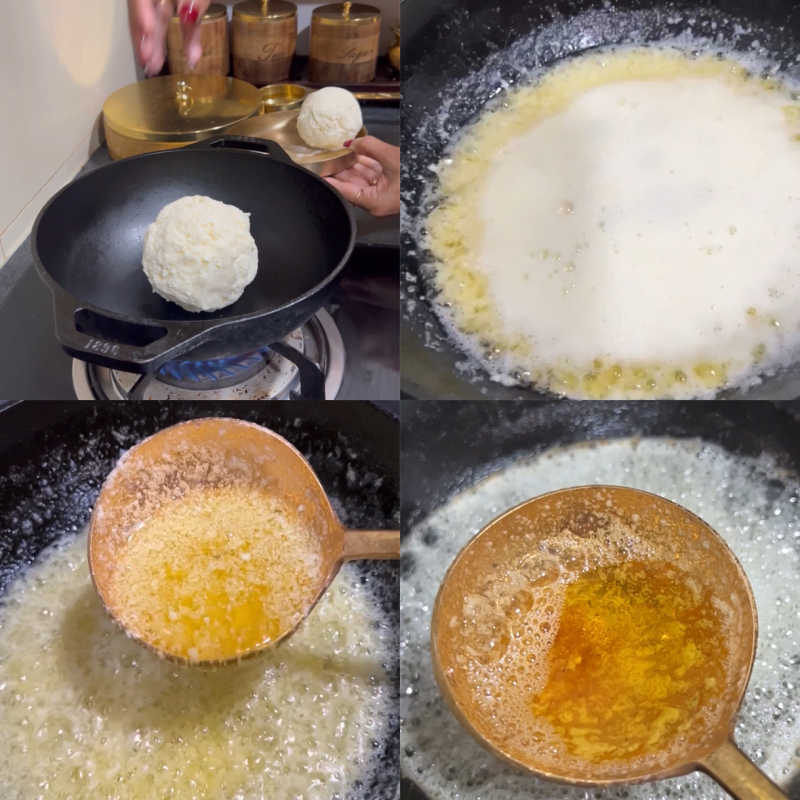 STEP:1 Into a heavy-bottomed kadai, melt the butter on low flame, it will start foaming and in 5 mins the ghee turns clear and golden. 
STEP:2 Finally add Murungai(drumstick leaves) Keerai or vetrilai(betel leaves) for flavor (optional), the ghee is now ready!
TIPS FOR MAKING BUTTER, GHEE PERFECTLY WITHOUT FAIL:
Keep the boiled milk in the fridge overnight and collect malai the next day you will get more malai.
Malai should be cold while blending. Use cold water for both blending and washing the butter.
washing butter in cold water helps the ghee longer shelf life.
melt the butter on low to medium flame otherwise, the down part will burn.
At each and every stage we need to keep stirring the ghee continuously then only we will have a clear golden color ghee.