Murungai Keerai Adai Recipe, Instant Adai Recipe with Drumstick Leaves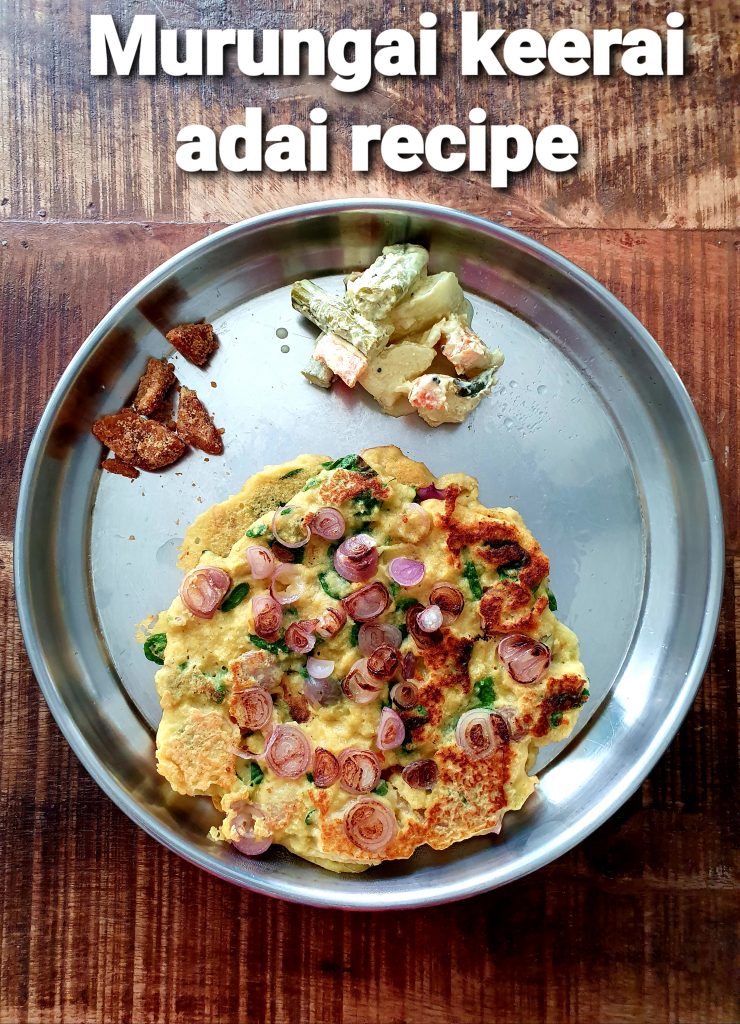 Murungai Keerai Adai Recipe is an Instant & easy protein-packed and nutritious breakfast from TamilNadu cuisine. Murungai Keerai Adai Recipe requires only a few ingredients. This drumstick leaves Adai is a savior for women, as this batter can be easily ground in mixie within few minutes. Unlike Idli batter, it requires no fermentation and so it can be prepared instantly. I have added a hand full of Murungai Keerai and Chinna Vengaya to make it super nutritious. Do follow me @premasculinary on INSTAGRAM for more healthy breakfast ideas.
A quick recap of Murungai Keerai Adai recipe, Soak rice and dal at least for 3 hours so that it can be able to grind nicely. grind the soaked dal and rice separately. Take it a bowl add the salt, handfull Murungai Keerai, Hing, and turmeric powder. mix well. Take a ladle full of Adai Maavu and make Adai. Delicious Golden brown Murungai Keerai Adai is ready to serve 🙂
I ground the Adai Maavu in my ultra grinder, you can grind it in the mixie also. I topped some diced shallots on to make it more nutritious Breakfast.
Few more Interesting Breakfast Recipes like Stuffed idli, Cheese Dosai, Kara Dosai, Kari Dosai, Vendhaya Dosai, Mysore Masala Dosai, Paneer Dosai.
Watch a Short YouTube Video on Murungai Keerai Adai Recipe,
Murungai Keerai Adai Recipe Recipe Card:
Murungai Keerai Adai Recipe, Instant Adai Recipe with Drumstick Leaves
Murungai Keerai Adai Recipe, Easy Drumstick Leaves adai recipe with a short video.
Author:
Premalatha Aravindhan
Ingredients
½ cup Idli Rice/இட்லி அரிசி
½ Cup Raw Rice/பச்ச அரிசி
½ Cup Channa Dal/கடலை பருப்பு
½ cup Toor Dal/துவரம் பருப்பு
¼ Cup Moong Dal/பாசி பருப்பு
¼ cup Urad Dal/உளுத்தம் பருப்பு
10 Red Chilli/சிகப்பு மிளகாய்
1 tsp Fennel Seeds/சோம்பு
¼ tsp Turmeric Powder/மஞ்சள் தூள்
¼ tsp Hing/பெருங்காய தூள்
1 Cup Shallots / Small Onion/சிறிய வெங்காயம்
3 tbsp Coriander Leaves/கொத்துமல்லி தழை
Oil (To make Adai)/எண்ணெய்
Salt As Required/தேவைக்கேற்ப உப்பு
Instructions
Pre-Preparation, Soak raw rice, idli rice in one bowl with chilies and fennel seeds & Toor dal and channa dal, moong dal and urad dal in a separate bowl.
Pour enough water and soak for a minimum of 3 hours.
Rinse well and drain the water completely. To a wet grinder or mixer, add the soaked rice and dal.
Grind it to a coarse paste and the batter should be little thicker than the usual dosa batter consistency.
Transfer the batter to a vessel, add hing, turmeric powder, salt, shallots, and handfull murungai keerai.
mix everything well.
Heat a dosa tawa, pour a ladle of adai batter in the center and spread it. Add diced shallots on top, sprinkle oil all over the adai and cook in low flame for 2 minutes. Then flip it to the other side and cook for another 2 minutes till it to golden color.
Do the same with the remaining batter.
Enjoy this Adai dosa recipe with Avail or simply with jaggery.
Notes
1. soak rice and dal separately and grind it together.
2. soaking time least 3 hours not less than that.
3. adjust the salt and spice according to your taste.
4. we can use the batter immediately no need to ferment.
5. we can refrigerate and use the batter for 2 to 3 days.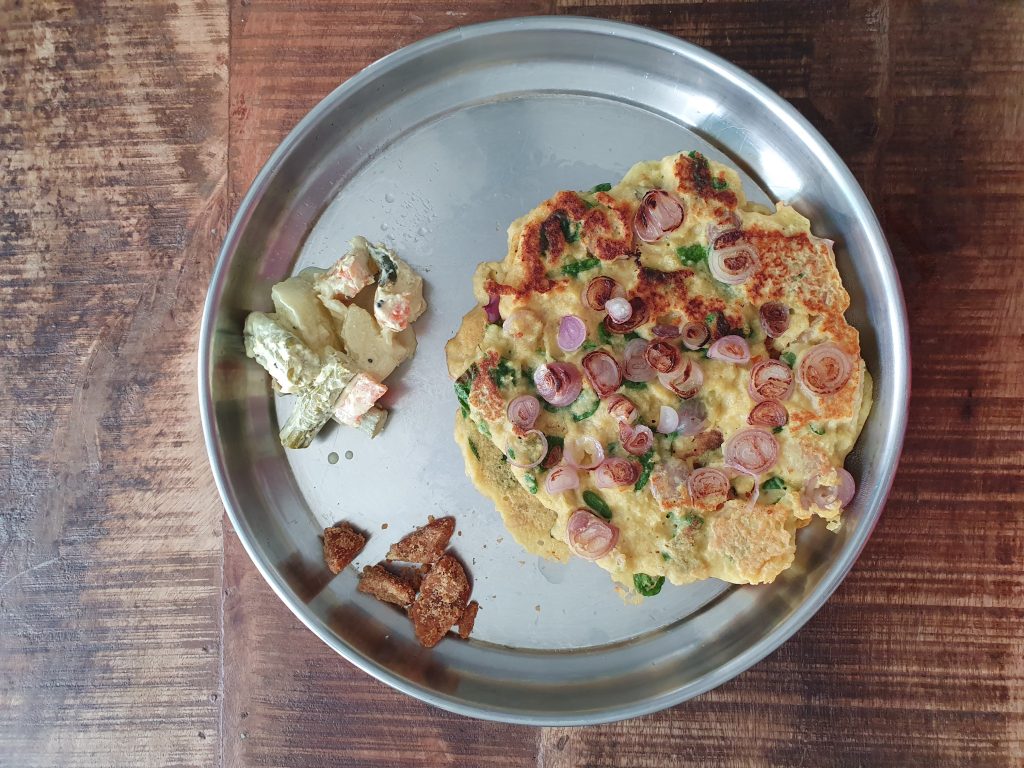 Enjoy the Murungai keerai Adai (drumstick Leaves Adai) with Aviyal and Jaggery.
Connect with us:
Facebook: https://www.facebook.com/premasculinary
Twitter: https://twitter.com/cpremas79
Google+: https://plus.google.com/1099143202344…
Read our Recipe Blog: www.premascook.com
Subscribe to our channel: http://www.youtube.com/subscription_c…