Saravana Bhavan Mini Meals, How to make South Indian Mini Means at Home
Saravana Bhavan Mini meals Recipe, How to make Saravana Bhavan Minis Meals at home quick and Easily at Home. How to make South Indian Mini Meals at home effortlessly without any Pre Preps or Planning. This post will help you to prepare a good feast for your guest or if any special occasion like Birthday, Anniversary we can prepare this type of mini-meals at home. Let's See how I made Saravana Bhavan Mini Meals at home.
Saravana Bhavan Style Bisi Bele Bath, Saravana Bhavan style Kara Kuzhambu, Kara Dosai, Paneer Masala Dosai, Saravana Bhavan Veg Kurma, these are some Saravana Bhavan Special dishes which I tried and shared the recipes among my readers.
Last Friday I made this SARAVANA BHAVAN STYLE MINI MEALS at home. We used to have lunch outside on Fridays which is the weekend for us. Since the Climate is too hot. We don't have the mood to go out for lunch. So made it at home. Whenever we visit Saravana Bhavan I used to order Mini Meals, me and Akshu share the mini-meals because Akshu's favorite is curd rice and potato. We both share and have mini-meals. The quantity is just enough for both of us. It's been a long time I was thinking to make a similar mini-meal at home. I just checked the Saravana Bhavan Lunch Menu,
This Saravana Bhavan Mini Meals Menu source Googled, I just Planned a Similar Menu, My menu below,
Sweet of the Day – Kesari
Chapathi/Poori – Chapathi
Dish of the Day – Potato fry
Bisibellabath
Bagalabath
Rice of the Day – Veg Biryani
Appalam, Pickle, Mor milagai
SARAVANA BHAVAN MINI MEALS SHORT VIDEO,
How I made this Saravana Bhavan Mini Meals,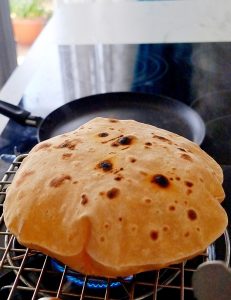 First I have started with making the Chapathi dough because the drought needs the resting time and also we make Chapathi at the serving time so I made the dough first and then I covered the dough with a cloth and rest it. If you want to learn How to make Soft Chapathi or Phulka at Home You can click this link for Chapathi/Phulka Recipe, It's a video recipe I have shared the tips and tricks to make Soft Chapathi. If you want to make Poori, you can follow this link for Poori Recipe.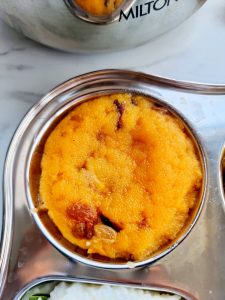 The second Item is Prepared Kesari, Mostly Saravana Bhavan Serve Pineapple Kesari or some time Sakkarai Pongal, so I made simple and quick Kesari. To make Perfect Kesari Measurement is very important, even though how many times we made the dish still need the measure the ingredients and use, to avoid a flop. Tips and tricks to make Perfect Kesari recipe, click this link if you want to make perfect Kesari at home.
After Kesari, I pressure-cooked the rice for BAGALABATH that is curd rice, and Potato for Potato fry. Both I pressure cooked in Instant Pot PIP(POT IN POT METHOD), it's very helpful within 10 mins the rice and potato cooked ready.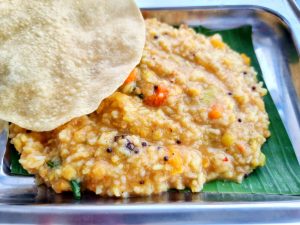 While the rice and Potato Cooking Time I Made Bisi Bella Bath, I just added vegetables, rice, and dal in a Pressure cooker, Pressure cooked, and then I had tamarind paste handy so just added 2 tsp and then Homemade Bisi Bella bath Powder, mixed everything.
At the same time, I made tadaka for Bisi Bella bath and curd rice. Added the tadka to the bisi Bella bath it is ready now.
Here is the Bisi Bella bath Recipe, Homemade Bisi Bella Bath Masala Recipe, How to make Tamarind Paste on Instant Pot recipes.
Added the tadka to the curd rice and little salt + curd, The Curd rice is also ready. How to make a Curd rice recipe.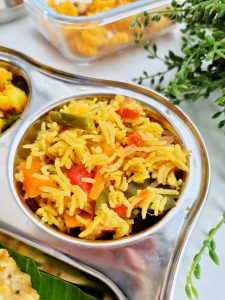 Next is simple Veg biryani, made in kadai. Very simple biryani within 10 mins I made it. Vegetable Biryani recipe.
Next is Potato fry Here is the Potato fry recipe.
Fried the Appalam, Mor Milagai. Pickle already was there I used it.
Finally made Chapathi and served.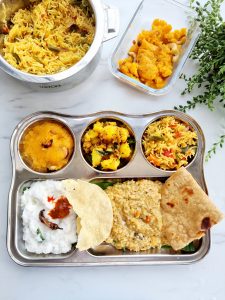 Hope you like this Post, Do try similar meals, and enjoy!
Have a Good Day Makkale!!!