Brussel sprouts pepper masala, South Indian Style Brussel Sprouts Recipe
Brussel Sprouts are toss in South Indian Style freshly ground Pepper Masala with step by step pictures and instructions. If you are a Spicy lover then go ahead with this Brussel Sprouts Pepper Masala. It goes well with Rasam, Sambar and simple with steamed rice. Unlike the usual pepper masala this is something very flavour with crunchy vegetable. Once you try this recipe you make this again and again at home. Today I made Thakkali Kurma we call it as thakkali soup goes well with rice. Its very simple less spicy kurma so I paired Spicy Brussel Sprout pepper masala. Both are yummy combo do try this.
More Masala Collection at www.premascook.com Chettinad Cauliflower Pepper Masala, Mushroom Pepper Masala, Kovakkai Masala, Mushroom masala.
Brussels sprouts are the same species as cabbage, cauliflower, kale, broccoli, and kohlrabi. Brussels sprouts are high in fiber, vitamins, minerals, and antioxidants, making them a nutritious addition to your diet. Usually we make Brussels sprouts salad or roast it with garlic and olive oil + salt in Tawa. This is something like south indian style very spicy and flavourful masala.
Step by step Brussel sprouts pepper masala recipe,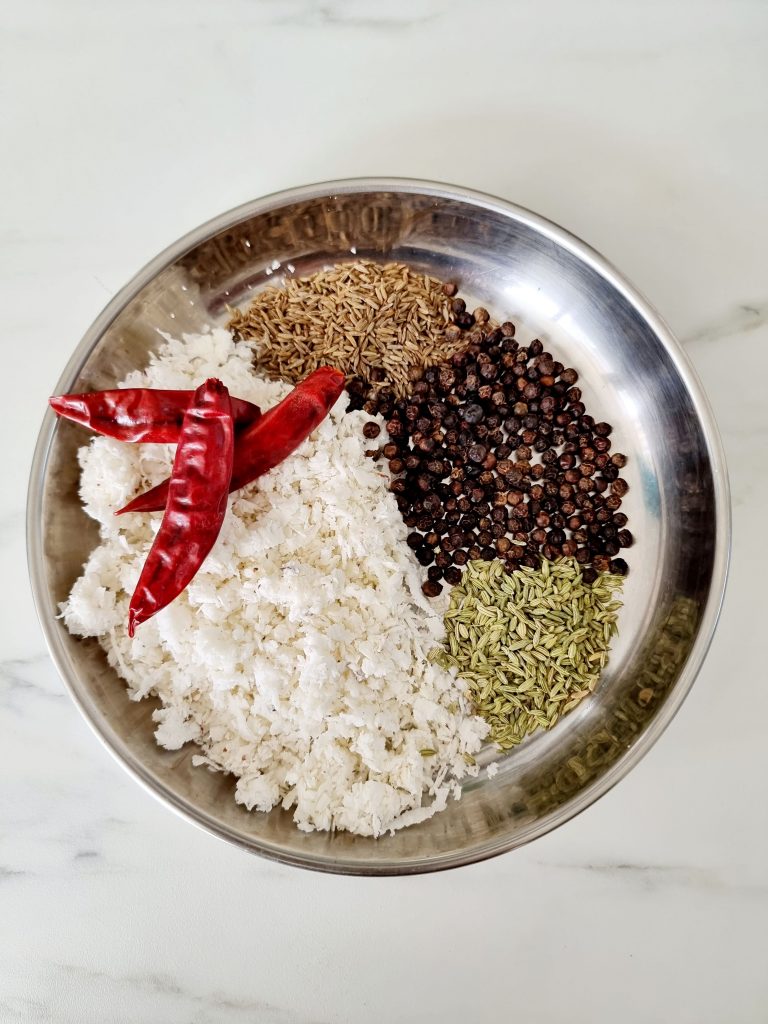 Today I took 500 grams of Brussel sprouts which is more quantity. so sharing the masala for the same. If you taking less vegetables adjust accordingly. Take 1/2 cup of freshly grated coconut, 1.5 tsp pepper, 1 tsp cumin seeds, 1 tsp fennel seeds, 3 to 5 dried red chilies(adjust according to your spice level). These Pepper masala ingredients.
Heat a pan with a tsp oil, roast all the Masala ingredients in low flame without burning them. Let it cool down for sometime and then transfer it to a mixie jar. grind it to a little coarse paste along with 1/2 cup of water.
Heat a kadai add 2 tbsp oil, add 2 finley chopped onion and saute well till it turn golden.
Add the Brussel sprouts, salt and toss well, for 3 mins along with the roasted onions. Now add in the freshly ground pepper masala. saute well. Dont add water, just cover and cook for 3 to 4 mins in medium flame. The vegetables should not be fully cooked. Just cook for 3 to 4 mins till the raw smell of the pepper goes off. We need crunchy brussel sprouts. Once cooked switch off the stove that's it Brussel Sprout Pepper masala is ready to serve.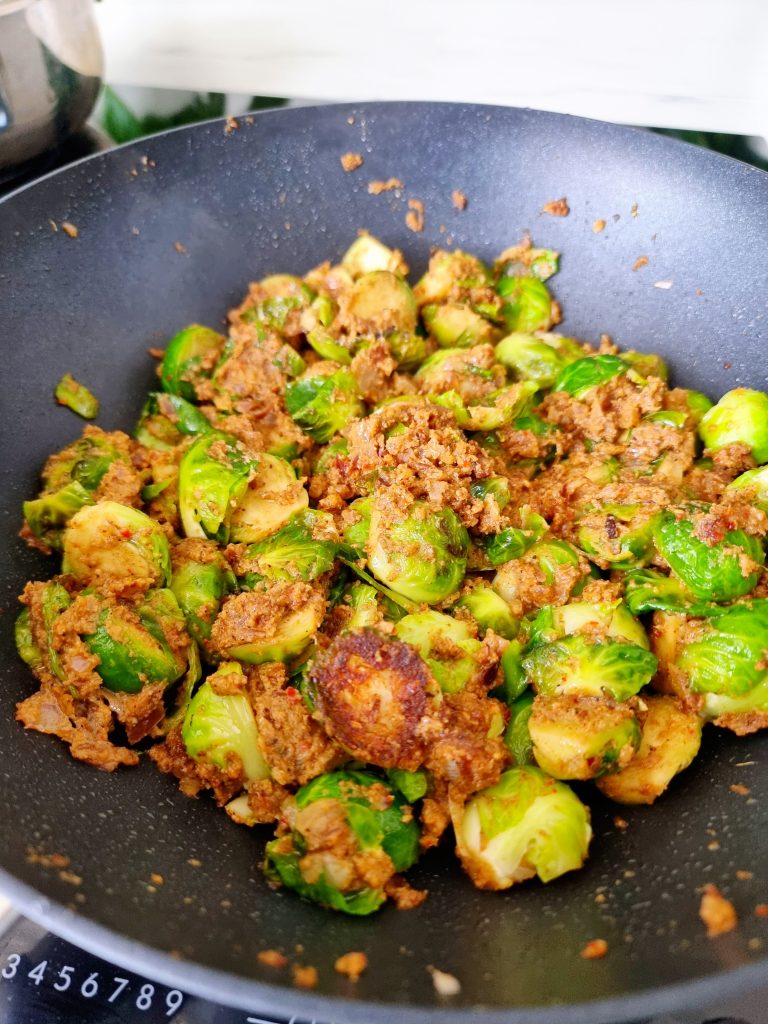 Look at the golden roasted Brussel sprouts, it is too good with simple rasam sadam or you can have it with rice.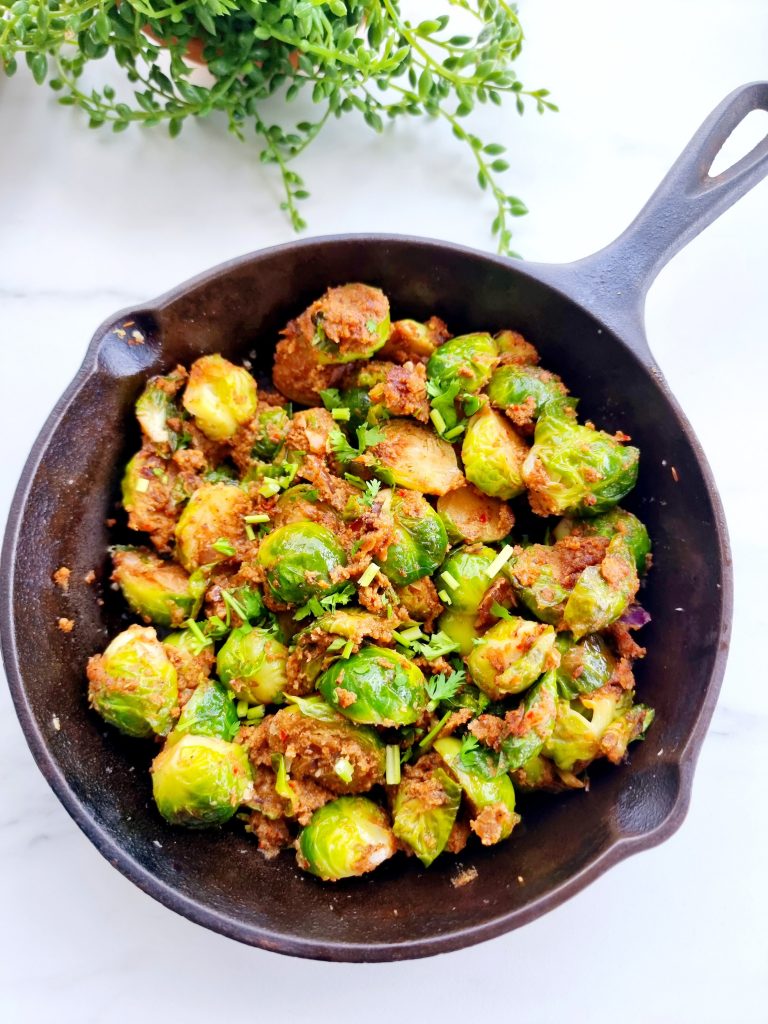 Do try this delicious Brussel sprouts pepper masala recipe and let me know your Feedback!!!
Happy Sunday Makkale!!!