Vellai Kurma Recipe, Instant White Kurma without Vegetables(Plain Parotta Kurma)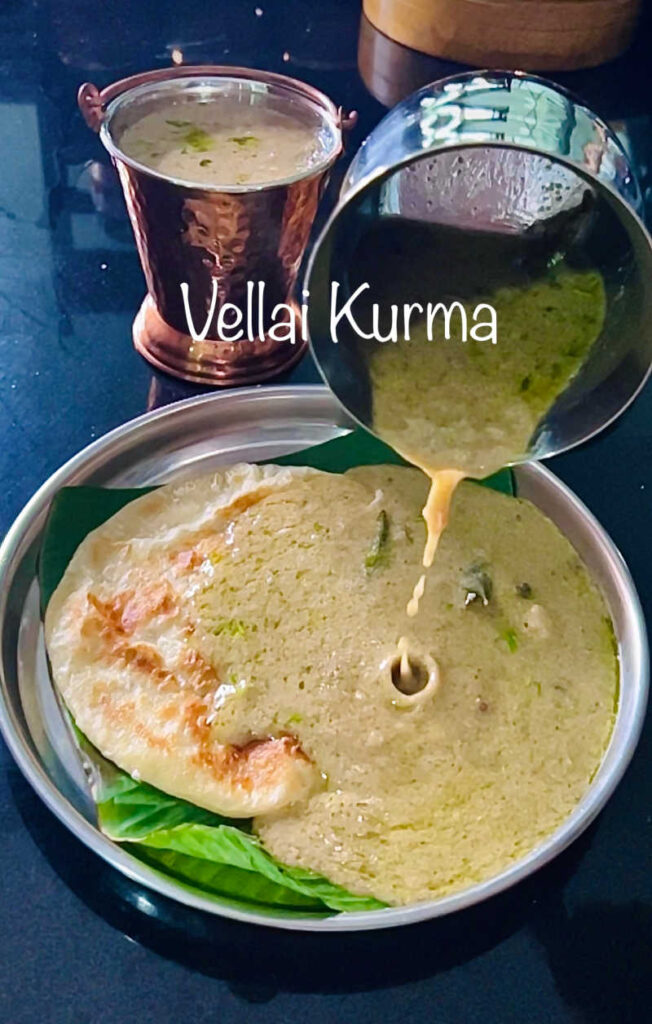 White Kurma is known as Vellai Kurma(plain kurma) in Tamil without any vegetables or tomatoes used poppy seeds. Saravana Bhavan Parotta Kurma is a very famous dam-hit recipe of mine🤗🤗. Next to that, I have shared many kurma recipes, but this kurma is something special in Thanjavur. Shanthi Parotta Kadai located in Kelavasal Thanjavur is very famous for this white kurma. It has no tomato or any other vegetables, just plain kurma. It tastes excellent with parotta. 40 yrs old Shanti Parotta shop sells only parotta, idiyappam & idli. All three dishes have only one side dish, this Vellai kurma.
We may think that kurma tastes bland since it is white in color, but it is very spicy because they use green chilies. Pottu kadalai + Kasa kasa are the secret ingredients that add taste to the kurma. Must Try Kurma Recipe! More Delicious Kurma Recipes like, Turnip Kurma Recipe is also one very simple and easy recipe for Parotta Kurma. Looking for a homemade Parotta Recipe here is the Border Parotta recipe, Koththu Parotta recipe. A Green Kurma recipe called Neelagiri Kurma goes well with idiyappam.
What is vellai Kurma?
Basically, Kurma or Korma is a delicious South Indian coconut-based dish made with whole spices, ground spices, coconut, and herbs. But it is also spelled as Khurma or Kurma and is considered one of the less spicy versions of curry. It purportedly originated in Persia and was brought into India by the Mughal Empire in the sixteenth century(History says 🤣🤣). White kurma we Tamilians call vellai kurma since it looks white in color, made with kush (poppy seeds) which gives a creamy texture to the kurma.
Youtube video of making vellai kurma(white Kurma recipe):
White Kurma Ingredients List:
3/4 cup grated coconut take white part only,

1 tsp kush kush(instead of kush kush you can use 5 Cashews)

Whole spices like (1-inch cinnamon, 2 cloves, 3 cardamom, 3 black stone flowers)

3 garlic cloves, 1-inch ginger & 3 shallots,

5 to 7 green chilies

2 tsp roasted chana dal(Pottukadalai)

1/2 cup water for grinding + 2 cups water for Making Kurma

2 tbsp oil

1-inch cinnamon, 2 cloves,2 cardamom & Bay leaf

2 finely chopped onions,

curry leaves,

1.5 salt
STEP-BY-STEP WHITE KURMA RECIPE:
Heat a pan add 1 tsp poppy seeds roast it for 2 mins and then add 1-inch cinnamon, 2 cloves, 3 cardamom, 3 black stone flowers, add 3 garlic cloves, 1-inch ginger & 3 shallots, and roast well. Keep the stove on low flame.
Add ¾ cup of coconut, 5 green chilies, and 2 tsp roasted chana dal(Pottukadalai) roast for 2 mins and then switch off.
Transfer them to the mixie jar, add ½ cup of water, and grind it to a coarse paste. 
Heat a pressure cooker, add 2 tbsp oil, add 1-inch cinnamon, 2 cloves,2 cardamoms & Bay leaf, add 2 finely chopped onions, curry leaves, and salt, and saute well. 
Once the onion becomes soft, add the ground coconut paste. cook well till the oil gets separated.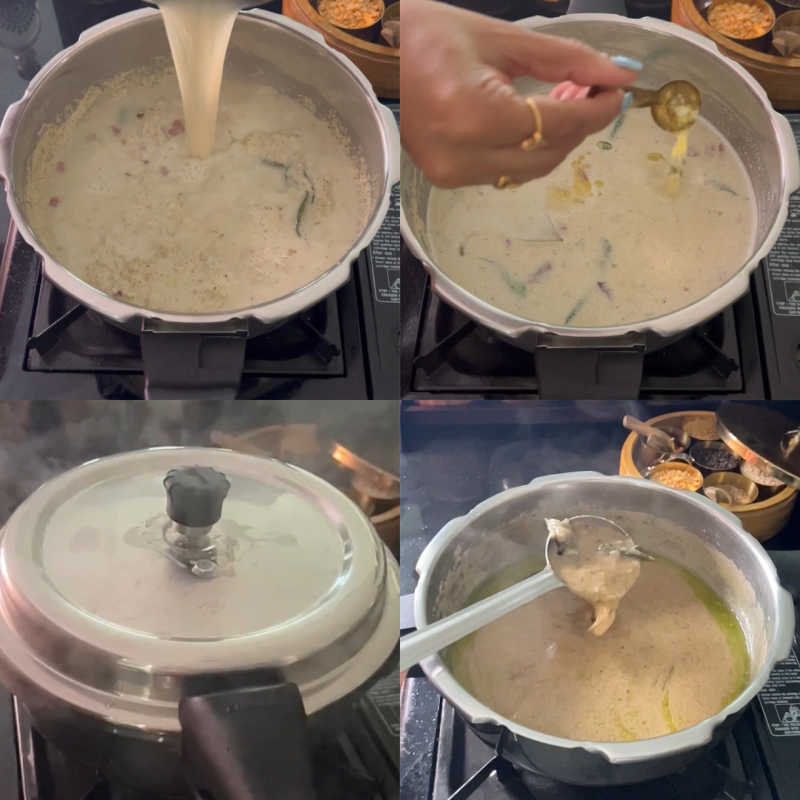 Add 2 cups of water, and 1 tsp ghee cover and cook for 2 whistles, that's it very flavourful and delicious kurma is ready to serve!
More Kurma recipe collections you may like to try Amma's Thakkali Kurma Recipe,  Kondakkadali Kurma Recipe, Navratna Kurma Recipe
Hope this post will help you to make tasty kurma at Home. If you have any Doubts about making vellai kurma or If you want any specific recipes you can email me at cpremas79@gmail.com. Do Follow me on Instagram for more Recent updates and every cooking recipe video
Do share your thoughts with me, Also tag our page on Instagram @premasculinary with hashtag it on #premasculinary
Thanks & Have a Good Day! 😉Enjoy Cooking and Mindful Eating!