How to quickly CLEAN Oil Bottles(Dispensers), Indian Kitchen Basics.
How to Clean Oil Bottles, Sticky oil Cans, and Oil Dispensers with Rice, Vinegar, Baking Soda.This is an Ultimate Step-by-Step Guide to a Clean oil dispensers. A Step by Step method of Cleaning oil cans, Using Basic cleaning techniques, without any Fancy cleaning Brushes or chemicals effortlessly. In our busy schedules, we don't have time to think about cleaning small things in our kitchen, but it is necessary to clean and remove stains from the kitchen and our minds too. Do Check How to Season Ammikal, How to Season Paniyaram Pan, How to clean Stainless Steel Cookware.
The key to cleaning your oil dispenser depends on the type of dispenser you've got, whether it's glass, satinless steel, or plastic. The good news is, there are ways to clean every kind. This method will works for tupperware containers too.
How Often Should You Clean Your oil cans?
The more often you do the "small clean" on your oil cans, you can maintain well your oil cans. I do monthly once or whenever i am refilling the oils.
How To Clean oil dispensers detailed Video:
Things Required to clean oil Cans:
Hot Water: water should rolling boil. No warm or hot, then only the stubborn stains can be removed.
Baking Soda: I always use Arm and Hammers Baking Soda for cleaning.
Dish Wash Liquid/Soap: Any Dish wash liquid is fine
Viengar: Any White Vinegar works well
Rice: Any dry uncooked rice is fine.
These are the things you require to clean the oil Dispensers.
Step by step method of cleaning Oil Bottles(Dispensers)
STEP:1 Take all your greasy oil dispensers, and separate the lids. Take a wide pan or bowl boil water, and let it boil well. It should be bubbling boil. Add 2 tbsp Baking Soda and 2 tbsp of dish wash liquid. Then Switch off the stove. Now drop the lids into hot water. Leave it for 5 mins. 
STEP:2 After 5 mins, Using a tong remove them. You can see the tough stains are removed. 
STEP:3 Now we clean the bottom of the bottle residue first, add a tsp of dry uncooked rice inside the bottle + 1 tbsp vinegar just shake the bottle you can see the residue will be removed effortlessly. 
STEP:4 Don't throw the hot water which we used for cleaning the lids, Fill the hot water inside the bottles leave them for 5 mins, and them using a normal scrubber. That's it you will get a shiny oil dispenser. Dry them completely and refill the oil use it.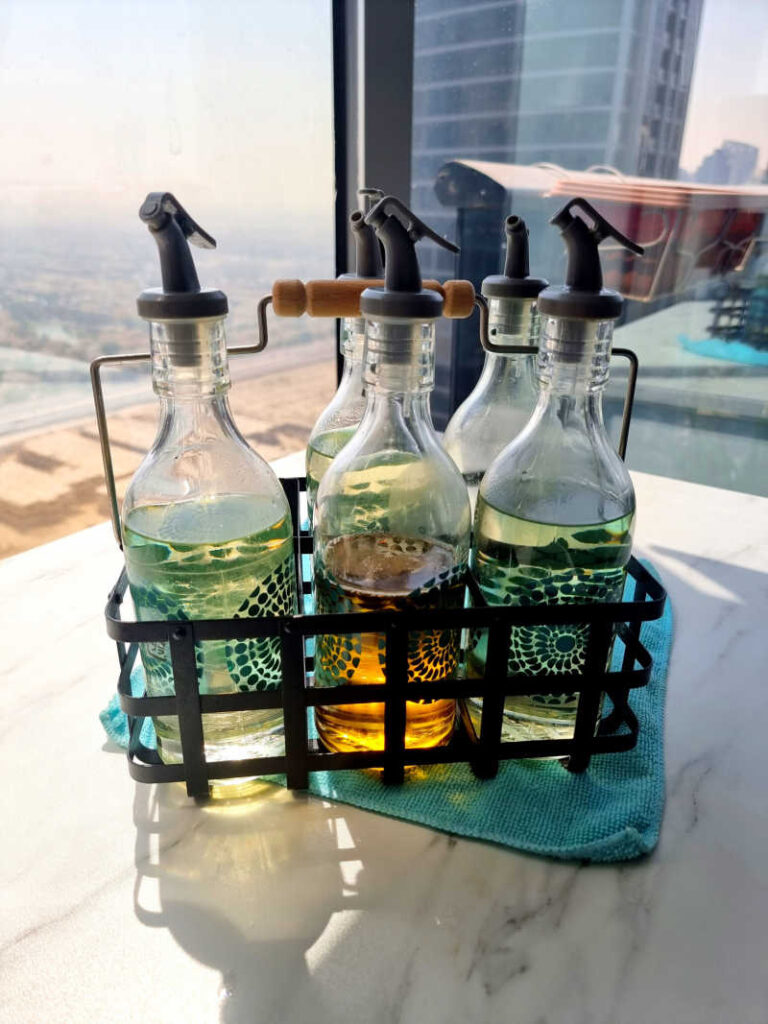 Frequently asked Questions:
We can use this method for Plastic Dispenser? Plastic Dispensers are not advisable to use but some reasons we still use plastic dispensers, in that case try to use warm water for cleaning. Rest the rice cleaning method works well for all types of containers.
Why Can't you get a good Bottle Brush? Why should i buy a fancy brush, if i can able to clean bottles without a Brush. Also this method is fine for all types of Dispenser. SO I DONT NEED BRUSH.
WHERE YOU BOUGHT YOUR OIL DISPENSERS? The oil bottle is actually a water bottle comes with stopper bought it from IKEA. Since the colour of the bottles matches my kitchen so I am using it as Oil Dispenser. The Dispenser also from IKEA. I have one more STAINLESS STEEL OIL DISPENSER bought it form Amazon. The Black Steel Oil Dispenser holder is a tea glass holder from Amazon
Hope this post will help you to clean Oil Dispenser at Home. If you have any Doubts about cleaning or If you want any specific recipes you can email me at cpremas79@gmail.com. Do Follow me on Instagram for more Recent updates and every cooking recipe video
Do share your thoughts with me, Also tag our page on Instagram @premasculinary with hashtag it on #premasculinary
Thanks & Have a Good Day! 😉Enjoy Cooking and Cleaning!