Saravana Bhavan style Bisi Belle Bath recipe with Homemade Bisi Belle Bath Powder
Saravana Bhavan Bisi Bele Bath Recipe, How to make Bisimasla powder at home. Easy Bisi Bele Bath recipe using Homemade Bisi Bele Bath Powder. Karnataka Style Bisibele Bath (BBB) with raita and Bondi. Bangalore Koramangala Saravana Bhavan Style Bisi Bele bath made in Pressure Cooker. Saravana Bhavan style Kara Kuzhambu, Kara Dosai, Paneer Masala Dosai, Saravana Bhavan Veg Kurma, these are some Saravana Bhavan Special dishes which I tried and shared the recipes among my readers.
Bisi Bele Baath Aka Bisi Bella Bath, a popular dish from Karnataka that is said to have originated in the Mysore Palace. The words translate to Bisi are Hot, Bele (pronounced Bae-ley) is Lentil, Baath = a rice-based dish. The essence of Bisi Bele Baath is in the special spice powder used called Bisi Bele Bath Powder. Try this authentic Bisi Bele Baath recipe is very easy I'm sure you'll find it as delicious as the one you get in Saravana Bhavan Restaurant.
Bisi Bele Bath Masala Powder Ingredients: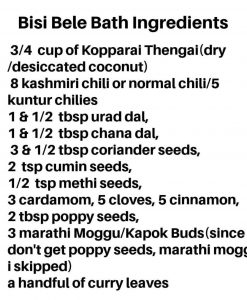 Step by Step BISI BELE BATH POWDER, HOW TO MAKE BISIBELEBATH POWDER: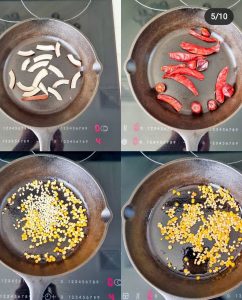 Take 3/4 cup of Kopparai Thengai(dry /desiccated coconut), roast in low flame for 1 to 2 mins, till you get a nice aroma from the coconut. Transfer it to a plate.
Take 8 Kashmiri chili or normal chili/5 Guntur chilies, roast it, till it turns crisps. Transfer it to a plate. Heat a tsp oil, add 1 & ½ tbsp urad dal, 1 & ½ tbsp chana dal, roast till golden. Transfer it to a plate.
Now add 3 & ½ tbsp coriander seeds, 2 tsp cumin seeds, ½ tsp methi seeds, 3 cardamom, 5 cloves, 5 cinnamon, 2 tbsp poppy seeds, 3 Marathi Moggu/Kapok Buds(since I don't get poppy seeds, Marathi moggu i skipped) roast for 2 mins and then change it to plate.
Switch off the stove, transfer all roasted ingredients to the Kadai, add a handful of curry leaves, and just toss it. Let it cool down and then powder it.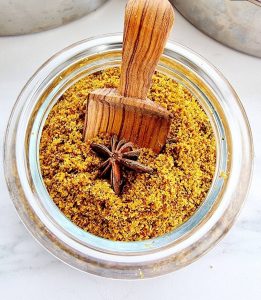 STEP BY STEP BISI BELE BATH RECIPE: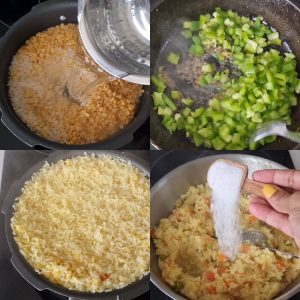 Wash & Soak ¾ dal + 1 cup rice in water for 30 mins, After 30 mins add soaked rice & dal into a pressure cooker, 6 cups of water, 1 tomato diced, vegetables of your choice, cover & pressure cook 4 whistles.
Transfer the cooked rice to another Kadai or vessel, add ¼ cup thick tamarind extract, 2 tsp salt,1 cup hot water(adjust the thickness by adding water)
Add 3 tsp Bisi bele bath powder, mix well. keep it low flame, let it cook for 3 mins.
Roast 10 cashews in a tbsp ghee, add it to the BBB.
Into the same pan add 1 tsp mustard seeds, hing, chopped bell pepper, just toss
& add it to BBB.
BBB is ready to serve.
🔥🔥🔥Sprinkle some ghee on top while serving & also some boodi or mixture.
Do try this Recipe and Let me Know your Feedback!
Have a Good Day Makkale!!!