Kaapparisi, How to make Kaapu arisi(sweet) Aadi Perukku Special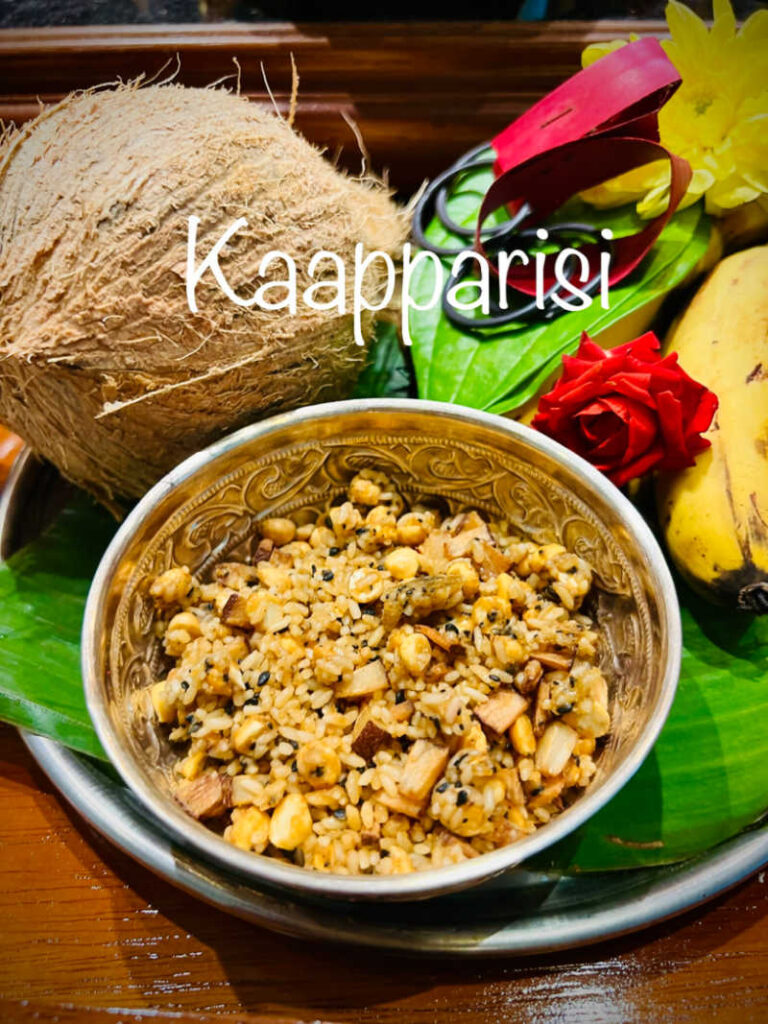 Kaapparisi is a sweeten rice preparation for Aadi 18. How to prepare Kaappu Arisi, Kaaparisi Sweet recipe, Aadi Perukku special Kaaparisi, Aadi Peruku recipes, Kaaparisi preparation with step-by-step pictures and video. As Today is Aadi Pandiagai many of our Tamilian homes prepare this authentic sweet along with Kalanda Sadam as Neivedyam. If you are reading my blog I have shared a few posts like How to do Varalakshmi Vratam at home? How to do Karadaiyan Nombu? Bhogi Pandigai Procedure, Karthigai Deepam Procedure, How to Give Thamboolam. Today sharing this Kaappu arisi recipe as many occasions are coming this post will help you to prepare Kaapparisi at Home.
May Mother Nature listen to your prayers and wash away your sorrows. Let the lamp lighten up joy and bring peace to your life. Aadi Perrukku wishes you and your family. 
Wishing you a very happy Aadi Perrukku. May Devi bless you.
What is Kaapparisi?
Kaaparisi is a traditional sweet made out of rice, coconut, sesame seeds, roasted chutney dal, dry ginger powder, and jaggery. Tamilian Occastion like valaikappu, Semandham(baby shower), kaadu kuthu, punyajanam, aadi perukku kaaparisi, we make kaaparisi. Soaked raw rice is drained and roasted, mixed with jaggery syrup, roasted coconut bits, Chana dal, sesame seeds, dry ginger & cardamom added for flavored then served or offered for God is called Kaapparisi.
Significance of Kaappuarisi:
Kaapparisi is one of the most traditional sweets that I grew up eating every year that amma makes for aadi perukku. It takes just 4 to 5 ingredients to make this kaaparisi but perfection comes with practice and a little skill. I tried when I was newly married that time it came very sticky. Got the tips from Amma and tried came out very well. Recently made for a seemandham thambolam. I was thinking to share this recipe for a long today here it is. Not only for aadi perukku, seemandam, valaikkaipu, kaathu kutthu, but you can also make this all the occasions and give it as a thamboolam for ladies. As this will stays good for 2 to 3 days in room temperature you can make previous day itself and give also.
A short Video of Making Kaaparisi perfectly:
Kaappu Arisi(Kaapparisi Ingredients):
1 cup Raw rice (I used sona masoori Pacharisi rice)

3/4 cup jaggery (grate the jaggery measure and use)

1/4 cup roasted Chana dal(pottukadalai)

1/4 cup coconut chunks 

2 tbsp sesame seeds(you can use white sesame seeds too)

1/4 tsp cardamom powder 

1/4 tsp dry ginger powder

1 tsp ghee
STEP-BY-STEP PROCEDURE FOR MAKING KAAPARISI:
Take 1 cup of raw rice, wash, and rinse well. soak it for 30 mins. After 30 mins, drain the water and let it be in the colander for 2 mins. Now spread the rice on a clean cloth and let it dry. Dry well at least for an hour so that the rice should stick on your hands is the right stage. Now transfer it to a bowl and keep it aside.
Now heat a pan add a tsp ghee, add the coconut bits, and roast well, till it turns light golden on low flame. Once the coconut turns golden add the roasted chana dal, and sesame seeds and roast them, till the sesame seeds pop. Now switch off the heat and transfer them into a plate.
Heat a pan and add 3/4 cup of jaggery and 3 tbsp water, let the jaggery dissolve in water. Add 1/4 tsp cardamom powder, 1/4 tsp dry ginger powder, mix well and make thick jaggery syrup on low flame. once the jaggery syrup started to thicken, check the consistency. If you drop a little syrup on water you can able to roll a soft jelly kinda ball. The ball should be soft, not hardball.
This is the right stage you can switch off the stove & start adding the rice, and roasted ingredients, and mix well, making sure the syrup is coated well with the rice. That's it kaaparisi is ready to offer God as Neivedyam or you can pack them and give as Thamboolam.
You can check the Aadi perukku procedure and recipe video. Aadi thengai paal recipe and Enjoy Aadi Perukku!
Hope this post will help you to make the Perfect KAPPARISSI at Home. If you have any Doubts about making KAAPPU ARISI or If you want any specific prasadham recipes you can email me at cpremas79@gmail.com. Do Follow me on Instagram for more Recent updates and every cooking recipe video
Do share your thoughts with me, Also tag our page on Instagram @premasculinary with hashtag it on #premasculinary
Thanks & Have a Good Day! 😉