Keerai Masiyal for Rice, Easy Palak Keerai masiyal in Instant Pot, a modern kitchen gadget!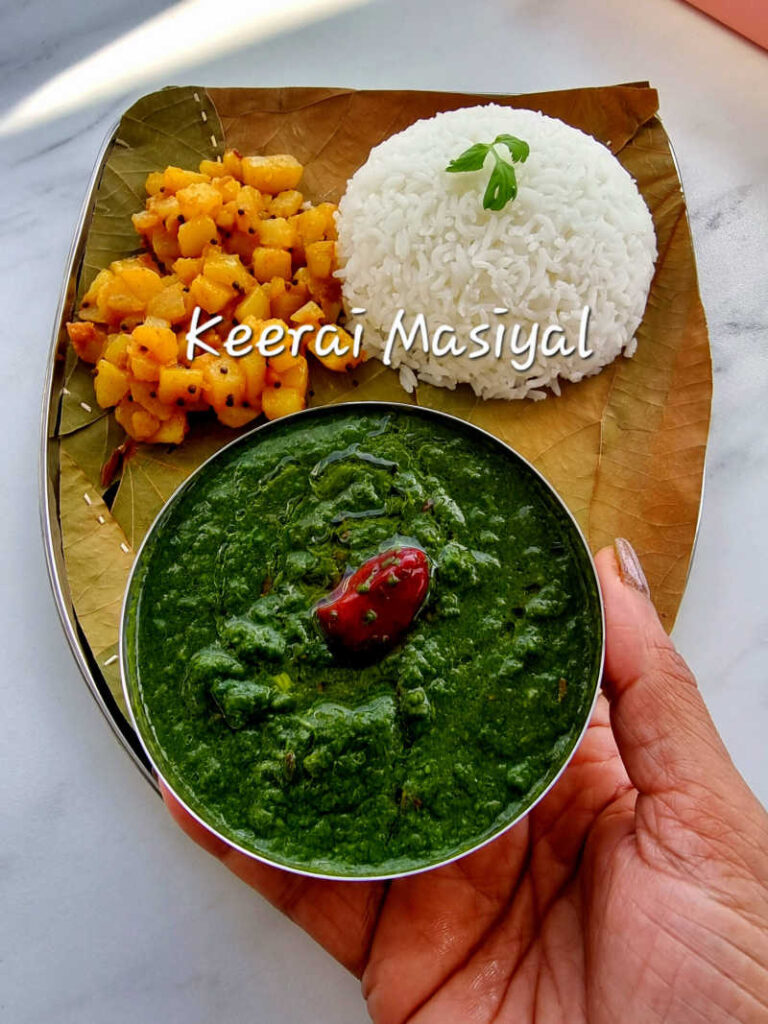 Rustic Keerai Masiyal made in Instant pot with onion & Garlic. TamBrahm Style Keerai Keerai Masiyal is made without onion & Garlic but this Keerai Kadaiyal is slightly different. This easy Keerai Masiyal recipe is made in Instant Pot, a modern kitchen gadget PIP method. Best to serve for chapati or for rice. This Keerai Kootu is a healthy side dish. Also great for a lunch box. You may also use a regular pressure cooker to retain the nutrients. Do Check Senai Kizhangu Masiyal too.
Keerai Masiyal is a low-carb, healthy, creamy recipe, suitable for all ages. My girls grew up having this most of the time. A simple everyday dish, which I make very often in my kitchen. cooking in the Instant pot is an art. Very useful Kitchen gadget, that I use every day! It not only reduces the cooking time by half, and also makes my work easier! You can check more details about my INSTANT POT DUO PLUS and more Instant Pot Recipes on How to make Curd/Dahi using Instant Pot, How to Ferment Idli batter using Instant Pot, How to make Sakkarai Pongal in Instant pot, How to boil Peanuts in Instant Pot, Make Tamarind Extract, Instant pot Kurma, Instant Pot Tiffin Sambar, Instant Pot Veg Biryani
What is Keerai Masiyal?
Keerai is a common word for all types of spinach, and Masiyal means mish mash. A mishmash of Spinach tempered with simple spices and Hing, makes this delicious Keerai Masiyal. Usually, Keerai Masiyal can be Served along with Steamed rice topped with Ghee or with any Tamarind Based Gravy!
If you like this recipe, try our other Keerai Recipes for other everyday meals, How to cut and Store Keerai, Murungai keerai podi, Murngai keerai paruppu podi, Keerai Kootu.
Keerai Masiyal Ingredients:
Keerai(Spinach): You can use any type of Spinach like Palak, Amaranth, Chinese Spinach, or Baby Spinach make sure that you have used only the leaves not so much of the stem. Also, try to use less fiber Spinach. I used Palak
Onion & Garlic Actually there is onion or garlic for Keerai Masal, I purposely added you can skip them too.
Tempering: For Tempering mostly we will use coconut oil or Ghee, also jeera gives a nice flavor good for digestion Don't Skip it.
How to make Keerai Masiyal:
Take 200g of palak wash & chop it finely. just sprinkle a Tbsp of Water, add 5 garlic pods, and 1 finely chopped onion, 1 tomato, 1/4 tsp turmeric powder & 1/2 tsp salt. Steam it in an Instant pot or any steamer just for 15 mins not more than that.
Once steamed transfer it to a mixie jar just give it a pulse and then switch it off or you can use a hand masher too.
Now heat a kadai, or in an Instant pot in saute mode add a tsp ghee or coconut oil, add 1 tsp jeera(cumin seeds), dried red chilies, Hing. let the cumins seeds crackle & then add the ground palak puree. Cover and cook for 3 to 5 mins that it Palak Masaiyal Ready!
Palak masiyal goes well with Potato roast or Coin Potato Roast. I packed the same for my kids lunch box & hubby's lunch box today!
More Lunch Box Menu Recipes Like Mint Chana Pulao, Yakini Pulao, Beets Pulao, Lemon Rice Recipe, Paneer 65 fried rice, Arisi Upma.
Hope this post will help you to make Perfect Keerai Masiyal at Home. If you have any Doubts about making keerai masiyal or If you want any specific recipes you can email me at cpremas79@gmail.com. Do Follow me on Instagram for more Recent updates and every cooking recipe video
Do share your thoughts with me, Also tag our page on Instagram @premasculinary with hashtag it on #premasculinary
Thanks & Have a Good Day! 😉Enjoy!