How to make Thick Curd(Dahi) Indian Yogurt in Instant Pot
Homemade Yogurt(curd) using Instant Pot Duo Plus. Step by Step procedure and Photos for making thick curd at Home without any stress. The secret behind Best Thayir Sadam is smooth, creamy & thick curd. Making them using Instant pot is very very simple. This procedure is very simple and easy to follow. Beginners who are struggling to make thick curd just follow these steps you too can make excellent thick creamy yogurt at Home! If you want to learn How to make Homemade Curd using the stovetop method, naturally fermented without an Instant pot check the recipe video.
South Indian Meals will not end without Thayir Sadam or Thayir(curd). We have curd with everything from dosa to noodles🤦‍♀️Making thick curd is a little tricky here in Dubai because of the climate and temperature, very crazy. After the Instant pot came into my life making idli batter in an instant pot, and Homemade curd everything become a very easy peasy lemon squeezy. If you are facing any problems in making curd at Home do follow these simple steps.
Why we should use Instant Pot for making Curd?
An Instant Pot acts as an incubator for the yogurt, keeping the temperature around 110°F for several hours, which is something stovetop pressure cookers can't do. Whatever the climate we are in don't bother we will get 💯thick creamy yogurt every single time guaranteed.
Important Reasons why we fail to get thick creamy texture curd while we make it at home?
There are several reasons that we may fail to get thick creamy texture curd while we make it at home.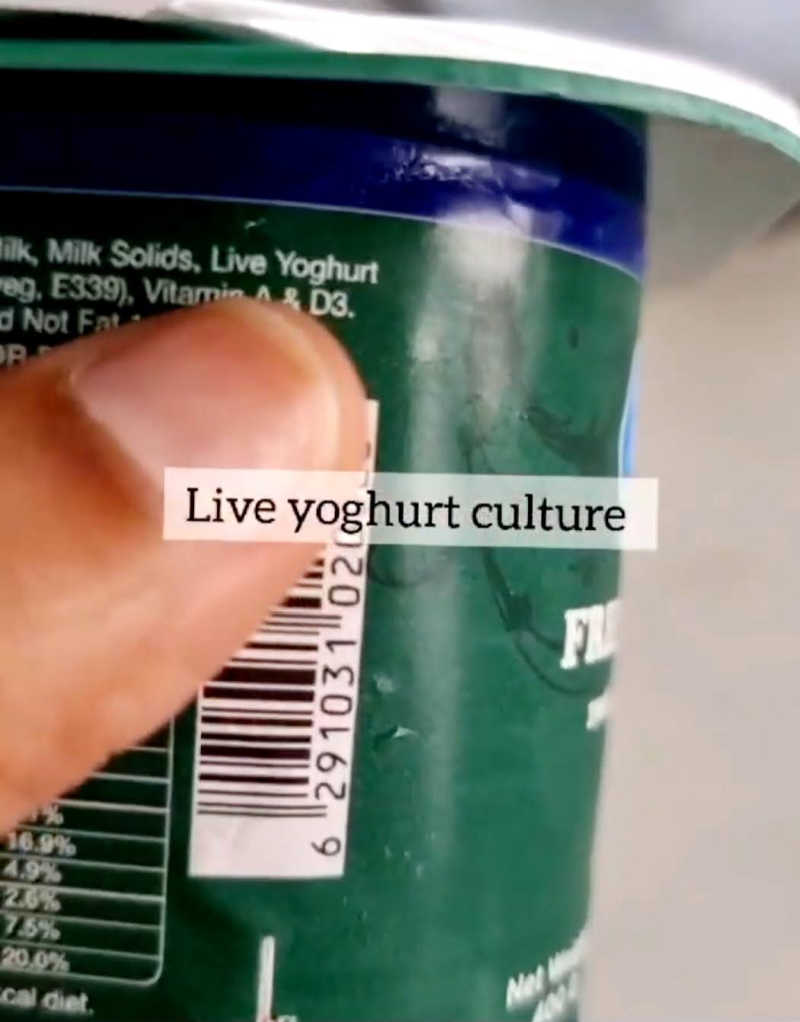 Culture(Uraiya Vaikkum Thayir) is very important so make sure we use curd with active bacteria. If you are using the store-bought curd check for Active Bacteria. You can see in the above pic the sample which I used has live yogurt which means it has active bacteria, which will help the milk to turn yogurt.
Good thick creamy yogurt needs thick creamy milk, so don't use low-fat milk or skimmed milk for making the curd.
Important, We should add curd(culture) to the warm milk, not hot or cold milk.
Yogurt setting time in Instant Pot is 4 hours, Do not open it in between or disturb it while it is setting.
After 4 hours, the yogurt is ready in the Instant pot. You should set the yogurt in the fridge for a few more hours to set so that you will get thick ice cream like curd.
If you follow these 5 steps you will get thick creamy curd.
Step-by-step photos and procedure to make Thick curd in an Instant pot:
To make Thick curd I used al marai Full cream milk. Today I am going to use 2 cups of milk so I am using a small glass bowl which is a microwave-safe bowl. Even you can use stainless steel bowls too. If you are making 1 liter or more than 1 liter of milk you can directly pour it directly into the Instant Pot stainless steel bowl since I am using only 2 cups of milk I used this small glass bowl. I used a trivet so that I can take the bowl out of the instant pot easily.
🌺Drop a cup of water into the instant pot bowl and keep the trivet in the Instant Pot. Place a bowl and add 2 cups of full cream milk(If you are using more than 1 liter of milk you can add directly to the instant pot vessel, no need to follow these steps). Close the lid and move the Venting Knob to Sealing Position. Set to steam and time set to ZERO(this procedure to warm up the milk).
🌺Once done, let the pressure release by itself and then open the lid. The milk is super hot so let it cool down. Don't cool down completely it should be lukewarm. If you touch the milk you should feel the warmth. At this stage add 1 tbsp of culture(curd) and mix well.
Note:1 For 2 cups of milk I am adding a tbsp of culture, if you are using more cups of milk you need to increase the culture accordingly.
Note:2 Don't add the culture if the milk is too hot, it will get curdle also don't add the culture if the milk is very cold it will not set. So Make sure the milk is lukewarm. Mix the curd and milk well. place the bowl inside the instant pot and close it.
🌺Now close the lid, keep in yogurt mode, and set the time to 4 hrs. Don't open the lid in between.
🌺After 4 hrs open the lid the yogurt is well made now we need to set it. keep it in the fridge to set the curd for an hour. That's it After 1 hr the curd is ready to serve. 
Here is the Thick and Creamy Yogurt/Curd is ready you can make Millet curd rice, Dahi ke Sholay, Dahi sandwich, Hung Curd, Lassi, Thayir Pachadi
🔥Points to Remember:
✅Culture is very important so make sure we use curd with active bacteria.
🥰We should add curd(culture) to the warm milk, not hot or cold milk.
✅Mix the starter curd(culture) very well with the milk.
✅Don't disturb the yogurt while setting.
Product used: Instant Pot @instantpotofficial
Milk @almarai double cream milk
Culture @mymarmum
I hope these small tips will help beginners to make good curd at home?
✅Do you want to see more Instant Pot Recipes??? Comment Below. Have a Good Day!!