HOW TO STORE SPINACH(keerai) FRESH FOR LONGTIME
Easy way to store spinach leaves, curry leaves, and coriander leaves, for a long day in the fridge. Easy Storage method! How to clean, cut, and store 🍃spinach(keerai) in the fridge, Simple storing tips for all types of keerai or kothamalli leaves in the fridge for more than a week. Keerai will be there in my cooking every day in some form. One day also I never miss making keerai. Maybe poriyal, kootu, paratha, or chutney. So every day we need keerai. cleaning and storing them in the fridge helps my early morning cooking easier. Sharing my way of storing them in the fridge!
Do check the Video How to Cut Clean Organize Vegetables and Spinach in the Fridge, this video will be helpful if you are doing meal prep for a week or for working ladies, early morning cooking people, etc. In the description, I have given the link for the storage boxes link.
More keerai recipes Murungai keerai podi, Murngai keerai paruppu podi,
How to Store and organize vegetables in the fridge!
STEP-BY-STEP METHOD OF CLEANING AND STORING THE SPINACH LEAVES(KEERAI):
cutting and trimming the Leaves: Take Spinach or any type of keerai like Palak(pasalai keerai), Manathakkali Keerai, Pulicha Keerai(gongura), Mulai Keerai (Amaranth), curry leaves, or coriander Use scissors to remove the leaves from them easy and very fast method. Using the fingers and pinching and pealing the spinach takes more time also you should trim the leaves not close to the stem, always leaves one inch longer. so that the spinach stays good and fresh for a long.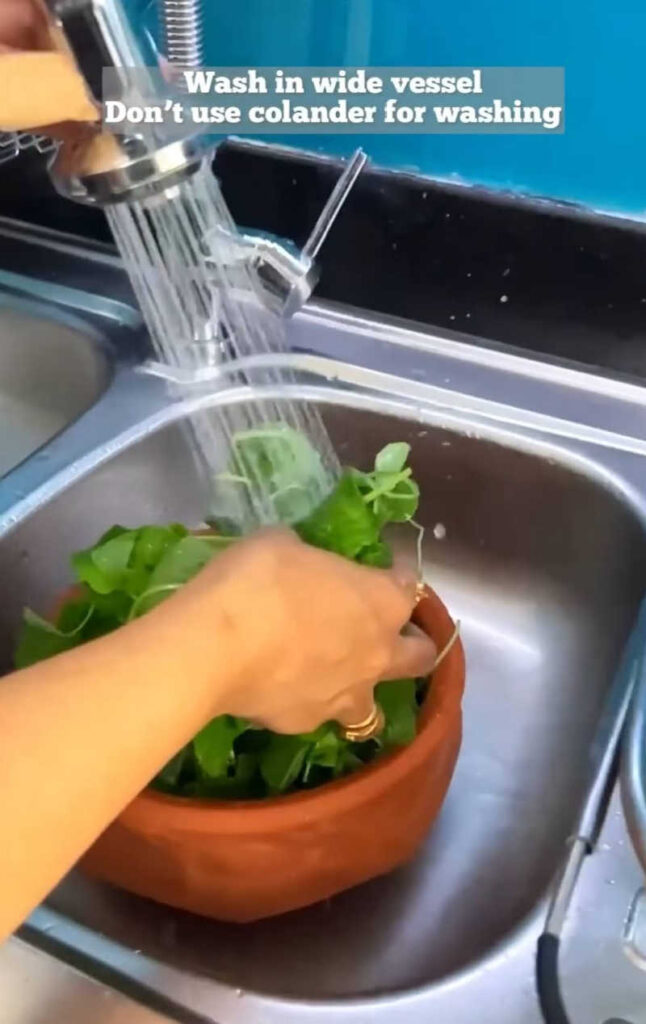 Wash and rinse the leaves, After trimming the leaves from the stem wash them. Take all the trimmed leaves in a big vessel, fill will water drop the leaves inside the vessel wash them well and drain the water kept in a colander. Throw the water because it has sand and dirt settled at the bottom(or you can use the water for plants too). Fill the fresh water one more time and repeat the same step of washing the leaves. After washing leave it in the colander for 5 to 10 mins to let the water all drain.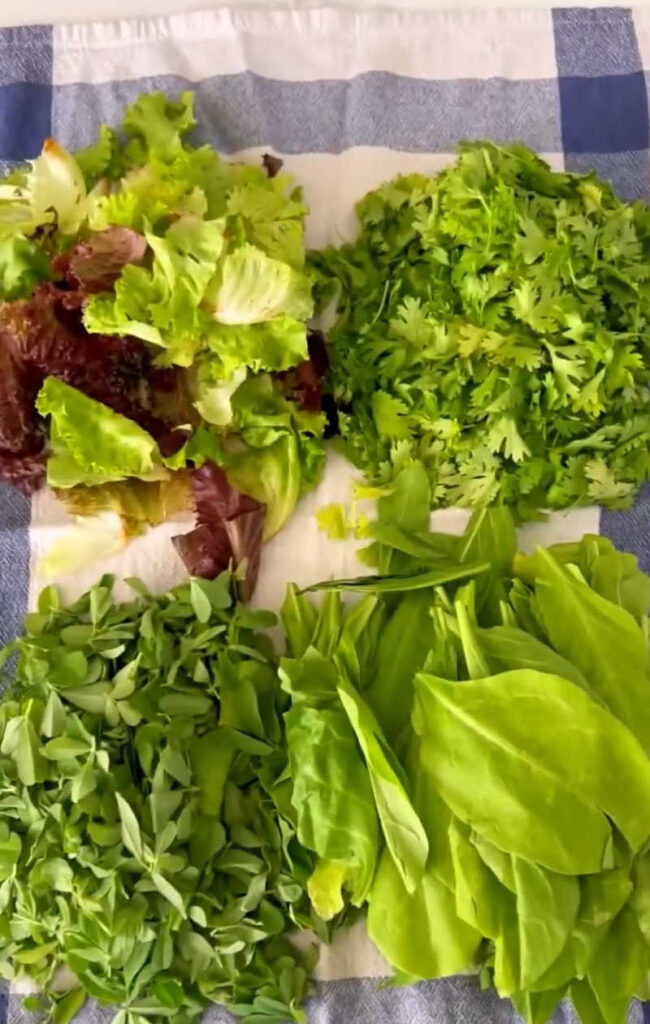 Pat and dry the washed leaves for a few mins with the kitchen towel. I personally don't wash the leaves if I am storing them. Just trim the leaves and store them. If you wash and store it will not stay for long. for example, palak, methi, and lettuce are very sensitive leaves so I don't wash them before storing them. I only wash just before cooking.
Layer some tissue paper inside a container and place the spinach. You can also use cloth too. Paper or cloth will absorb the moisture and keep the spinach stay fresh for long.
Store the spinach in containers or in the zip lock covers. Make sure that you wrap them well with tissue paper or a towel. If you are storing it in a container top part also needs to cover with tissue paper.
📝Do's & Don't:
🔥chop the leaves only if you are going to cook. Otherwise don't chop the leaves and store them. it will get spoiled.
🔥 don't wash the leaves after chopping, they will lose their nutrients.
🔥Don't trim the leaves very close to the stem, leave a little stem always, as it helps to keep fresh for a long.
Do check the video, 7 days 7 types of Keerai recipes to include spinach every day in our diet,
The above video have keerai masiyal, keerai kootu, keerai poriyal, Paruppu keerai recipes you will get an idea of how we can include keerai in our everyday meal.
More Kitchen Basics and also Homemade Powders/Podi recipes are good for lunch Boxes.
Hope you like this simple variety of rice recipe. Do stay tuned to Prema's Culinary for more interesting recipes, if you have any doubts about this recipe or If you want any specific recipes you can email me at cpremas79@gmail.com.
Do Follow me on Instagram for more Recent updates and every cooking recipe video share your thoughts with me, Also tag our page on Instagram @premasculinary with hashtag it on #premasculinary
Thanks & Have a Good Day! 😉Enjoy Cooking and Mindful Eating!