Beets Pulav(Rice) | Beetroot Rice |Kids Lunch Box Menu
Hi guys,I am back with a healthy kids lunch box menu,Beets Rice/ Pulav. Beets and Bindi are aishu's fav veggie. While packing the lunch i just clicked to share the recipe here.Hope you all love this.
Beets Pulav(Rice) | Beetroot Rice | Kids Lunch Box Menu
——————————————————————————————————————————
Author : Premalatha Aravindhan Category :Kids Lunch box Menu,Variety Rice
Prep and cooking Time: below 40 Mins Cuisine : South Indian serves : 2
——————————————————————————————————————————-
Ingredients: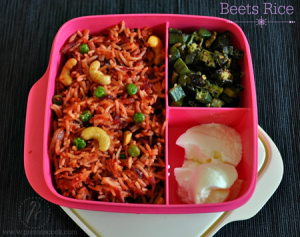 1 cup basmati rice
1/2 cup grated beetroot
1/3 cup green peas
1 big onion sliced
1 tsp ginger garlic paste
1/2 tsp chilli powder
1/2 tsp coriander powder
Salt as needed

To Temper:
2 tsp ghee
1 bay leaves
1 inch cinnamon stick
2 cardamom
1 clove
1/2 tsp fennel seeds
10 cashew nuts
Cook the basmati rice and keep aside.Grate the beet root and keep aside.

Heat ghee in a pan and then add the tempering ingredients and temper it.

Finally add the sliced onion and ginger garlic paste saute well.
Add in the grated beet root and green peas and saute well,till the raw smell goes.
Now add the salt,chilli powder,coriander powder and mix well with the veggie.
Once the raw goes add in the rice and mix well without breaking the rice. Now the beets rice is ready to serve.
My Notes:
The rice should be in right consistency.Check here how to cook basmati rice to make pulav or fried rice and follow the instructions.
You can add your veggie of your choice like potato,beans,etc.