Homemade Tamarind Paste, How to make Tamarind Extract In Instant Pot
Homemade Tamarind Paste for Quick and Easy Cooking. Tamarind Paste Made in Instant Pot. Making Tamarind Paste is nothing but Puli Karisal in Tamil this is the short cut method in cooking, instead soaking for hours and then extract the juice is little time consuming process If it handy we can make whatever we want and also we can save time.
Tamarind Extract or Pulp we use for making sambar, rasam, Vatha kuzhambu, pulikachal, Tamarind chutney, etc. Sometimes we forgot to soak it before cooking, once we started to cook we only came to know that we forgot to soak. If we have it handy in the fridge no need to worry about cooking.
Homemade Tamarind paste is Preservative free, dust-free, stones-free, fructose-free. Just Prepare a batch of Tamarind extract and store it in the fridge. We can use it for 6 months without tension.
HomemadeTamarind Paste in an Instant pot:
Take 250g Tamarind, separate it if it is a block, remove seeds if any. Put it in a pressure cooker or Instant Pot. Add water just to immerse the tamarind, approximately 2 cups of water.
Pressure cook for 3 to 4 whistles in a pressure cooker, instant pot 10 mins in high.
Once cooked, cool down completely. 
Using a stainer extract the Paste. Collect the Tamarind Extract and store it in the fridge.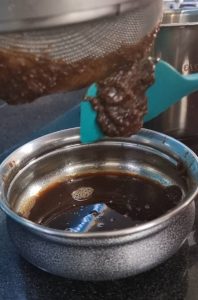 Store it in a glass Container. It will stay good for 6 months.
Don't throw the tamarind waste, you can use it for washing the brass items. 
How to use tamarind Paste in Cooking?
If any recipe calls for a gooseberry sized Tamarind, use 2 tsp of tamarind
If Lemon-Sized Tamarind use 4 tsp.
Do make tamarind paste and store and fridge, take required amount using a dry spoon.
More Puli Kuzhambu or Tamarind Based Kulambu recipe you may like to try, Vendakkai Puli Mandi, Vendakkai Puli Kuzhambu, Kathirikkai Puli Kuzhambu recipe, Puli Inji recipe, Murungaikai Kara Kuzhambu
Have a Good Day Makkale!!!