Thattai Recipe, TamilNadu Traditional Snack Thattai with Store Bought Rice Flour & Roasted Gram flour
Instant Thattai Recipe using the Store bought rice flour. Crispy Moru Moru Thattai Murukku is a #southindiansnack that is made with rice flour and commonly prepared during Janmashtami but now it's consumed as a teatime snack. It is known as "Nippattu" in Karnataka and "Chekkalu" in Andhra Pradesh/Telangana. Almost Similar version of Mathri which is a North Indian snack and mostly served with Chai. Mor South Indian Snacks Butter Murukku, Jeera Murukku, Kai Murukku, Achu murukku.
No plan to make Thattai. Actually, plan of visiting a friend's house. So made Thattai for them. My friend's Daughter likes Thattai. I use to Prepare something and take it while visiting a friend's house. Instead of buying sweets and Snacks from Stall. It's hygienic also they feel good too. This is a very easy and tasty snack even beginners can make too. Check the recipe for Urad dal Flour, Rice Flour, and Roasted Gram Dal Flour.
What is Thattai?
The name Thattai derives from the Tamil word for "Flat", which refers to its shape. Thattai is made with processed rice flour, urad dal flour & roasted gram dal flour. These flours are mixed with chili powder, asafoetida, curry leaves, water, and salt, The highlight is the soaked chana dal is added to the dough that giving crispiness. The mix is kneaded into a dough, which is then shaped into Flat shapes either by hand or using a Dabara(flat base vessel). Then the flattened Dough is deep-fried in vegetable oil and is called Thattai.
Ingredients & Substitutes to make Thattai:
2 cups rice flour (you can use any brand store bought rice flour)
2 Roasted gram flour(powder the roasted gram dal and use it)
2 tbsp urad flour(roast the urad dal and then powder it. Seived powder should use)
2 tsp chili powder(i used Kashmiri chili powder you can use normal chili powder too)
2 tbsp chana dal soaked for an hour(min 30 mins we need to soak)
1 tsp cumin seeds or sesame seeds
Hing(Asafoetida)
1 & ½ tbsp Hot Oil(the oil is should well hot while using)
Curry leaves, Chopped
Salt
Video of Making Thattai:
Step-by-Step Thattai Recipe:
Soak 2 tbsp channa dal for 30 mins before making Thattai. Take 2 cups of Rice flour, 2 tbsp Roasted Gram Flour(pottukadalai Maavu), 2 tbsp Urad dal Four, 2 tsp chili powder, drain water, and then add the soaked chana dal, hing, curry leaves, 2 tsp salt & 1 &½  tbsp hot oil. Sprinkle water and start kneading the dough. 
The dough should be like chapati dough, not so tight or loose. So add water little by little and knead it. Heat the oil & Take a small gooseberry-sized dough to make balls & flatten it using greased zip lock cover or banana leaf, you can use a Dabara to flatten it. 
Similarly, make all the Thattai and keep it ready. Slowly drop them into the oil & deep fry till golden.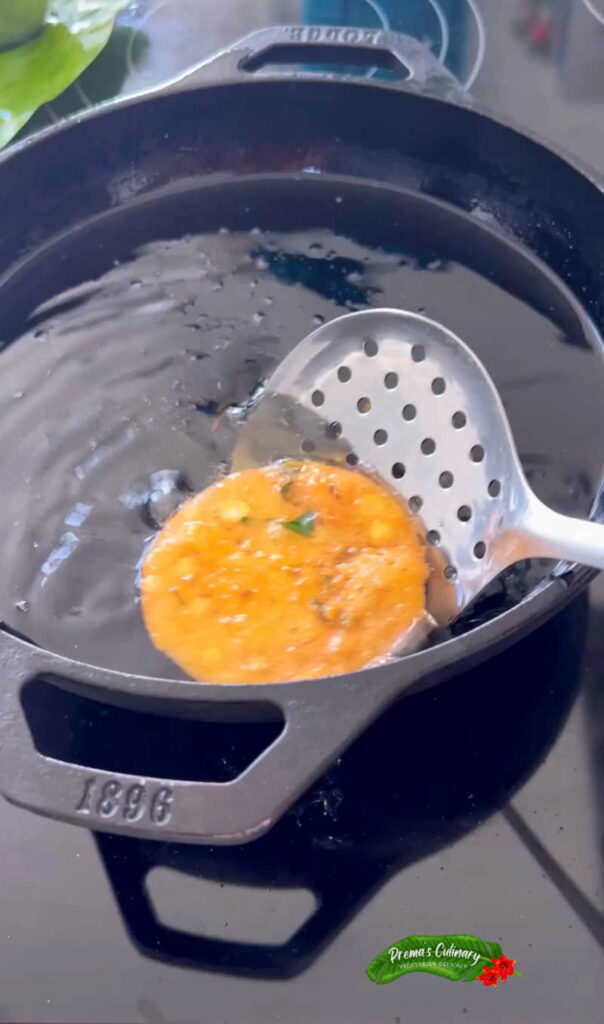 That's it Moru Morunu Thattai ready! 
Pro Tips to make Perfect Thattai:
Measurement is very important, if you are more urad dal the Thattai turn hard.
Adding Hot oil gives the crispness to Thattai don't skip it.
If you are making it for the first time, make half of the quantity and try. Later increase it.
For more Interesting Authentic Vada recipes click here Sweet Vada Recipe, Hotel Style Medhu Vada, Keerai Vadai, Broccoli Vadai Recipe, Cabbage Vadai recipe, Rasam Vadai recipe, Sambar Vadai Recipe.
Check More Diwali Recipes 9+ easy ladoo recipe, Diwali Savory Snacks recipes, 5+ murukku recipes
If you have any Doubts about Thattai Recipe or If you want any specific recipes you can email me at cpremas79@gmail.com. Do Follow me on Instagram for more Recent updates and every cooking recipe video
Do share your thoughts with me, Also tag our page on Instagram @premasculinary with hashtag it on #premasculinary
Thanks & Have a Good Day! 😉Enjoy Diwali!