Achu Murukku without Egg Recipe | அச்சி முறுக்கு | Diwali Sweets and Snacks Recipe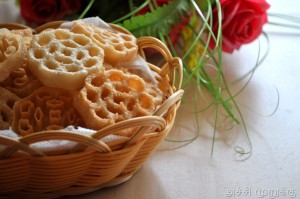 Achu murukku is a sweet version of murukku varieties.It is very popular in south india.To prepare this murukku we need a flower shaped mould/achu.Do try this yummy and crunchy snacks and enjoy diwali.
1 cup raw rice flour

1/4 cup maida/all purpose flour

1/2 cup sugar powder

1 cup coconut milk

A pinch salt
Sieve the rice flour,maida,sugar powder together.

Add coconut milk and salt with the sieved flour and mix well,without lumps.

The batter should be like dosa batter consistency, if the batter is too liquid it won't come out of the mould or if it's too thick it won't be crispy.So adjust the water according to your batter consistency.
Heat oil in a kadai,once oil is heated up place the achu muruku mould in hot oil for one minute.

After that take the mould and dip it immediately into the batter to 3/4th,not fully.

As the mould is hot the batter will stick into it and place that in the hot oil.

After the batter is half done, use a fork to release the muruku to the oil.

Turn it on other sides and fry it to light brown/till crispy.

Repeat the same step for remaining batter. Every time before you dip the mould in the batter, keep the mould in the hot oil for a minute.




Here is the Achu Murukku is ready,Try it out and Enjoy Diwali:)


Note:


The batter consistency is very important,if it is too liquid it will not come out from the mould.So adjust the consistency of batter carefully.

If the mould is new, keep it in dosa batter for a day ,then wash it nicely and apply oil in all sides.keep this for another day then use it.