Appam recipe, How to make Appam batter in Mixie(without Appa Chatti)!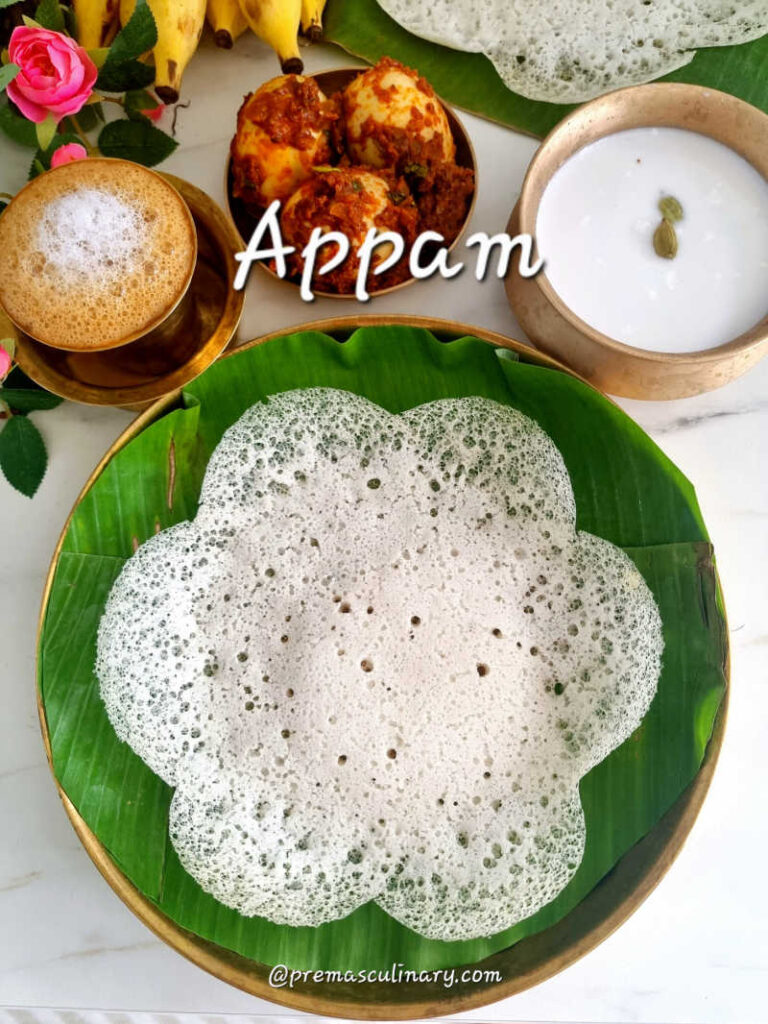 Soft and Fluffy Appam Batter in Mixie without any appa chatti. This traditional appam recipe is made with raw rice and coconut and can be enjoyed with coconut milk, vegetable curry, egg curry, gravy, and a lot more. Ragi Appam which is made few days back that was a great hit. The Naturally fermented spongy appam will soak up in any gravy very well. Appam has a unique texture of being crispy on the edges while remaining soft in the center. Learn to make 100% perfect Appam Recipe for Beginners, Fool Proof Recipe. More Kerala Style Kadala curry & Soft Kozha Puttu recipe.
No special intro required Appam most of the South Indian Homes famous Breakfast. Similarly Amma Makes this on sundays. No words to say, if she starts making appam till afternoon we will have. Her appams are very soft and Spongy. I don't follow any other recipes till now i following her appam recipe only. Amma use tumbler measurement, i same thing i converted to cups and measuring spoons. i want the give the exact measurement that will help many. Okay without Further advo, Let see the Appam Recipe. Before that a small intro who doesn't know,
What is Appam?
Appam is a rice flour based Pancake made by Naturally, fermented Appam Batter is mixed with thick homemade coconut milk and then pour into a hot Appa Chatti(curved Pan), one complete rotation brings it to the middle, cover, and cooked on low heat, once it turns lacy, crispy edges, fluffy and soft in the middle removed from the Appa Chatti and served with Sweetened Coconut milk called Appam.
More Sunday Special Breakfast Recipes, Carrot Rava Idli, Oats Uthappam, Semiya Kichadi Recipe.
Appam Ingredients & Substitutions:
1/2 cup idli rice,  Idli rice is parboiled rice. It is short-grain rice and is used specifically for making idli and dosa. If idli rice is not available you can substitute it with any parboiled rice. I used the Double Horse Brand Idli Rice
1/4 cup raw rice, i used Double Horse Sona Masoori Rice mxing up of idli rice and raw rice makes the Appam soft and Cripsy!
⅓ cup urad dal, i used the Udhyam Urad Dal, no only for appam, i use udhayam dal for making vadai, idli & Dosa too.
1 tsp methi seeds(vendhayam), 2 tbsp aval(poha) Poha is nothing but flattend rice flakes which makes the appam soft, ¾ cup water(1/2 cup to 3/4 cup) & ½ cup coconut milk(i used the Kara coconut milk)
Appam Recipe Video, Appam Batter in Mixie,
Step by Step Appam Recipe:
Wash & Soak 1/2 cup idli rice, 1/4 cup raw rice, 1/3 cup urad dal, 1 tsp methi seeds(vendhayam), together with enough water except poha for a minimum of 3 hours completely. After 3 hours soak poha for 10 mins in water.
Now transfer soaked rice, dal, poha everything to a mixie jar. Add 3/4 cup water and grind it to a fine paste(Don't add so much water).
Transfer the ground batter to a bowl and add 1 tsp salt, mix well. 
Cover and let it ferment for 8 hours or till fermented.
Once fermented the appam batter is ready to make the appam. 
Add 1/2 cup of coconut milk and mix well. Appam Batter is ready! Now heat the appa cahtti or kadai. Pour batter on it.
swirl once making sure the batter gets to cover the whole pan.
cover and cook until the appam is cooked well. once cooked remove from pan.ppam is ready to enjoy!
How to make Flower Appam Tutorial:
Pour one and half ladle of appam batter, keep the kadai on low heat. Hold the kadai with gloves or cloth bring the batter to one end and bring to middle.
Now bring the batter to opposite side. bring batter to middle and next to the one u started then the imediete next.
Then opposite side & then immediete next. Everytime bring to middle. very easy one just watch the video you can understand clearly.
that's it flower appam ready!
More Appam side Dish Recipes, Homemade Coconut Milk, Saravana Bhavan Kurma, Sodhi
Hope this post will help you to make Appam at Home. If you have any Doubts about making appam or If you want any specific recipes you can email me at cpremas79@gmail.com. Do Follow me on Instagram for more Recent updates and every cooking recipe video
Do share your thoughts with me, Also tag our page on Instagram @premasculinary with hashtag it on #premasculinary
Thanks & Have a Good Day! 😉Enjoy Cooking and Cleaning!