How to make Coconut Cream or Milk using fresh Coconut
I have made Sodhi (coconut milk kuzhambu ) yesterday and updated the step vice pics. While making sodhi i thought to post

How to make coconut Cream/milk?

because most of the pulao recipes calls for coconut milk.Supermarkets offer ready made coconut milk in plastic or tetra packs.Making our own coconut milk provides an interesting and delicious choice, so try it.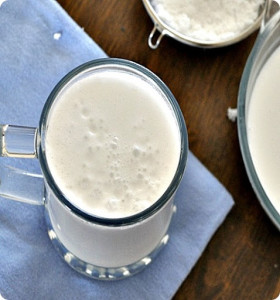 Yields:1 cup thick milk and 3 cups thin milk
We need:
2 cups Freshly grated Coconut
4 cups Hot water
Method:
Grate the fresh coconut pulp and add it in mixie jar.

Add the hot a cup of hot water and leave the grated coconut in the jar for around 5 minutes, make sure that coconut in the jar have cooled down sufficiently before grinding.

Grind it in mixie.I did it by two batches,If your jar is quite big you can do this at one time.
You can staining it or squeeze to extract the milk.Press it with spoon or use hand to keep out the flesh.

The first extracted milk gives a cup of thick coconut cream or milk ,is more suitable for recipes that need coconut milk.Keep aside.
If you want the thin milk add the coconut flesh in jar ,again add 2 cups hot water and keep it for 5 mins.After 5 mins drain it.No need to grind it again.

The second extract would be thinner and is ideally suited to be used as thin coconut milk.If you want more thin milk add a cup of hot water and then squeeze the milk.So totally you will get a cup of thick cream or milk and 3 cups of thin coconut milk.

Do make you own coconut milk and enjoy varieties of dishes


My Notes:
If you want to store the coconut milk,add a tsp of vinegar and store it fridge for 6-7 days.
Have a nice day!!!