Paruppu Podi recipe in Tamil, Andhra Pappu Podi, How to make spicy Parupu Podi

Homemade Paruppu Podi recipe in Tamil. How to make Andra Pappu Podi. Paruppu Podi recipe for rice, idli, and dosa. Paruppu Podi(Pappu Podi in Andra) recipe is made with protein-rich dal and black peppercorns, cumin seeds, dry red chili roasted and fine powdered.  garlic added for flavor and 100% healthy. The total time taken to make this Paruppu Podi is just 15 mins. My other version Podi which is spicy and weight loss Podi is nothing but SPICY KOLLU PODI RECIPE is good for weight watchers.
In this Easy Paruppu Podi recipe, Unique Paruppu Recipes links are also shared in this post. Spicy Paruppu Podi recipe goes well with Idli/dosa or hot Steaming rice with the dashing of ghee. Have u Seen the color of the Paruppu Podi recipe in the above picture it's amazing, it's time to make and store your Paruppu Podi recipe at home handy? Here is a batch of the Paruppu Podi recipe made today and posted here.
Paruppu recipes you may like, Paruppu Urundai Rasam, Paruppu Urundai Mor Kulambu recipe, Paruppu Urundai Kuzhambu, Paruppu Thogaiyal Recipe, Cluster beans Paruppu Usili recipe, Paruppu Sadam recipe, Paruppu Vadai, Paruppu Rasam, Paruppu Poli
IMPORTANT TIPS TO MAKE PERFECT ANDRA PARUPPU PODI RECIPE:
Roasting the dal(Thuvaram Paruppu) is very important, it should not turn black. while roasting you will LIKE STONE sound that stays you should stop roasting the TOOR DAL.  Do check the video after roasting the color should NOT be golden brown, NEITHER dark brown.
Same as the Toor dal we have to roast other ingredients not golden brown even the dry red chili also should not burn.
We can add curry leaves while roasting.
For good Flavourful Paruppu Podi recipe roast it in coconut oil or ghee.
I did use garlic if you want you can skip it.
PARUPPU PODI INGREDIENTS: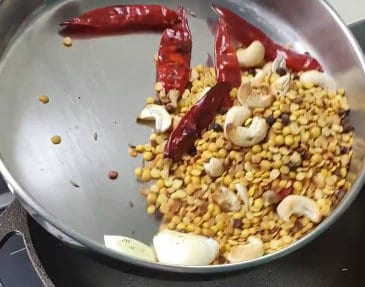 1 tsp cumin seeds, 1 tsp peppercorns, 1 cup Toor dal, 10 cashew nuts, and 5-6 Dry red chili and a tsp of salt are the ingredients used to make Paruppu Podi.
WATCH VIDEO TO PREPARE PARUPPU PODI RECIPE FOR RICE, IDLI, DOSA:
RECIPE CARD FOR PARUPPU PODI RECIPE, ANDRA PAPPU PODI RECIPE,
Paruppu Podi recipe in Tamil, Andhra Pappu Podi, How to make spicy Parupu Podi
Recipe of Andra Hotel-style Paruppu Podi Recipe with a Secret Ingredient. Watch the Full video, tips and secrets shared to make it perfect flavourful Paruppu Podi. Homemade Paruppu Podi is definitely a lifesaver in Quarantine days. No special dish is required to taste just the Hot steaming rice and a teaspoon of ghee that's it. It will melt in your mouth.
Author:
Premalatha Aravindhan
Ingredients
1 tsp cumin seeds/சீரகம்/జీలకర్ర
1 tsp pepper/மிளகு/పెప్పర్
1 cup Toor dal/துவரம்/టోర్ దాల్
5-6 dry red chilies/சிவப்பு மிளகாய்/ఎర్ర కారం
1 tsp salt
Instructions
Heat a Kadai add 1 tsp of cumin seeds, 1 tsp of pepper, 1 cup Toor dal dry roast it in low flame for 1 minute.
After 1 minute, add 5-6 dry red chilies and roast well with the dal.
Once the dal roast well removes from Kadai, make sure that you don't burn the dal. once it started turning light brown remove from Kadai.
finally, add 2 garlic pods roast it in the same Kadai.
Remove the garlic from the Kadai and let it cool down completely.
reserve the garlic and add rest all ingredient to a mix jar and grind it to a fine powder.
Now add the garlic pods and grind it together with the paruppu powder.
finally, add salt and mix well.
Paruppu podi is ready now. we can serve it with rice and ghee.
STEP BY STEP DIRECTIONS TO MAKE PARUPPU PODI RECIPE WITH GARLIC,
Step: 1 Take a pan, add cumin seeds, peppercorns, Toor dal, cashew nuts, and Dry red chili roast well. Once they started turning to golden remove it from the stove and now add 2 garlic pods roast it, remove it to the plate. let it cool down completely.
Step:2 Transfer the roasted Paruppu mixture to the blender jar and powder it. Paruppu Podi is now ready to taste with Idli or with steamed rice.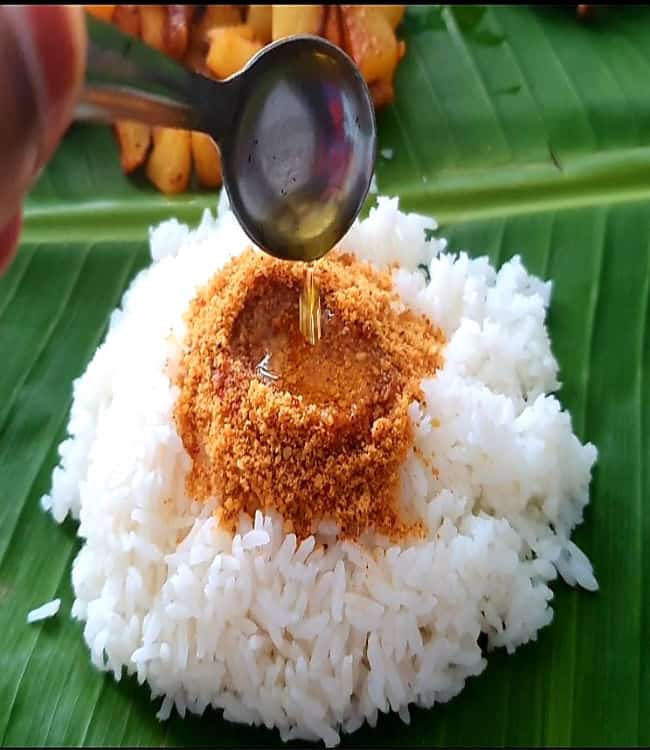 How to Serve Paruppu Podi:
Serving suggestion, you can have the Paruppu Podi with hot steaming rice and dashing of Homemade ghee on top. You can have it soft idli or dosa with topped Gingelly oil.
#paruppupodirecipe, #paruppupodi, #andrapappupodi, #Howtomakeparuppupodi, #premasculinary, #paruppupodirecipeintamil
Paruppu Podi recipe, Paruppu Podi, Andra Pappu Podi, How to make Paruppu Podi, Premas Culinary, Paruppu Podi recipe in Tamil, Paruppu Podi Recipe with garlic.
I would love to hear from you. if you have made this recipe then rate the recipe or leave a comment below. if you like this recipe then do share the recipe link on Facebook(https://www.facebook.com/premasculinary), Twitter & Pinterest. for the Instagram mention, @premasculinary or tag #premasculinary