Ragi Appam Recipe without Rice, Raagi Appam Maavu made with Whole Finger Millet, Easy Ragi Recipes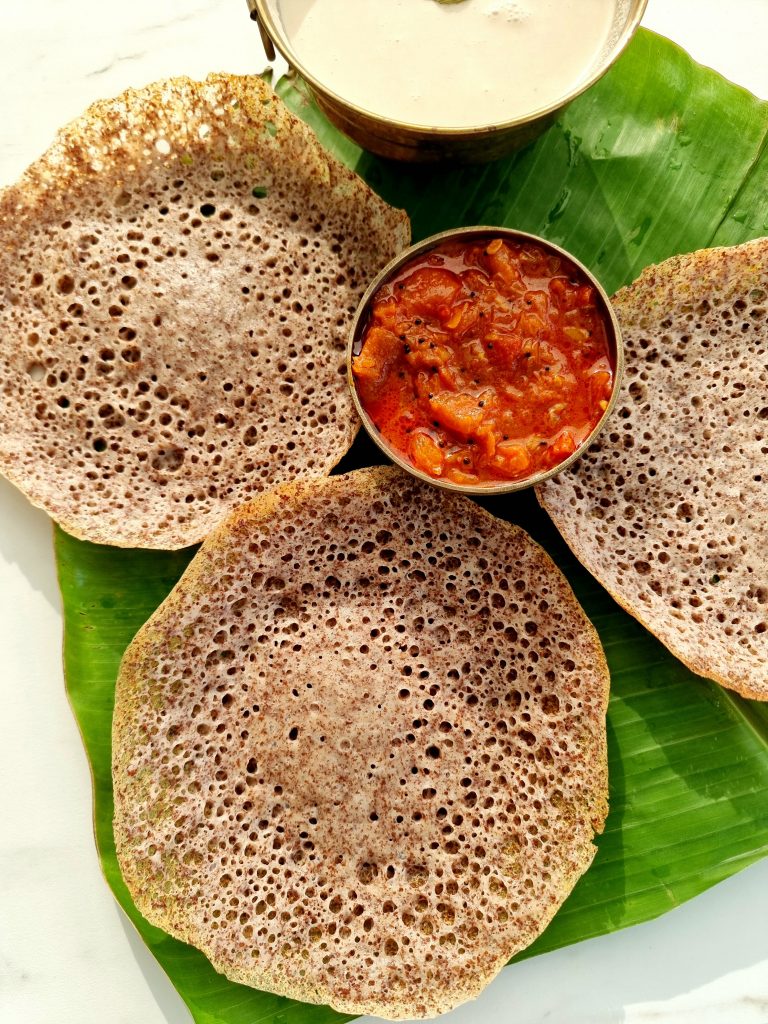 Ragi Appam is made without rice. Raagi Appam Batter is made with whole Ragi without yeast and naturally fermented. Ragi Appam with Homemade Thengai Paal(Coconut milk) is one tasty breakfast if you are looking for low-calorie weight loss Breakfast recipes or Easy Ragi Recipes. Paal Appam made with Thengai Paal is always tastes delicious, if it is without rice healthier right?  You can check Appam without yeast More Ragi recipes, Ragi idli & Ragi Dosa, Ragi Koozh, Ragi Poori, Ragi Kuzhipaniyaram Ragi Adai, Eggless Ragi cake, Ragi Idiyappam
What is Ragi Appam?
Ragi is nothing but Finger Millet in English. Appam is originating from South India, made with fermented rice batter and coconut milk, common in Kerala, Sri Lanka, Tamil Nadu. It is eaten most frequently for breakfast or dinner. Instead of Rice batter, we used Ragi batter that is called Ragi Appam.
How i made the Ragi Appam, A Quick recap:
Whole Ragi(Muzhu ragi) and urad dal + methi seeds soaked in water for 5 hours then ground to a smooth paste. Ragi Appam Maavu is then Fermented for 8 hours. This is how the traditional way of Making Ragi appam Maavu. No shortcut is used completely from scratch. Ragi Appam is paired with Super Spicy Kara Chutney and Homemade Coconut Milk
Ragi Appam Batter Ratio:
Same as the Normal Appam batter the ratio is 1:4, For 1 cup Urad dal and 4 Cups of rice, we usually add methi seeds also to make Appam batter. I made a small batch of Ragi Appam batter so I took 1/4 cup of Urad dal and 1 cup of the Whole ragi, and 1 tsp methi seeds, This is the Ratio of Ragi Appam Maavu Recipe.
I used the whole Ragi because store-bought ragi flour contains maida, I want the pure form of ragi that's why I used the whole ragi. You can add the ragi flour but make sure it is maida-free and the ratio is the same no change.
Some Easy Ragi Recipes or Weight loss breakfast Recipes without rice, Kavuni Arisi Adai, Ragi Adai with Drumstick Leaves, Kambu Koozh, Oats Paniyaram, Brown rice idli, Quinoa idli Dosa recipe, Ragi idli Dosa Recipe, Green Gram Dal Idli recipe, Kavuni Arisi Idli recipe, Ragi Semiya Idli recipe, Mapillai Samba Arisi Idli recipe, Kollu idli
Raagi Appam Video Recipe,
How to Make Ragi Appam,
Take 1 cup whole Ragi, 1/4 cup urad dal, 1/4 cup poha, 1 tsp methi seeds, Wash and rinse the ragi well, and then soak it for 5 to 6 hours.
You can Soak urad dal and methi seeds together, for 5 to 6 hours.
Soak poha just 15 mins before grinding.
Add little water grind everthing to a fine paste
Add 1 tsp salt and let it ferment
After fermentation add 1 cup of Coconut milk mix well and make appam in Appam Pan.
That's it Ragi Appam Ready!
Check the video for a more detailed recipe.
Have a Good Day!!!