Carrot Rava Idli recipe, Healthy Sooji idli for kids, Instant Vegetable Semolina idli, Easy breakfast | dinner recipes
Classic Rava idli with Carrot Recipe, Kids Friendly Instant Rava Idli recipe, Soft and Spongy Carrot idli is one Easy breakfast or dinner recipe for kid's lunch box or Breakfast Recipe. Simple Rava idli recipe with a twist. Easy Sooji idli made with Bombay Rava, Suji idli with Carrot, Healthy Vegetable Suji idli recipe. Usually, we make Rava Idli with vegetables, This carrot idli is made with more carrots to make it more colorful. We can Make Rava Dosa using the Same batter too.
Instant Rava idli is very easy to make no special techniques or fancy ingredients are required to make this Vegetable Rava Idli. All ingredients are our Pantry available ingredients only. Sometimes I use to buy Aashirvaad Rava Idli Instant Mix (Top Pick) or MRT Rava Idli mix is the tastiest and fluffiest Rava idli. I wanna make Rava Idlis at home to avoid the preservatives or added chemicals. This Carrot Rava idli gave me satisfying results like MRT Rava Idli. Then Decided no more store-bought Rava idli mix at all.
Similar to Instant Vegetable Rava idli this carrot idlis are made with semolina(sooji/soji), Homemade curd, herbs, and basic spices only difference is that more Freshly grated Carrots. These soft, fluffy Rava idlis are great to enjoy with chutney & Sambar.
More Instant idli recipes like Ragi Vermicelli idli, Mini Dhokla Idli, Broken Wheat Rava Idli(Gothumai Rava Idli)
Carrot Rava Idli Recipe Video,
Carrot Rava Idli Ingredients:
Preparation time:10 mins Cooking time: 15 mins Yields: 9 idlis
Ingredients
1 cup Rava | sooji / Semolina
1/2 cup Thick Sour Curd
1/4 cup freshly grated carrot
2 tsp oil
¼ tsp turmeric powder
1/2 tsp salt
coriander leaves
1 cup water
1/4 tsp Eno salt
For Tempering:
1 tsp oil
1 tsp mustard seeds
1 tsp chana dal/urad dal
How to make carrot rava idli with step by step photo:
Heat a Kadai with 2 tsp oil and add 1 tsp mustard, 1 tsp chana dal/urad dal, let the mustard seeds splutter.
Keep the flame on low add 1 cup Rava and roast well.
Roast for 5 minutes or until the Rava turns aromatic. Switch off the Stove
Cool Down the Rava completely and transfer it to a bowl.
furthermore, add 1/2 cup of thick curd, 1/2 tsp salt + 1/2 cup of water mix well forming a thick batter.
rest for 15 to 30 minutes or until the Rava absorbs water.
After 15 mins open the lid, the Rava absorbed all the water the batter is thick.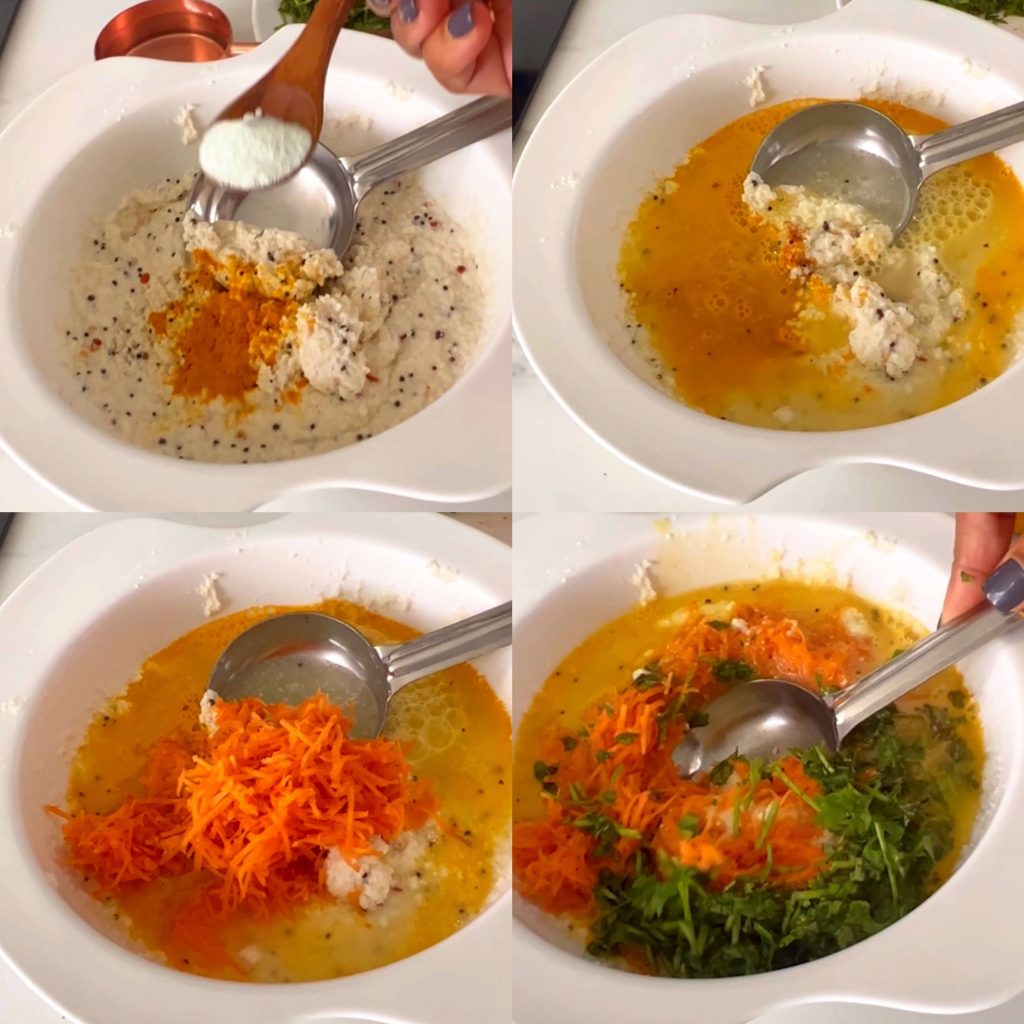 Now add 1/4 tsp turmeric powder, 1/4 tsp Eno(fruit salt), alternatively, add a pinch of baking soda. Add 1/4 cup of grated carrot, coriander leaves mix well. Add 1/2 cup water, mix well and add water as required, to form frothy idli batter consistency batter.
grease the idli plate with oil and pour the batter immediately into the idli plate. do not rest the batter.
steam the carrot Rava idli for 13 to 15 minutes on medium flame. After 15 mins switch off the stove, check if you poke a knife it should be clean, the idlis steamed well. Now remove the idlis from the plate. Instant Carrot Rava idlis are ready to serve!
finally, serve instant Carrot Rava idli with coconut chutney and sambar.
Most Famous side dish for Rava Idli:
Sombu Chutney made with fennel seeds, Murugan idli Kadai idli Podi recipe, Instant Pot Moong Dal Sambar, Tiffin Sambar, Simple Tomato Chutney, Thanjavur Kara Chutney, Peanut Coconut Chutney, Hotel Coconut Chutney, Garlic Chutney, Onion Chutney, Bottle Gourd Chutney, Thanni Coconut Chutney, Tri-Color Chutney.
Hope you all like this Carrot Rava Idli recipe, BookMark this Post to try for Later!
Have a Good Day Makkale!!