Best Instant Pot Guide, How to Begin, Cook, Clean, Troubleshooting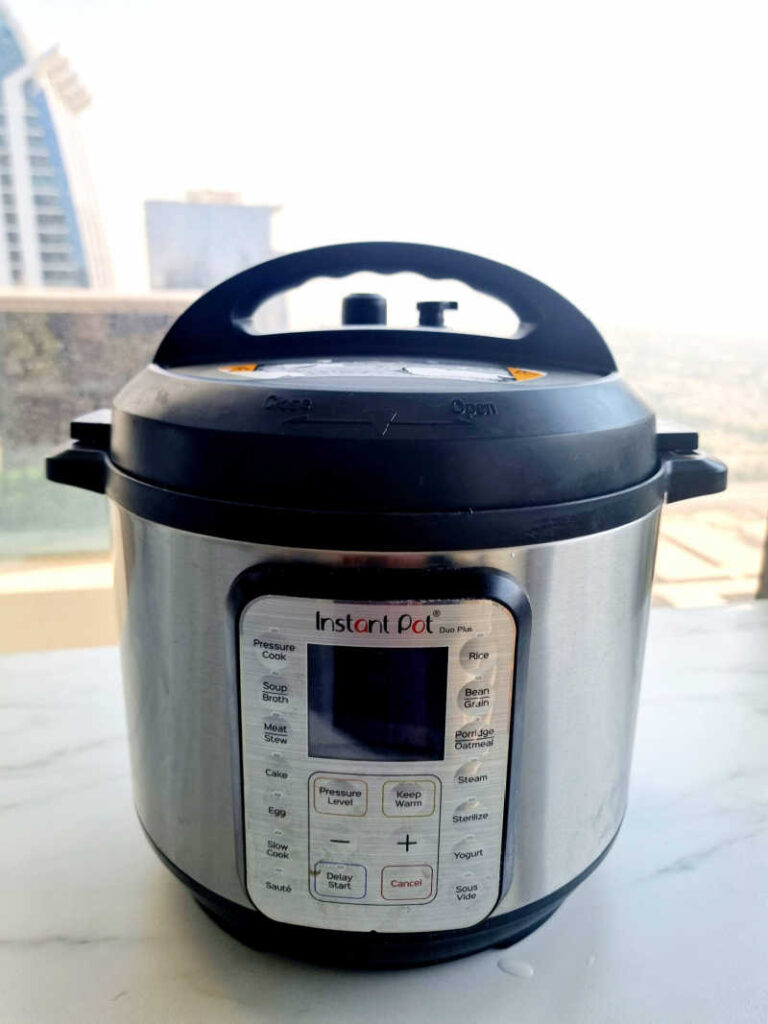 The Best Instant Pot Guide for Beginners to advance cooks, to know about the Instant Pot many things like How to Start your new instant pot(water test method), Know about your instant pot parts & Functions, How to cook food in an Instant pot, Troubleshooting the Burn message, How to Clean and How to maintain all information included in this post. Please Don't skip anything if you are a beginner. Before I begin let me share about my Instant Pot. I am using INSTANT POT DUO PLUS  6 QUARTS, 1000 VOLTS. It's a 9-in-1 multi-cooker bought from Tavola Mall of the Emirates.
Like everyone I too have a story and many Oscillations about whether to buy an Instant pot or not. If yes whether it is Instant Pot or Nutri cook? I think this question is there on everyone's mind I guess. Already we have a pressure cooker at home why one more cooker, do we have space in our kitchen to keep it? After so many questions arose and finally bought one for no reason🤦‍♀️. Yeah, the Answer to all questions is that am a FOOD BLOGGER who needs to be updated. Don't miss to check the FAQ you may get answers to your question too.
Do Check How to Season Ammikal, How to Season Paniyaram Pan, How to Clean Stainless Steel Cookware, How to Clean Oil Dispensers
What is an Instant Pot & How it is different from a Pressure Cooker?
Instant Pot is a multi-functional machine that comes with many functions like a pressure cooker, slow cooker, rice cooker, yogurt maker, and more. Now it comes with air fryers too. Both Instant Pot and Pressure cookers have the same pressure cooking functions where in Instant pot everything is under control, you no need to monitor the number of hisses, no need to switch it off manually and it will indicate you the food is burnt. Unless pressure cooker Instant pot has customizable Smart Programs to keep food warm for up to 24 hours. Delay starts to ensure food is ready whenever you want. you can cook for more than 5 people at a time. Do we need any more reasons to own an Instant Pot?
Parts of Instant Pot and Functions: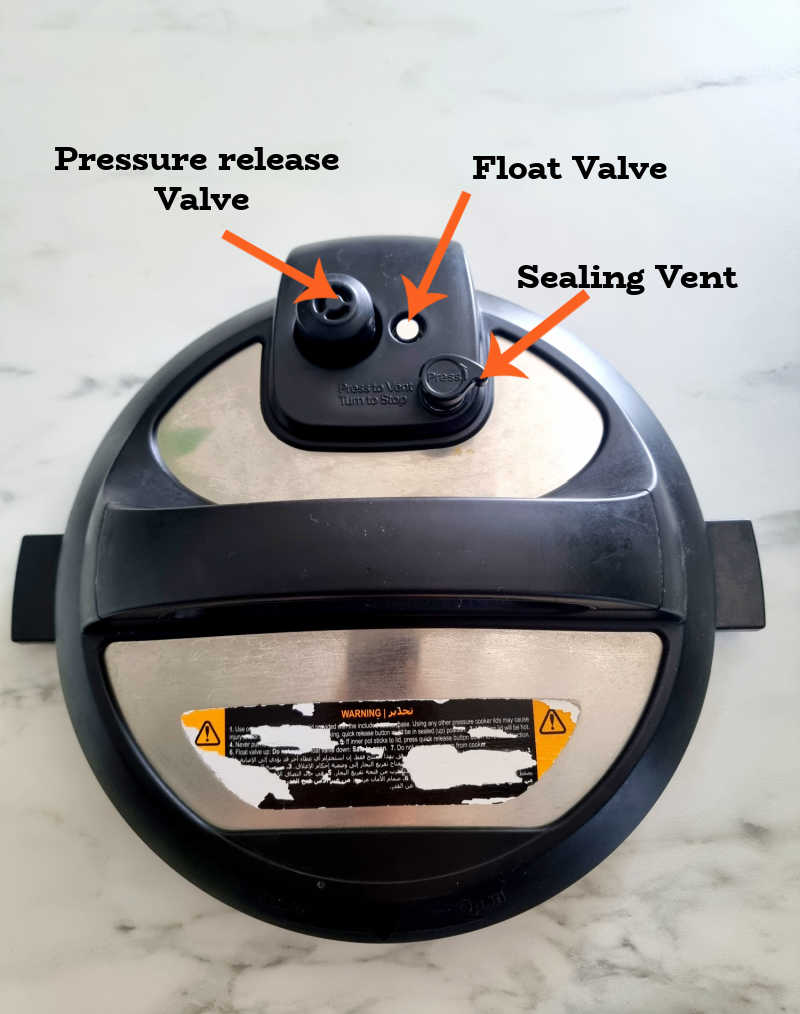 The above Pic shows the Parts of the Instant Pot lid, Pressure release handle releases the pressure from the Instant pot after cooking. Sealing Vent has 2 functions seal & release. Sealing is used to seal the pressure coming out from the instant pot while cooking. And releasing position is used after cooking if we want to open the lid immediately. The Float valve comes up once the pressure forms inside the instant pot and it goes down once pressure is released.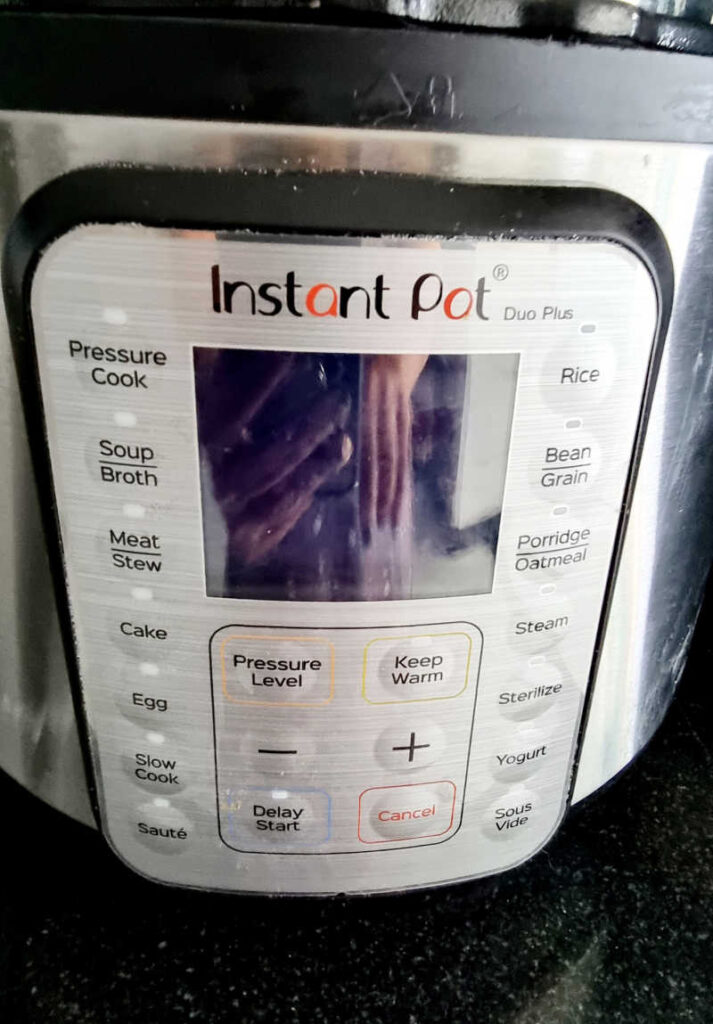 The Common Functions of an Instant Pot are pressure cooking, cake/baking, egg boiling, Soup/slow cooking, sauteing, delay start, pressure level adjustment, canceling, yogurt, and many more. These functions vary according to the model of the cooker.
A few Technical Term that was used in the recipe that you must be aware of!
Seal the Vent means, Sealing means the Instant Pot is going to hold all the pressure created inside the pot, so while pressure cook something we have to seal the vent. My instant pot has auto seal hence I no need to seal it every time. while venting is what you'll likely do to release the pressure when the food is finished cooking.
Auto Release or Release Manually, means if you want to open the lid immediately after cooking you need to turn the vent to the release position. The auto release is pressure release by itself.
These are the few technical terms they talk about while using the Instant pot. If you understand these basic things we can start using the Instant Pot.
How to Get Started with your New Instant Pot Duo! Beginners start here! water test Method!
STEP: 1 wash the inner stainless pot with any mild dish wash liquid and then fill 2 cups of water and 1/4 cup of vinegar. Cover the lid. keep in steam function ON for 2 mins. After 2 mins your Instant pot is ready to use. Through the water wash well and use it.
STEP:2 Before you start read the manual clearly and understand your Instant Pot functions and then start using it. Initially start with boiling something like an egg, potatoes, or dal slowly go with pressure cooking rice, etc., once you are familiar then straight away biryani😉
How to clean Instant Pot Video:
Troubleshooting:
why do we get Burn Message how to handle it? There are a few reasons for Burn Message We may forget to put the Sealing ring after washing the ring will get expanded we need to keep it in the freezer while cooking we need to put it back. The second reason we forgot to seal the vent, the water all evaporates so the food burned. Try to buy an Instant pot with a self-sealing mechanism. The third reason is, After sauting we need to cancel the sauteing function and then the pressure cook function if we forgot to cancel the food burn message will come. Also, we need to de-glaze the down or cool it down a little bit and then go to pressure cook. Finally, Starchy ingredients Rice, Potatoes may stick at the bottom, use POT IN POT METHOD for cooking.
Frequently Asked Questions:
IS THAT WORTH BUYING AN INSTANT POT? It depends most people buy kitchen gadgets and they don't use them before buying any new Gadgets just question yourself NEED IT OR WANT IT' if you really need it to go for it. Being a food blogger I would like to share recipes using gadgets so I update frequently.
IS IT VERY EXPENSIVE? being an NRI buying a prestige pressure cooker and the instant pot is almost the same cost so it is still affordable
IS IT VERY TRICKY TO USE? no initially like other kitchen gadgets it will take a little time to understand and slowly we will get used to it. Even I burnt the food initially now I can cook anything.
WHICH MODEL OR CAPACITY IS GOOD FOR 4 PEOPLE? 6 QUART is more than enough for 4 people. Even I cook rice or biryani for 6 people.
IS IT BIG OR OCCUPY SPACE? yes like the mixie grinder it occupies space, but I would like to keep the Instant pot Airfyer on the kitchen top more than the beauty of the kitchen I prefer my comfortable.
INSTANT POT OR NUTRICOOK WHICH IS BEST, I have both and I used both. I have Nutri cook in my India house both are equally good. Before buying just check you have a service center available also spare parts available. In Dubai, we have everything available for both brands so no issues buying. I personally like Instant pot because very comfortable for me.
DO YOU GET FREE ACCESSORIES ALONG WITH YOUR INSTANT POT? no I got only basic things like stainless steel trivet, 1 measuring cup, and 1 ladle. we need to purchase if needed. Honestly, we don't need any special accessories we can use our stainless steel idli plate for steaming idlis, a normal steamer for steaming. also, use baking tins for baking.
These are questions I got finally answered. Do stay tuned to Prema's Culinary for more Instant Pot Recipes,
More INSTANT POT RECIPES LIKE How to make Curd/Dahi using Instant Pot, How to Ferment Idli batter using Instant Pot, How to make Sakkarai Pongal in Instant pot, How to boil Peanuts in Instant Pot, Make Tamarind Extract, Instant pot Kurma, Instant Pot Tiffin Sambar, Instant Pot Veg Biryani
Hope this post will help you use Instant pot wisely at Home. If you have any Doubts about cleaning or If you want any specific Instant pot recipes you can email me at cpremas79@gmail.com. Do Follow me on Instagram for more Recent updates and every cooking recipe video
Do share your thoughts with me, Also tag our page on Instagram @premasculinary with hashtag it on #premasculinary
Thanks & Have a Good Day! 😉Enjoy Cooking and Cleaning!