HOW TO SEASON NEW CAST IRON PANIYARAM PAN STEP BY STEP PROCEDURE WITH VIDEO, TIPS TO MAINTAIN IRON PANS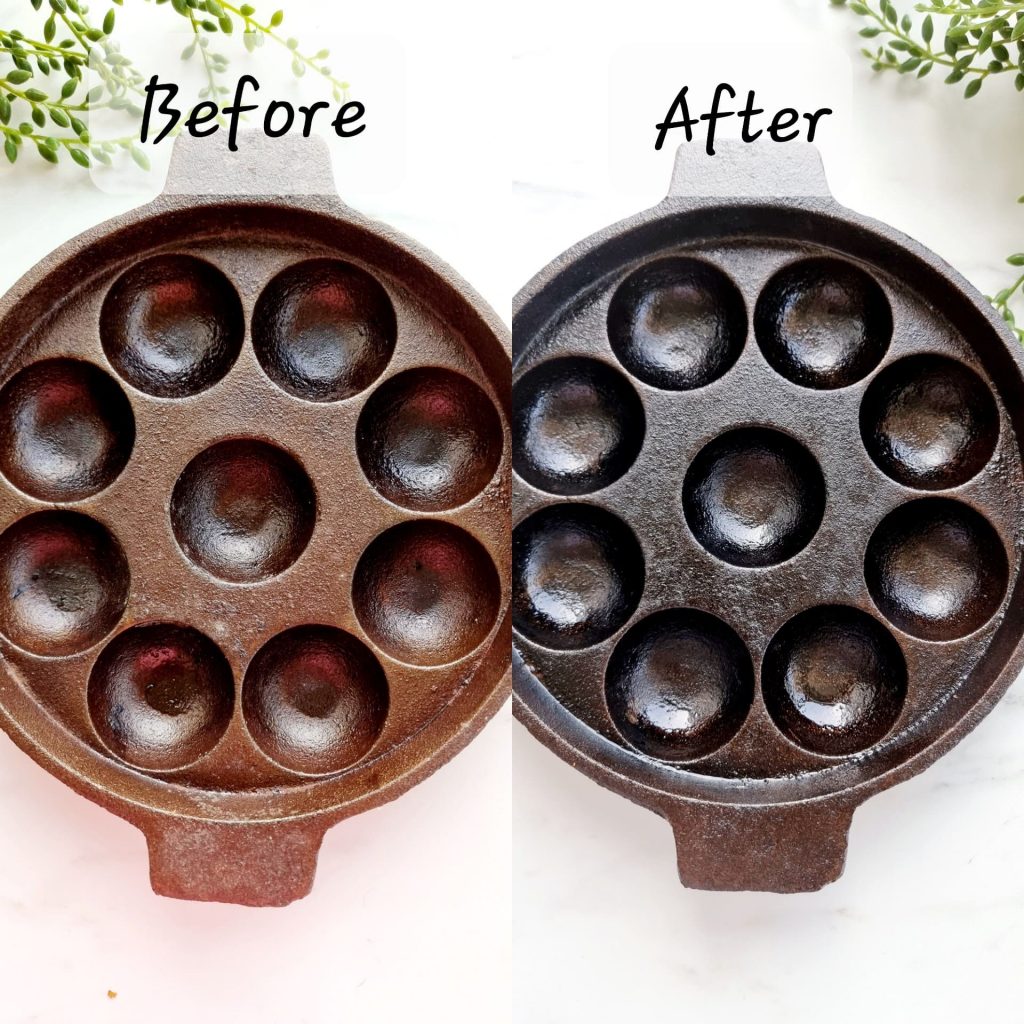 How to Season the Cast Iron Paniyaram Pan, Having one Cast Iron Paniyaram Pan is everyone's Dream. Even me🙋🏽‍♀️. Many were still thinking of switching from Non-stick to Iron. Because Iron Pans need maintenance. But Trust me, maintaining the iron pans or Kadai is very easy, not a Kamba Soothiram though😉. Little understanding is needed then they will become our favorite thing in our kitchen. This post will help you to season cast iron paniyaram pan for first-time use, also Tips to maintain dosa Tawa.
I bought this paniyaram pan almost a year ago from Earth & Ethics it's already seasoned cast Iron Paniyaram Pan so it is ready to proceed to paniyaram. But I really make paniyaram whenever I start using the pan I make sure that it is in good condition.
Many of my readers were asking me to share the Video of how to season the Cast Iron Paniyaram Pan here am sharing whatever I know also the steps I follow to maintain it in Good Condition.
Difference between Seasoned and UnSeasoned Cast Iron?
Seasoned cast iron is when your cast iron cookware has been layered with hardened oil to give it a protective layer that makes cooking and cleaning quite easy. Unseasoned cast iron, on the other hand, has a rough look and feel until it is seasoned properly.
VIDEO OF SEASONING THE PANIYARAM PAN,
How to season Paniyaram Pan STEP By STEP Procedure,
STEP: 1 Soak the Iron pan in rice starch water(Sadam Vadicha Kanji) overnight. Next-Day You will see the red color rust. Use any dish wash liquid or soap scrub and Clean it using a metal scrubber. Completely dry it. This step I completely skipped because my Pan is already seasoned. I don't want to harm it anymore. If your iron pan is not seasoned then do the 1st step and then proceed with the 2nd step.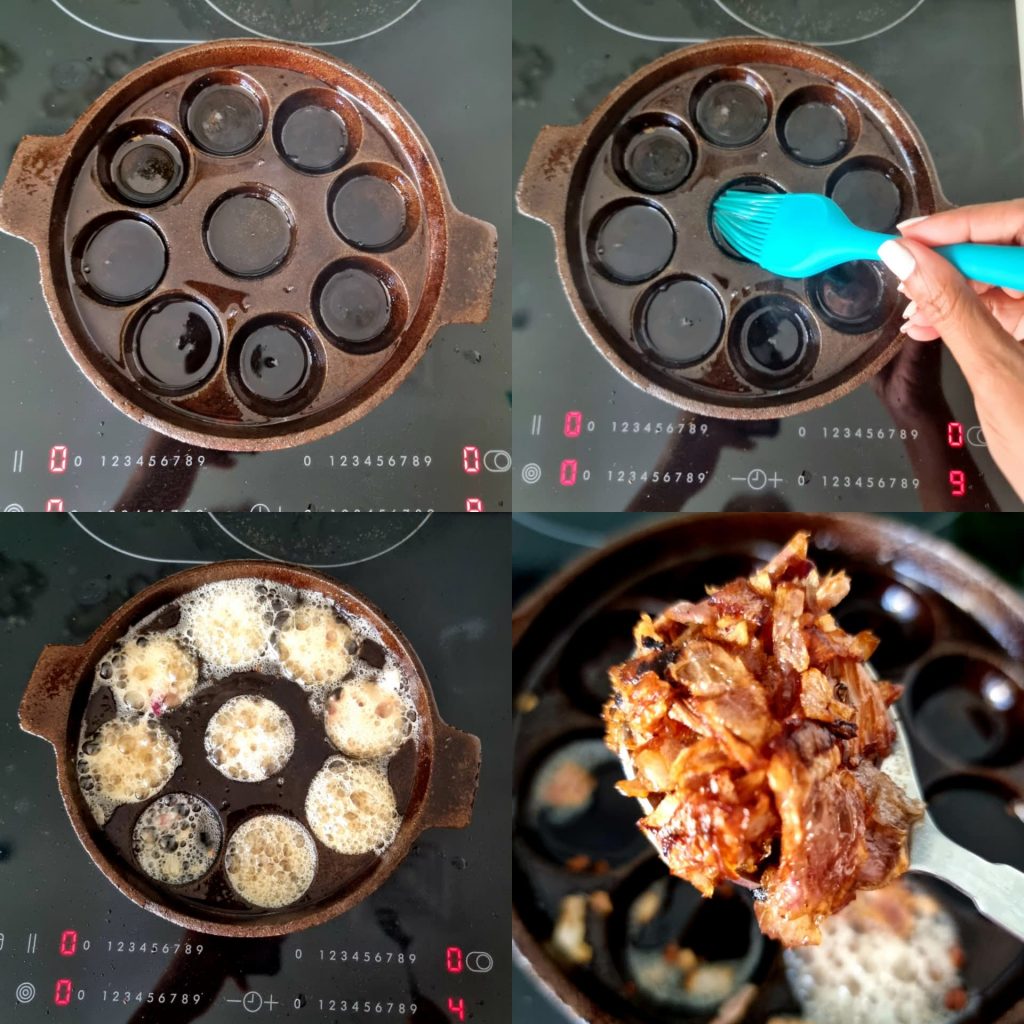 Now heat the pan and add oil generously to each pit (You can reuse the used oil also), add chopped onions and roast it. Remove the onions, and repeat the same step one more time.
then wipe it using a cloth or tissue. Now the Pan is ready to make Paniyaram.
If you still feel that it's not properly seasoned you can make the first batch of paniyaram with old idli batter and then try with a new batter.
That's it our Paniyaram Pan is ready to make Paniyaram.
Do's & Don't,
Eggs, oil, paneer, and high-fat items are friendly to iron pans so cook these ingredients frequently.
Once Seasoned no need to use soap and wash every time after use, just wipe it with tissue and apply oil, and keep it. As we are heating the griddle every time, it will get sterilized.
How to maintain the Paniyaram Pan as New always:
As is said before don't use soap once seasoned, Always apply oil after each use. Don't forget.
Whenever get time to apply oil and keep it in the hot sun or oven for 10 to 15 mins.
Do try this Method of Paniyaram Pan Seasoning and Let me know your feedback!
Hava a Good Day Makkale!!!