Ammikal (Sil Batta), Where to buy? How to Season? How to Maintain? FAQ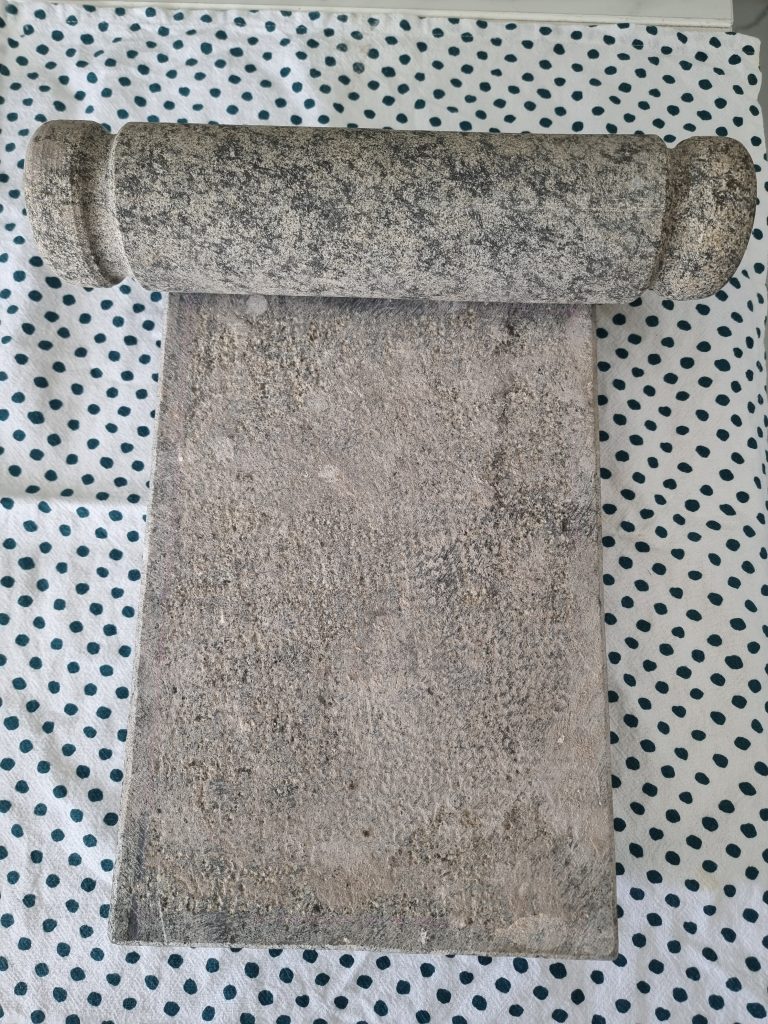 All about Ammikal(grinding stone), Where to buy the Ammikal, How to Buy it, Where to kee itp, how to Grind in Amikkal, Seasoning methods,and How to maintain it all in One Post. Very helpful post for Beginners. How much technology has grown but Ammikal is really one treasure our Ancestors gave us. Not only does it enhance the flavor of our food, but it also brings positive vibes to our Kitchen. Let's see in detail the Significance of Ammikal.
Amma bought one Ammikal for My India House, Whenever I go on vacation, I use that Ammikal almost every day for everything from rasam to chutneys. I feel like something energetic while I use that also I can feel the flavor of the cooking using the Ammikal is vera level. Then decided to buy one small Ammikal for my Dubai home. Collected some info about Ammikal and wanted to share it with you all for a long so this post will help beginners to buy and use the ammikal.
What is Ammi Kallu?
Ammikallu(Tamil word) is Grinding Stone, Ammi Kallu is also known as Sil Batt. The smaller stone(Batta) and the bigger stone(Sil).
The small stone is moved forth and back and the bigger stone is rigid in place, in that way we grind the ingredients in desired consistency.
Importance of Ammi Kallu/sil batta/grinding stone?
Ammai Kallu added beauty to our kitchen, it gives the traditional look to our kitchen moreover, Ammi Kallu is Lakshmi Rupam. We believe that God is in our Home in many ways, she is in the form of turmeric, and rice the Same way our ancestors say ammikal is Lakshmi Roopam. It Brings Prosperity to home.
The technology behind Ammi Kallu ?
The vigorous movement of stones produces heat which amalgamates with the natural oil of the spices and other ingredients bringing out all the flavors that make the food tasty. That's why we use ammikal for grinding kuzhambu masala, rasam powder, etc. mainly for grinding the coconut.
How to buy Ammikal?
While buying the Ammikal check it is hand made(ground) (kaiyal Kothiyathu) machine Made it will stay sharp of Few days and soon it will turn like a mosaic.
Size is very important don't go with a very small size you can grind only a very small quantity making chutneys not possible. Go with medium size.
Weight is important if you are taking to abroad(mine is 16kg)
These are the few things we need to see while buying the ammikal.
FAQ
Where I bought it?
As many were asking where I bought the ammikal here is the link. I bought it through amazon.in It is a very good texture and is hand-made. Even though they told me no seasoning is required but I seasoned it before using it. I personally called the person and told them to pack Ammi and the kallu separately in bubble wrap. They well packed and courier it to my Thanjavur address. Weight is 16kg and size is medium(10 inch)
From there is packed in a suitcase and brought it here. In customs, they asked me what is this stone and I told its a grinding stone and they allowed it. No issues in carrying or bringing it here.
Where to keep Ammikal? South-east is a good direction to keep Ammikal. we usually keep Ammikal next to our sink so that it is easy to wash after grinding. luckily my sink is in the southeast direction, I kept it next to it.
How to Season the Ammikal?
Machine-made or Man-Made whatever we need to season the ammikal before use.
Wash the Ammikal under running water with pressure so that holes will be visible. Use a scrubber and scrub the ammikal and rinse it thoroughly.
Soak rice(any rice is ok) for 30 mins and then grind ammikal. Grind all over the stone, you can see the rice turn black. wash it out again with running water. repeat the same step till the rice turn white.
The color of ground rice will indicate if the stone is ready to use or not. If the color of ground rice is brown or black then you need to grind the rice again until the color of the ground rice changes to white. Once done, you are ready to use ammikallu to grind masala.
How to Maintain the Ammikal:
Proper grinding methods will help to maintain the Sharpness while grinding Always move front and back movements.
After grinding every time wash it properly and let it dry completely.
Place a towel below it gives grip while grinding.
If possible apply turmeric to keep it pest free also it heals the stone or grind it with rock salt to maintain the sharpness.
These are some of the things I know about Ammikal. If you have any doubts or queries comment below.
Thanks, Makkale, Happy Cooking!!!