Thengai Paal Kulambu Recipe, Instant Coconut Milk Kuzhambu using Store bought Coconut Milk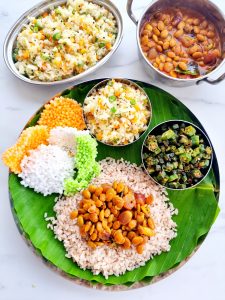 Tamilnadu Special Thengai Paal Kulambu made with fresh Pacha Mochai. How to make Easy Coconut Milk Kuzhambu using instant store-bought Coconut Milk. Very simple and Easy Tamil Nadu (South Indian) Kuzhambu Variety. If you are bored of making the usual puli kulambu, sambar, rasam want to make something unique at the same time easy to make this Thengai Paal Kulambu is a very good option because this Thengai Paal Kulambu involves no grinding process, no sambar powder, or any other kulambu podi used. Very simple kulambu variety made with Pantry staples.
What is Thengai Paal Kuzhambu?
Thengai Paal is nothing but Freshly extracted Coconut Milk. Thengai Paal Kulambu is made with freshly extracted coconut milk, with some vegetables or beans added with tamarind-based curry. This Thengai Paal Kulambu looks similar to Puli Kuzhambu but extracts not have the same taste. This Kuzhambu variety is very famous in Tamil Homes, especially in Karaikudi, Chettinad areas, they make Thangai Paal Kuzhambu with Mixed Vegetables.
Today I am Sharing the Thengai Paal Kuzhambu with Store-Bought Instant Coconut Milk which is the short Cut Version of Traditional Thengai Pal Kuzhambu but no compromise in taste absolutely delicious.
More Interesting Thengai Paal Recipes Like, How to make Thengai Paal(Coconut Milk) at Home, Thengai Paal Biryani recipe, Thengai Paal Sadam, Aadi Thengai Paal, Thengai Paal Paniyaram, Thengai Paal Murukku recipe.
How to make Thengai Paal Kuzhambu(Coconut milk gravy) Step by step Recipe,
Soak gooseberry-sized tamarind in ½ cup water extract juice, keep aside.
Extract 1 cup thick coconut milk or you can use ready-made coconut milk also.
Heat a pan with 2 tbsp oil, 1 tsp mustard seeds, ¼ tsp methi seeds. Let the mustard seeds splutter. Add 10 shallots, 5 garlic pods, curry leaves saute well.
Add Field beans(100g), ¼ tsp turmeric powder, 1 tbsp chili powder, 2 tbsp coriander powder, 1 tsp salt saute well. 
Add the tamarind extract mix well. Cover and cook till the beans become soft.
Finally, add the coconut milk, simmer for 2 mins and then switch off.
That's it Donne! Thengai Paal Kuzhambu is ready to serve.
This Thengai Paal kulambu is tastes good with dosa and appam too.
Variation:
Instead of Field Beans, you can add any vegetables, particularly drumstick, brinjal, potato, etc.
Beans also if you didn't get fresh ones you can use the dried beans, soak overnight pressure cook and add it.
More TamilNadu Special Kuzhambu Varieties like Vendakkai Puli Mandi, Vendakkai Puli Kuzhambu, Kathirikkai Puli Kuzhambu recipe, Puli Inji recipe, Murungaikai Kara Kuzhambu
Do try these recipes and let me know your feedback!
HAVE A WONDERFUL DAY MAKKALE!!