Brown Rice Idli Dosa Recipe, How to Make Idli Dosa batter using Brown Rice
Super Soft & Sponge Brown Rice idli Dosa recipe without using the idli rice. How to grind Idli Dosa Batter using Brown Rice in Mixie. This Brown Rice Idli recipe calls No Idli Rice, No Poha.
Everyone thinks that idli cannot be made using brown rice and it will be hard if we make idli using brown rice. That's not true. We still can make soft and spongy idli using brown without poha or idli rice. In some countries brown rice is cheaper than idli rice or idli rice is totally not available, in that case we can use Brown rice to make idlis. Not only cheaper they are healthier too. 
WHY BROWN RICE IDLI IS HEALTHIER?
They are rich in dietary fiber. Brown rice has less carb content, is low in calories and enriched with essential nutrients. Therefore, it is the best substitute for white rice and hence, is great for losing weight. gluten-free and rich in antioxidants, Do we need more reason than this?
If you are thinking to skip white rice and looking for Low Calories, Breakfast or Dinner Ideas then this would be great option also below are some more Idli recipes without white rice,
MORE HEALTHY IDLI RECIPES WITHOUT IDLI RICE OR WHITE RICE
Quinoa idli Dosa recipe, Ragi idli Dosa Recipe, Green Gram Dal Idli recipe, Kavuni Arisi Idli recipe, Ragi Semiya Idli recipe, Mapillai Samba Arisi Idli recipe, Kollu idli
Brown Rice Idli Dosa Batter Ratio, Same as the Normal idli batter 1:4, For 1 cup Urad dal and 4 Cups of rice, we usually add methi seeds also to make idli dosa batter. I made a small batch of Brown Rice idli so I took 1/4 cups of Urad dal and 1 cup of Brown Rice, 1 tbsp Raw rice and 1 tsp methi seeds, This is Ratio of Brown Rice Idli Dosa Batter Recipe.
Brown Rice Idli Dosa Recipe with Step By Step Picture and Procedures,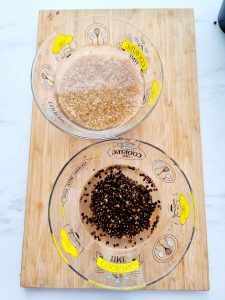 Wash & Soak 1 cups of Brown rice + 1 tbsp raw rice in a bowl and 1/4 cups of Urad and 1 tsp methi seeds in another bowl, 5 to 6 hours completely(Brown rice need more soaking time)
Grind the dal & methi seeds first, adding little water(¼ cup) and transfer the batter to a bowl.
After that, grind the rice(adding ½ cup water), mix rice batter with the dal batter.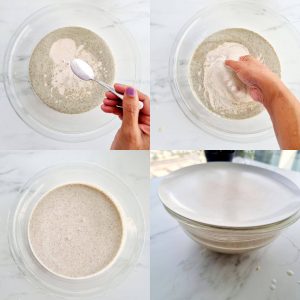 by adding 1 tsp salt mix well with a clean hand. Let it ferment, rest it for 8 hours in a warm place.
After 8 hours we can do idli or dosa. If you are making dosa, dilute the batter a little and then make it.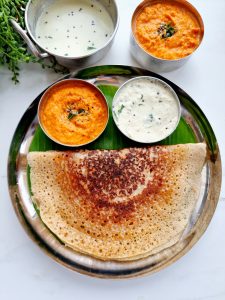 Brown rice dosa is more crispier than the normal dosa. I love dosa than idlis. Both brown rice dosa and idli goes with spicy chutney or coconut chutney or sambar.
Do try this healthy brown rice idli dosa recipe and let me know your feedback!!