Blue rice(Sangu Poo Sadam), Navratri Day 7 no onion no garlic recipes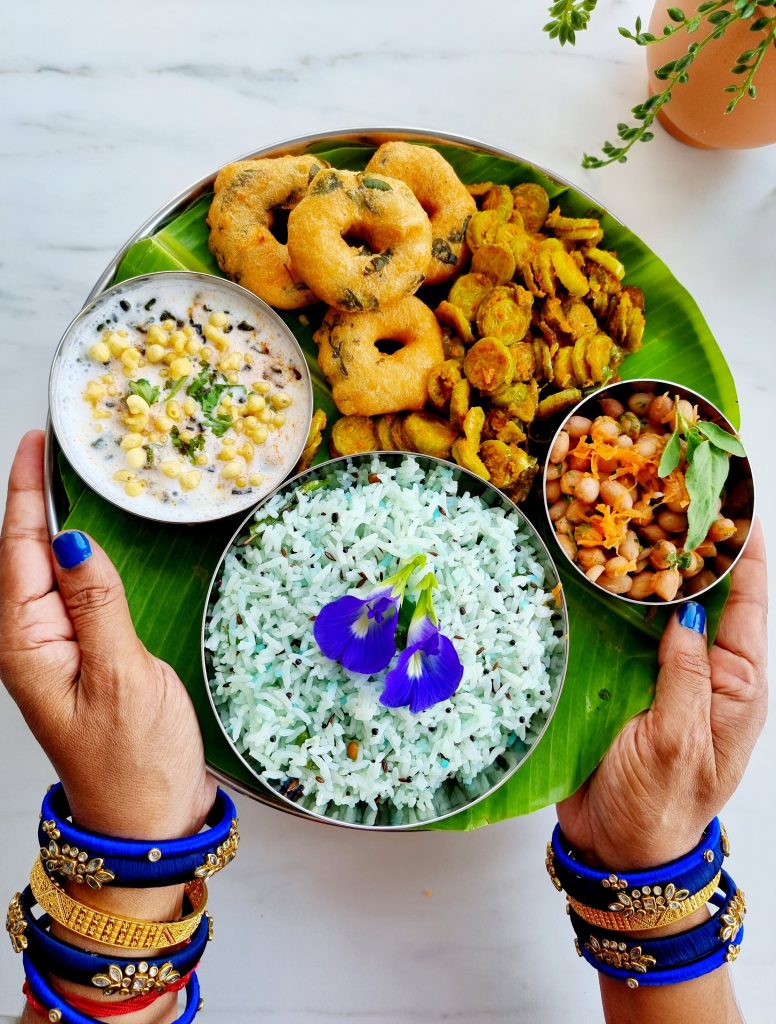 Indian style Sangu Pushpam(Sangu Poo Sadam) recipe without onion and Garlic which is also called Blue rice. This Blue rice is made with fresh homegrown Butterfly pea flowers. Today is Navratri Day 7. The Color is Blue, It's really challenging for me to share something in blue. This Blue rice Came to my mind because I used to have Malaysian Nasi Kerabu made with coconut milk, seray. But I wanted to make Blue rice completely South Indian Style. So this Blue Rice recipe Doesn't have Galang, Lemon grass, or anything.
Navratri Day 7 Menu is Blue rice with Butterfly pea flower rice, Bindhi raita, Peanut Sundal(Beach style), Keerai Vadai, Kovakkai Varuval. Click on the Title name it will take you to the recipe.
More Lunch Box recipes or Kalanda Sadam recipes, Nellikai Sadam recipe, Vetrilai Sadam recipe, Maa inji Sadam recipe, Keerai Sadam recipe, Verkadalai Sadam, Carrot Sadam, Karuvepillai Sadam recipe.
Here are my homegrown Butterfly pea flowers. I love to see them blooming in my balcony garden. Everyday I will get 3 to 5 flowers, since I have only one plant. I will collect them and store them. Drinking Butterfly pea tea will help to burn fat. I used to make tea using it. I just Boil the Sangu poo and then add a little lime juice and have it. I know you may ask about the taste and flavour. This flower doesn't have any fragrant or taste, so it just leaves the blue colour, that blue colour has a lot of health benefits. 
How I made Sangu Poo Sadam(blue Rice),
To bring the blue colour we can cook the rice with sangu poo or extract the blue colour and mix it with the rice. I just dropped the Butterfly pea flower in hot water and extracted the blue colour and then mixed with rice. Let's see How I made this rice by step by step method.
Step by step Blue rice(Sangu Poo Sadam) preparation method:
Take 1/4 cup hot water in a bow add 3 to 5 Butterfly pea flowers, let it sit for 3 to 4 hours or overnight. You will get the nice blue colour extract from the flower. Reserve it.
Cook 2 cups of rice and cool down completely.
Into a pan add a tbsp coconut oil, add 1 tsp cumin seeds, 1 tsp mustard seeds, 1/2 tsp chana dal. Let the mustard seeds to splutter.
Add curry leaves, 1 tbsp lime juice, and the blue extract, don't boil it immediately add the rice and salt mix well.
That's it Sangu Poo Sadam is ready to serve.
Finally, garnish with coriander leaves and serve with potato fry or simply with chips or papad. 
Cooking Tips:
Make blue rice with Raw rice, Ponni rice or any rice but make sure they are sticky. You can use left over rice too.
I didn't use garlic while making the Blue rice, you can add while adding the curry leaves. I give nice flavour to the rice too.
Do try this delicious rice recipe and let me know your feedback!!
Have a Good Day!!!