Simple Tomato Rice(Thakkali Sadam) with Potato fry, Quick South Indian Lunch Menu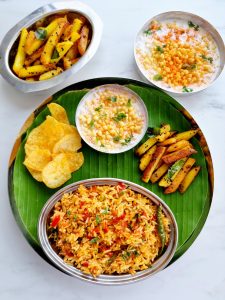 Simple Tamilnadu Tomato Rice with Potato fry recipe. Thanjavur Style 🍅🍅Thakkali Sadam, Simple Tomato Rice with Potato fry🍟 is Sorgam. Sharing Thanjavur Hotel-style Thakkali Sadam recipe, which has no garam masala or any whole masala spices. Very easy and simple to make. Being Born brought up in Thanjavur we Don't use Whole spices in making a variety of rice like Thakkali Sadam, pudina rice, etc. Also in Hotels, they serve Thakkali Sadam without wholes spices. Somehow I like this way than the Thakkali Biryani Type Thakkali Sadam.
Amma used to pack Tomato Rice, Vendakkai Poriyal, and potato chips(homemade) for lunch boxes during our college days. That time I totally hated the Thakkali Sadam, now I am making it often because it is very easy and no special side is required to have it. Simply @lays_india chips are more than enough to enjoy Thakkali Sadam. Akshu's fav is Potato finger roast with curd rice. Very Simple and quick lunch. 
More TamilNadu Tomato(Thakkali) Recipes, Thakkali Jam for Biryani, Thakkali Kurma recipe, simple Thakkali Chutney recipe, Tomato Garlic Pickle recipe, Tomato Sevai recipe, Tomato Thokku recipe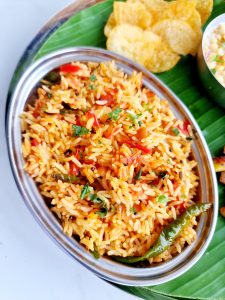 How to make Thanjavur Hotel style Thakkali Sadam, Step by Step Tomato Rice recipe:
Step: 1 Cook 2 cups of rice. Let it cool down.
Heat a pan with 1 tbsp oil, 1 tsp mustard seeds, 1 tsp chana dal, ½ tsp fennel seeds, let the mustard seeds splutter, and chana dal turns golden, add curry leaves. Add 4 garlic cloves finely chopped, 1 thinly sliced onion, 4 to 5 green chilies slit, add everything and fry well. Add 4 ripe tomatoes finely chopped.
Step:2 add ¼ tsp turmeric powder, 1 tsp chili powder, ½ tsp Kashmiri chili(optional this is for color only you can skip too), 1 tsp coriander powder, 1.5 tsp salt. Add everything saute well.
Cover and cook for 7 mins or till the tomatoes turn mushy, it should be like thick gravy. At this stage add cooked rice mix well.
Finally, garnish with coriander leaves and serve with potato fry or simply with chips or papad.
🔥Cooking Tips:
✅Make Tomato rice with Raw rice, Ponni rice other than basmati rice.
✅Chopped Garlic, Fennel seeds, Chana dal main ingredients give a nice flavor don't skip.
✅You can make the Tomato gravy and store it in the fridge whenever you need it you can mix it with rice.
Potato Finger fry recipe, Potato Finger Roast:
Slice 200g potatoes like french fries🍟, soak in water to remove starch. 
Heat a pan add ½ tsp mustard, 1/2 tsp urad dal, let the mustard seeds splutter
Drain the water and add potatoes, 1 tsp chili powder, ¼ tsp turmeric powder, ½ tsp salt.
Roast well in low flame. Finally, add curry leaves and roast till the potatoes turn golden.
Tips:
🔥Fry It in an iron pan to get the rustic texture.
More Potato(urulai kizhangu) recipes, Aloo Kurma recipe, Potato roast Recipe, Honey chili potato recipe, Sweet Potato Cutlet recipe,
Do try this Delicious South Indian Menu and let me know your Feedback.
Have a Good Day Makkale!!