Sabudana Vada 3 ways, Javvarisi Vadai, sago vada, sagubiyyam vadalu, Easy Vrat Recipes
Sabudana Vada 3 ways, Deep fried Sabudana Vada, Air fried Sabudana Vada and Sabudana Vada Fried using Appe Pan. Sabudani Vadai is called Javvarisi Vadai(In Tamil), sago vada, sagubiyyam vadalu, Made with Good quality Sago, potatoes, Roasted Peanuts, sendha namak, and spices, this is a delicious mid-day snack. Pair it with mint or coriander chutney and serve as snacks to your guests during festivals. You can have it any time during the day.
Being a South Indian we use to make all types of Vada at home and I have enormous vada collections in my blog Beetroot Vadai, urad dal vada(ulundhu vadai), Keerai vadai(spinach vada), Cabbage Vadai, rasam vada, sambar vada, vazhai poo vadai, Tea Kadai Style Masal Vadai Recipe
This Easy Sabudana Vada recipe, no big complication and techniques involved. we no need to shaping the sabudana vada, very crispy outside and soft inside. Let's see How to make Sabudana Vada for Navratri Vrat.
Why Sabudana for Vrat?
Sabudana can give a fast energy boost, be Gluten-free, Improves digestion. It is a good filling for the Stomach and heart. That's why we prefer Sabudana is the best on the fasting days.
Check Out More Sabudana Recipes
Step By Step Sabudhan Vada Preparation: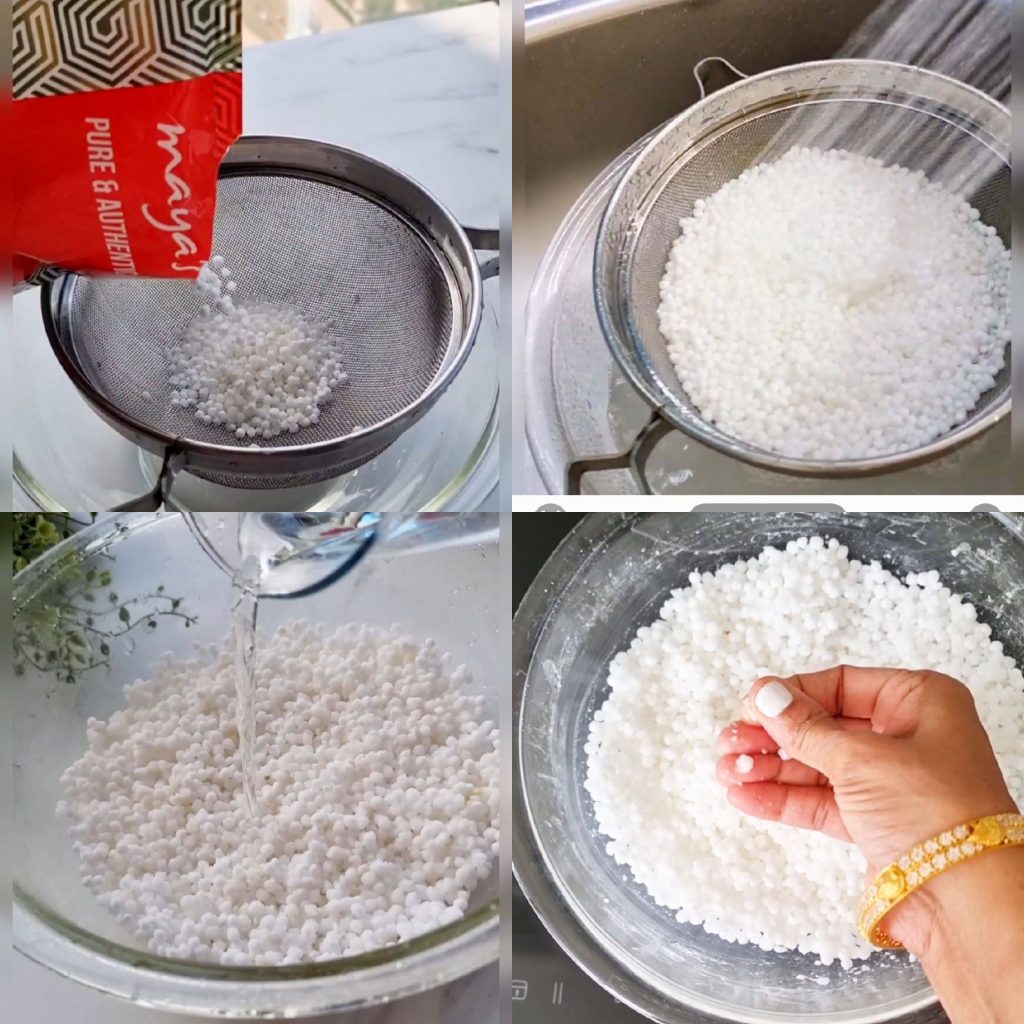 Take 1 cup sabudana in a colander and wash under running cold water. Make sure to remove all the starch. Then soak in the water for 3-4 hours or overnight. (depending on the type and quality of the sabudana, soaking time may vary.)
After the soaking time, you'll notice all the water is absorbed by the pearls and there is not any water left.
But just to make sure, drain the excess water by transferring the sabudana into the colander and rest for 30 minutes. It is important to get rid of the moisture otherwise vada mixture becomes sticky and loose, so it gives a hard time shaping them. Let's check sabudana if it is soaked properly or not. When you press one soaked pearl between your finger and thumb, it should mash very easily without any effort.
drain off the water and rest for 30 minutes.(important step, the sabudhana should be mosture free, so let it sit for 30 mins in the colander).
Step by step instruction Making Sabudana Vada: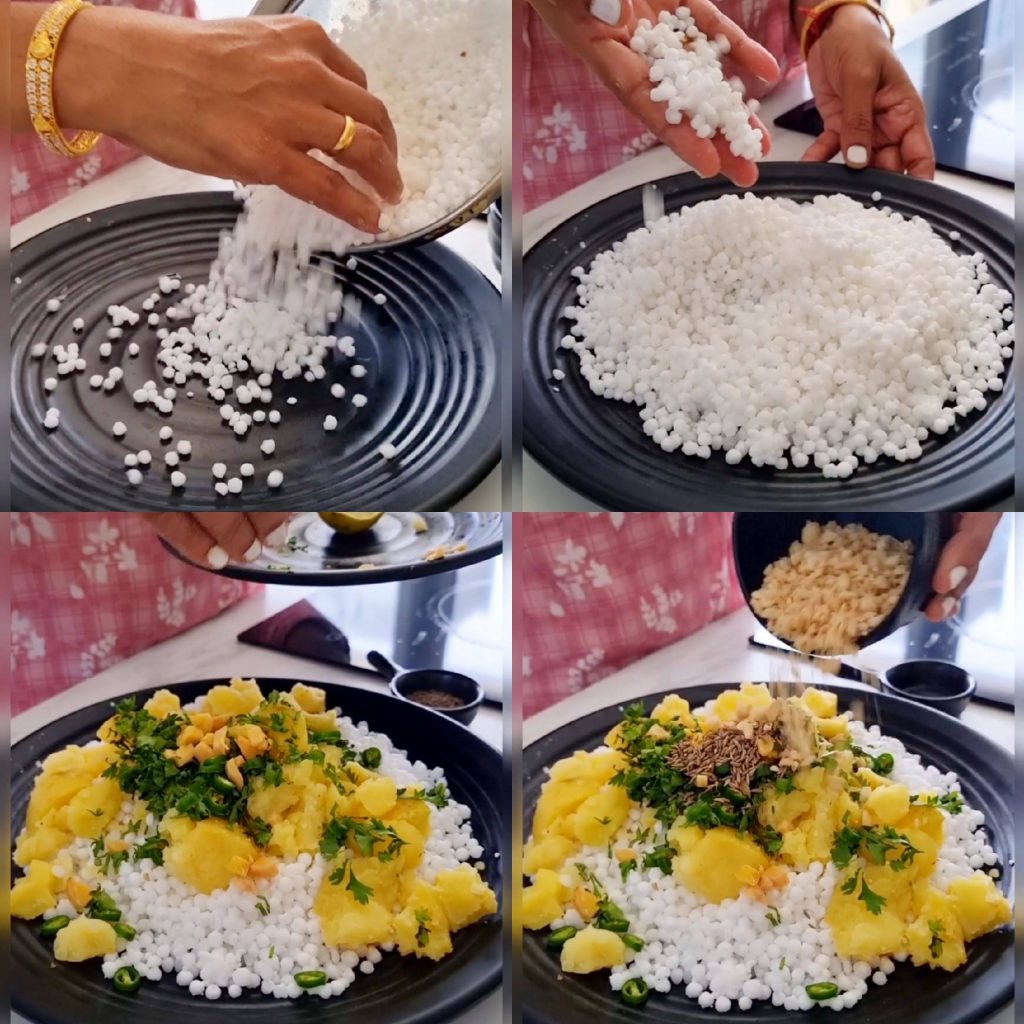 Take the sago into a bowl or plate, add 2 potatoes, mashed, ½ cup roasted peanuts, 1 tsp cumin, 1 chili, 1-inch ginger chopped, 1 tbsp lemon juice, 2 tbsp coriander leaves, and ½ tsp salt.
knead well to make stiff dough. And make a smooth ball using your palms or flatten them. stuff some cheese and roll it(cheese is optional, you can skip too)
You can deep-fry(in medium heat) or fry in Appe(Paniyaram) pan or Airfry.
Sabudana Vada fried in oil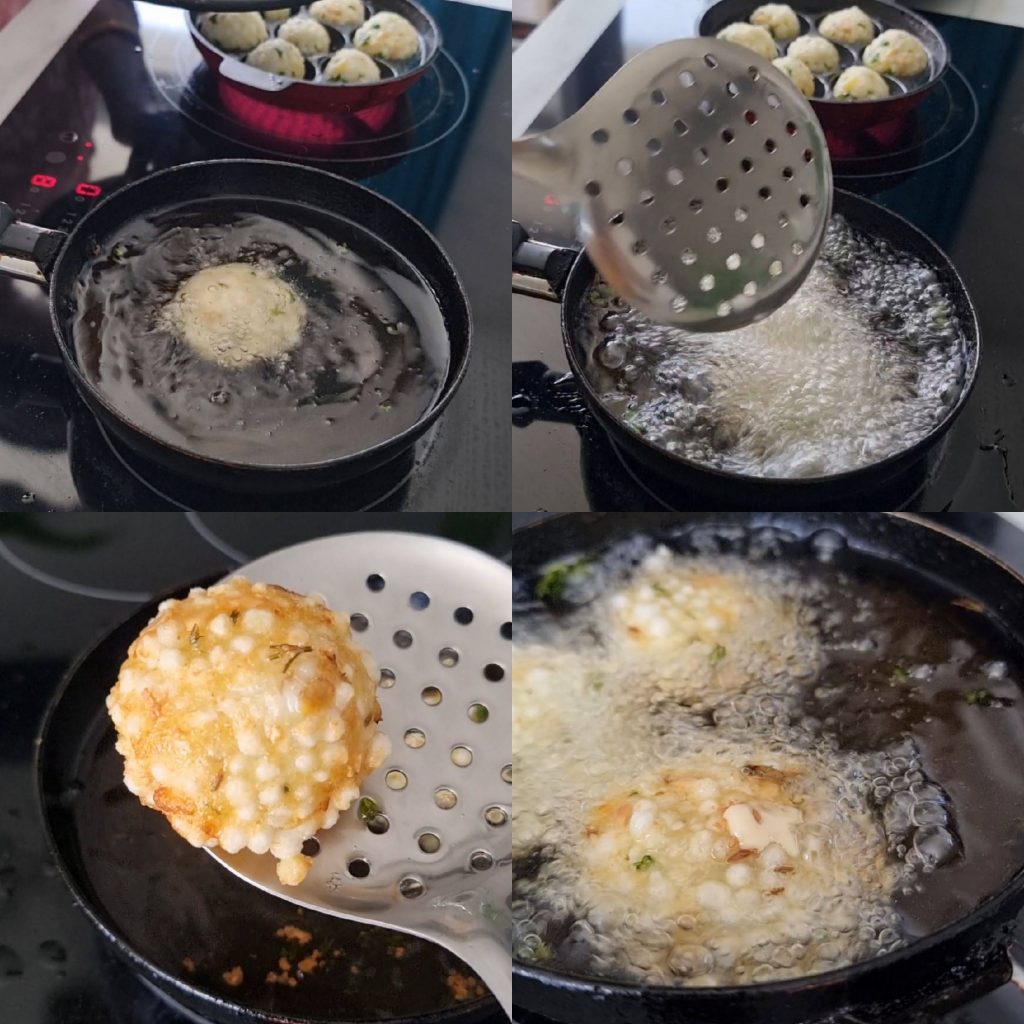 Heat oil in a pan on medium heat(not on high because it will turn golden outside very soon but inside will not cook). so keep in medium flame. Drop vada slowly into the oil and fry it. don't distrub it for few seconds, after few second slowly turn the other side and fry. Once it turn golden remove from flame.
Caution: if you are using the stuffing like cheese or dahi, it may ozzes out while frying. don't panic keep in medium flame and fry nothing will happen.
Sabudana Vada making in Air fryer and Appe Pan(paniyaram pan):
Heat a appe pan in medium flame, Make the sabudana dough into small ball and arrange them in each pit. you can drizzle a tsp of ghee and fry it. when one side turn golden turn the other side and fry it. In Air Fryer, 180 degrees 15 mins for one side, you need to take out and flip the other side and fry again 15 mins 180 degrees.
Now super tasty and yummy Sabudana Vada is ready. We made it in healthy version. Serve sabudana vada hot along with masala tea.
✍✍Important Tips:
Soak the sabudana well. Check by pressing a pearl and it should mash easily. If not then you'll taste the raw, chewy sabudana vada
The moisture content: If the mixture is too moist then it becomes sticky and unable to shape. To avoid that drain the sabudana really well. Plus, make sure not to use over-boiled potatoes (which as too much moisture in them).
By any chance, if the mixture becomes loose and sticky, then add a tbsp of rajgira atta or singhara atta and mix. Repeat until the mixture becomes pliable, non-sticky, and shapable.
Now tell me in Comment which version is your favourite???
Do try this recipe and let me know your feed back.
Shubh Navratri🙏🙏🙏