1 kg Kuzhambu Milagai Thool Recipe, Homemade Multipurpose Chili Powder for Veg & Non Veg Curries
1 kg Kuzhambu Milagai Thool Ingredients with proper Measurements, Making Homemade multipurpose chili powder, for gravies, curries all Veg non-veg dishes made in Mixie. This kuzhambu podi recipe is a versatile spice mix that is made of whole spices, red chilies, pepper, dal, and methi seeds that are commonly used in South Indian curries and kuzhambu. Homemade flavorful traditional powder recipe that contains pantry available ingredients, no artificial colors or Preservatives used. you can check more flavorful homemade pods/powder recipes like Iyengar Karamedhu Podi, Kari Podi, Murugan idli kadai idli podi, sambar podi, Rasam Podi.
The Kuzhambu Mialgai Thool recipe is long back shared by my Instagram Friend, I used to add achi kuzhambu milagai thool for Salna kurma. While it shared the salna recipe she pinged me and told try this recipe of kuzhambu milagai thool it tastes good for curries. For almost 2 years I am using this kulambu podi when ever I make the kara kuzhambu everyone says it tastes yummy. This kuzhambu milagai podi is not only for kuzhambu, if you make potato roast, seppan kizhangu roast you need to try this podi. Also for kurma, salna this powder tastes good.
What is Kuzhambu Milagai Thool?
Kuzhambu is curry in Tamil and Thool is Powder, so Kuzhambu Milagai thool is a curry powder used to make curries like kara kuzhambu, puli kuzhambu, etc. It is made with a combination of chilies, dhania, dal, cumin, pepper, and fennel. Depending upon the family procedure each and every curry powder recipe differs. But basic Curry powder(kulambu milagai thool) has chilies, dhania, pepper & dal for thickness.
1 kg Kuzhambu Milagai Thool Ingredients & Measurements:
10g turmeric/மஞ்சள்
350g dried red chilli / காய்ந்த சிவப்பு மிளகாய்
500g coriander seeds/கொத்தமல்லி விதைகள்
10g pepper/மிளகு
10g cumin seeds/சீரகம்
10g fennel seeds/பெருஞ்சீரகம்
10g Fenugreek seeds/வெந்தயம்
10g mustard seeds/கடுகு
10g chana dal/கடலை பருப்பு
10g toor dal/துவரம் பருப்பு
10g black urad dal/கருப்பு உளுத்தம் பருப்பு
1 tsp raw rice/பச்சை அரிசி
STEP BY STEP KUZHAMBU MILAGAI THOOL MAKING VIDEO:
Making Step by Step Procedure of Kulambu Chili Powder in Mixie:
Measure and Take all the ingredients as mentioned in the ingredients list, either you can dry roast them one by one in a hot kadai or spread all the ingredients on a plate and dry them in the hot sun for a day.  If it is too hot, dry it for a day, less hot for 2 days till the chilies and dhania turn crispy.
To check that if you break the chilies it will be easy to break and same dhania also if you break it will break into 2 that is the right stage.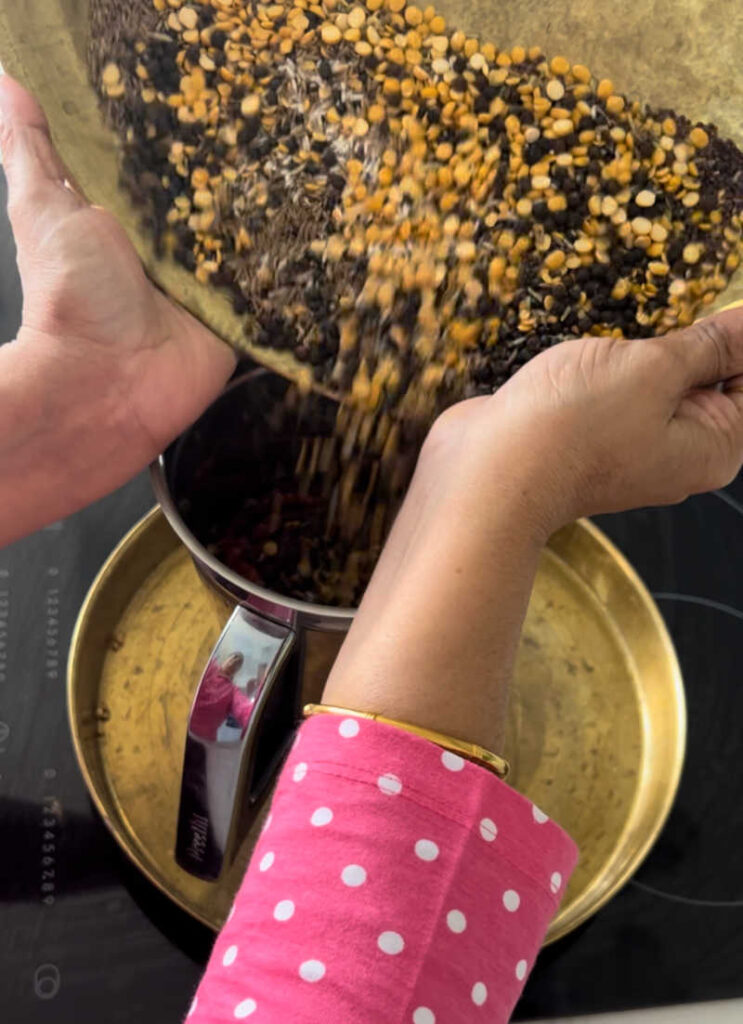 You can powder them in mixie, since my mixie is able to powder them altogether, you can powder it in 2 batches too. But make sure that the powder is mixed well and fine powder.
Spread it on a plate, leave it for 5 mins, and then store it in an airtight container. That's it, Kuzhambu Milagai thool ready!
Storage Instructions:
Kuzhambu milagai thool stays good on the counter for 3-5 days, but if you are making it in large quantities and store it for 6 months then you can refrigerate it.
How to use Kuzhambu Milagai Thool for Curries?
If you are making curries just add 1 tbsp of kuzhambu milagai thool instead of chili powder and coriander powder.
For roast or gravies just a tsp of kuzhambu milagai thool is enough.
If you are Looking for more Homemade Podi and powders Simple Rasam recipe using Rasam Podi(rasam powder) try this or Sambar Powder Recipe, Kollu Podi, Iyengar Karamedhu podi, Poondu Podi, Murungai Keerai Paruppu podi
Hope this post will help you to make the Perfect Mysore Masala Dosa at Home. If you have any Doubts about making Potato Masala or chutney or Dosa If you want any specific recipes you can email me at cpremas79@gmail.com. Do Follow me on Instagram for more Recent updates and every cooking recipe video
Do share your thoughts with me, Also tag our page on Instagram @premasculinary with hashtag it on #premasculinary
Thanks & Have a Good Day! 😉Enjoy Cooking and Mindful Eating!