Pasi Paruppu Payasam with crunchy Coconut Bits | Moong dal Kheer | Payasam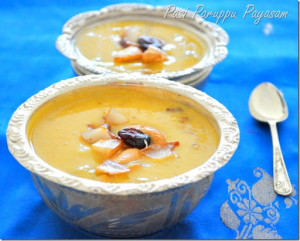 Pasi Paruppu Payasam / Kheer is a creamy dal pudding.This is delicately flavored with cardamom and full of nuts,coconut bits and raisins. It's a great dessert for anytime of the year. This is one of the most delicious and quick version of the desserts.I Prepared this for today's Naivedyam and also wanted to share my Golu with you all.
I am celebrating kolu from my childhood.I can remember my mom keeping it for years and years.She will keep 9 steps and every year she will introduce a new theme in kolu. After coming to sg i feel like missing all these and then Arvind encouraged me to keep kolu. Slowly i started keeping it in my pooja place itself and then started keeping the kolu in steps.Not many scenes were created this year as the main focus on my daughter's navartri performances on temples.She wanted to keep kolu by herself and arranged everything on her own.I just helped her to set lights,here is our simple kolu.
In first step we kept the Ashtalakshmi idol,Perumal and flower vases.
In Second step kept some God idol,laughing buddha,etc.
In third step kept Aishu's toys
.
Lets proceed with Pasi Paruppu Payasam Recipe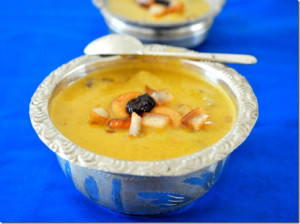 Ingredients:
3/4 cup Moong Dal / Pasi paruppu
1/2 cup Jaggery ,grated
1+1 tbsp Ghee
1/4 cup water
1/4 cup Milk
2 tbsp coconut,thinly sliced
10 Cashews
5 Raisins
A pinch Cardamom Powder
Method:
Heat 1 tbsp of ghee in a kadai and reserve a tbsp of ghee for later use.Fry the cashews,coconut and raisins till golden brown and transfer this in a plate.

Add moong dal in the same pan roast it with the ghee which is left behind, till nice aroma comes.
Now pressure cook the roasted dal with little water for 3 whistles or till the dal become soft and mushy.

Add cooked dal in a pan and then add in the grated jaggery and cardamom powder,mix well.Let the jaggery to dissolve well ,stir continuously for 5 more mins.Finally add in the milk.
Let it cook for 2 mins or till the payasam becomes thick.

Now add in the fried cashews,raisins and coconuts and mix well.Finally add the reserved 1 tbsp ghee and mix well.Switch off the stove.
Here is Payasam is ready for naivedyam.

Have Nice Day!!!