vazhaipoo vadai(வாழைப்பூ வடை) Tamil recipe + video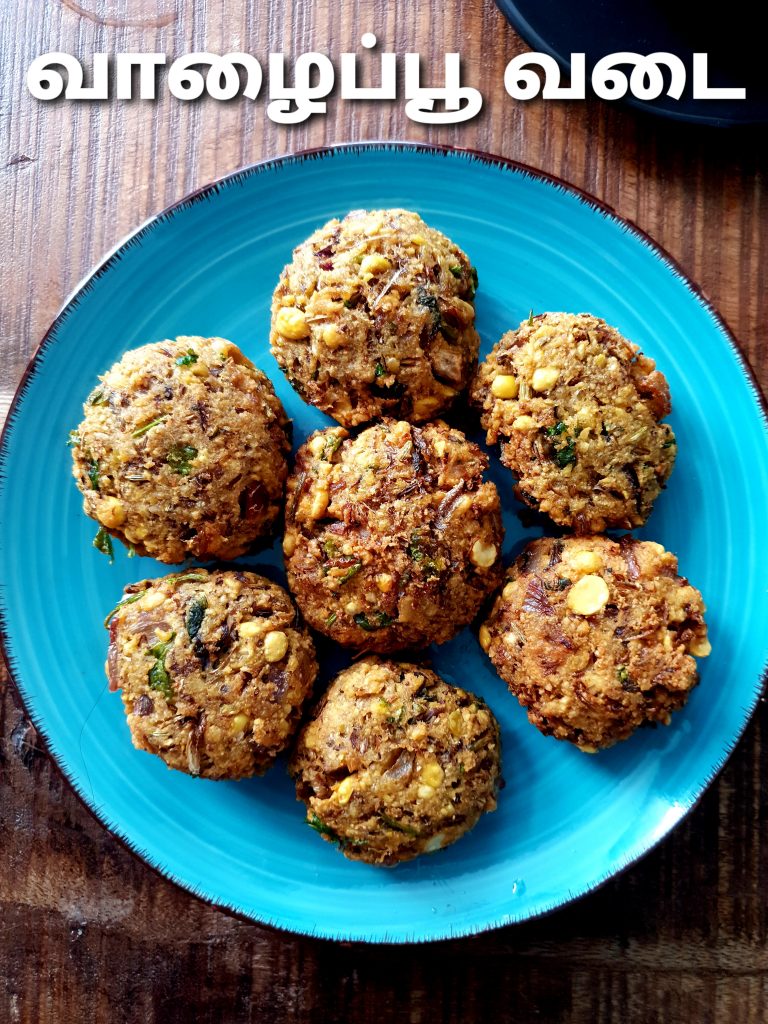 vazhaipoo banana blossom vada is a crispy fiber-rich fitter recipe made with Toor dal. Another version of vazhaipoo vadai recipe in English posted on Prema's culinary long back. I want to share another version of vazhaipoo vadai in Tamil. Both versions are amazing with less oil and healthy snacks for kids. Introducing vazhaipoo to the kids is difficult if we prepare this way and giving them is a very good option. This will not say no to this super tempting vadai.
Actually, summer started and it was little rain yesterday made hot crispy vazhaipoo vadai and clicked. Took video and posted it on IGTV and YouTube as well. Thought to post the recipe on the blog, it will be helpful if anyone searched the RECIPE OF VAZHAIPOO VADAI IN TAMIL".
Healthy benefits of vazhaipoo(banana blossom),  it is very good for the stomach ulcer and it has a lot of medicinal qualities.  the raw vazhaithandu juice is good for weight loss. It clears the urine infection. very good summer food. we use the whole banana tree from top to bottom.  All vazhai recipes are available in Prema's Culinary. murungai keerai vazhaipoo kootu,  Vazhithandu mor are the 2 vazhai recipes you can check that too.
More vadai/vada collections in Prema's Culinary,  keerai vadai, cabbage vadai, karamani vadai, sambar vada, vada pav, murungai keerai vadai, dahi vada, vada curry, milagu vadai.
A short video of  vazhaipoo vadai in Tamil:

வாழைப்பூ வடை செய்வது எப்படி தமிழில்,
வாழைப்பூ வடை செய்ய தேவையான பொருட்கள்
கடலை பருப்பு -1/4 கப்
துவரம் பருப்பு-1/4 கப்
சோம்பு- 1 டீஸ்பூன்
பொடியாக நறுக்கிய வெங்காயம் -1 கப்
கொத்தமல்லி இலைகள் -2 டீஸ்பூன்
மிளகாய் தூள் -1 டீஸ்பூன்
பொடியாக நறுக்கிய வாழை பூ-1 கப்
உப்பு 1 டீஸ்பூன்
எண்ணை – பொரிப்பதற்கு வாழைப்பூ வடை
வாழைப்பூ வடை செய்முறை:
கடலை பருப்பு, துவரம் பருப்பு நன்கு 1 மணி நேரம் தண்ணீர் ஊற்றி ஊற வெய்க்கவும். பின் அதனில் உள்ள தண்ணீரை வடித்து மிக்ஸ்சி ஜாரில் சேர்த்து கொரகொரப்பாக அரைக்கவும்.
அரைத்த விழுதை ஒரு பத்திரத்தில் போட்டு அதனுடன் பொடியாக நறுக்கிய வாழை பூ , வெங்காயம், கொத்தமல்லி இலை, மிளகாய் தூள், சோம்பு, மற்றும் உப்பு சேர்த்து நன்கு கலக்கவும்.
நன்கு கலந்த பின்பு ஒரு எலுமிச்சை அளவு உருண்டை எடுத்து வடை போல் தட்டவும், அதனை சூடான எண்ணெயில் போட்டு பொரித்து எடுக்கவும்.
மீதமுள்ள மாவு அனைத்திலும் இவ்வாறு ஒரு தடவையில் 4-5 வடைகளை எண்ணெயில் போட்டு பொரிக்கவும்.
பொன்னிறமாகும் வரை வடைகளை பொரித்து எடுக்கவும் சத்தான சூடான சுவையான வாழைப்பூ வடை தயார் 🙂
Crispy and delicious Vazhaipoo vadai ready! Hope this recipe will you try the Healthy Vazhaipoo vadai!
Are you making this recipe? I would like to see your creations so snap a photo and tag @premasculinary on Instagram with the hashtag #premasculinary
please give ***** and comment below.
You can follow me on Facebook, Twitter, Pinterest, and Instagram or more easy recipes.
Facebook: https://www.facebook.com/premasculinary
Twitter: https://twitter.com/cpremas79
Instagram: https://www.instagram.com/premasculinary
Read our Recipe Blog: www.premascook.com
Subscribe to our YouTube channel: http://www.youtube.com/subscription_c