Thanjavur Mor Milagai (sun dried Chilies) vathal
Moor Milagai (sun dried Chillies) is one of the classic condiments which is very popular in South Indian Cusine. Amma is an expert in making all kind of condiments. Since she has been preparing this for the past 35 years on every summer.Here I am sharing the exact measures as she told and followed her method carefully.Let me share the recipe with you all.

Ingredients:

30 green chillies
2 cups curd,preferably sour
1 tsp fenugreek seeds
1/3 cup water
1 tbsp Salt
Wash the green chillies properly.Slightly cut in the middle or at the end of the chillies, not fully.This will let the chillies to absorb the curd. No need to cut trim the head of chillies let it be.
Soak the fenugreek seeds(methi seed) whole night and then grind it into smooth paste by adding water

Whip the curd and get a thick buttermilk (along with the butter). Add salt to the curd and the grinded fenugreek seed paste ,mix well.

Drop the chillies and mix well with the curd mix and make sure that the chillies coated well in curd mix.keep it aside for the whole day.
Next day morning drain the curd and spread only the chillies in a clean cloth and let it in the hot sun for the whole day.Reserve the curd in the fridge.

Same day evening take out the chillies from the cloth and again drop the chillies in  the reserved curd and let it to soak for the whole night.

Next day morning dry it out again in a cloth.I kept it in hot sun for four days.If the chillies are completely dry in second day itself then you can remove it from the sun and store it in a air tight container.
When ever require take little quantity of dried chillies and deep fry it in oil and serve.You can also store the deep fried dried chillies in bottles for about 2-3 days.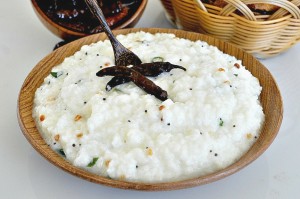 Mor millagai goes well with curd rice ,but i love to have it with full meals


Variations:
Use the home made Curd for the preparation because we will get the thick curd with much cream/butter in it, which will reduce the heat of the chillies.
You can try this with other varieties of chillies also ,the fat and short chillies are very good for making this.
Make your own condiments and say bye!! bye!! to store ones
Have a nice day!!!