Masal Vada Recipe, Crispy Masala Vadai, Paruppu Vadai, #TeaTimeSnacks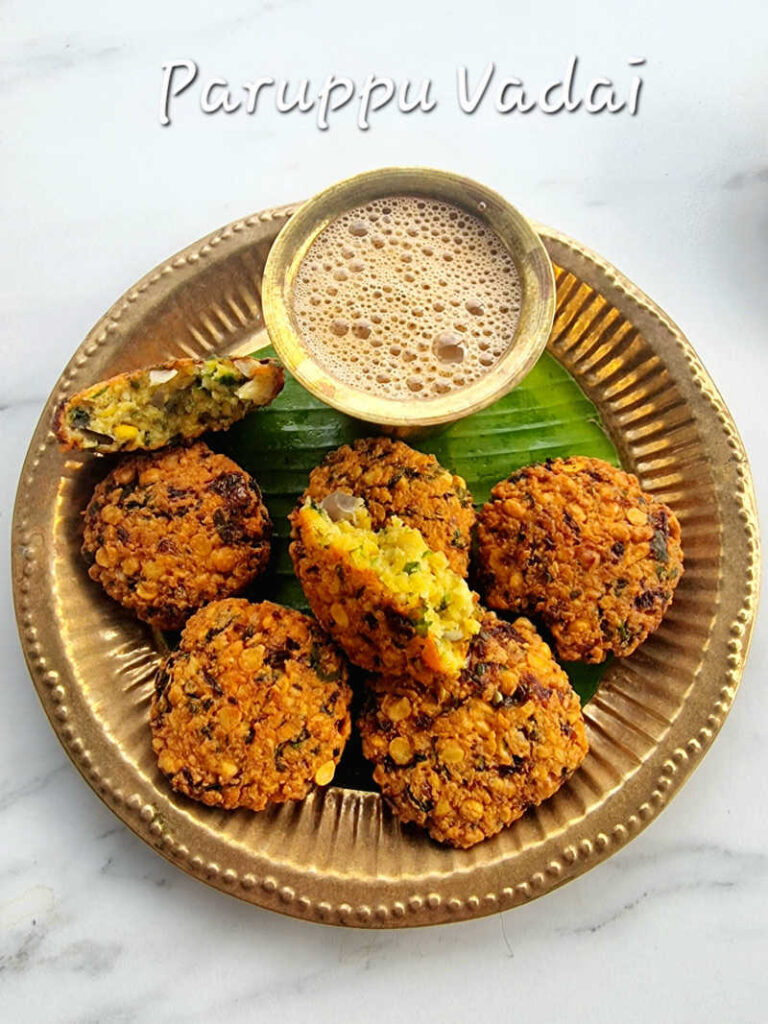 Tamil Style Masal Vadai Recipe, Kadalai Paruppu Vadai made with a Secret Ingredient Pattani Paruppu (yellow split peas). How to make a Perfect masal vada without fail, A Fool Proof recipe that anyone can try. Tips and Tricks are shared to make it Perfect. Is there anyone in the world who says no to Paruppu Vadai? This South Indian Delicacy can be made for almost all occasions. It goes well with all traditional dishes and my most favorite mor kuzhambu and masala vadai. Methu Vada and Masala Vada are classic South Indian Delicacies that everyone loves it.
There's nothing more satisfying than hot vada along with hot chai on a rainy day! If you are a fan of Rustic street-style vada then try this vada and enjoy your warm evenings. Many times I have shared this masala vadai recipe but this time for beginners in detail. As Bhogi Panidigai is Tomorrow you can try this Masala Vadai recipe for Neivedyam!
Some interesting and Healthy forms of Masal Vadai Recipes like Authentic Vada recipes click here Sweet Vada Recipe, Hotel Style Medhu Vada, Keerai Vadai, Broccoli Vadai Recipe, Cabbage Vadai recipe, Rasam Vadai recipe, Sambar Vadai Recipe.
What is Masal Vadai?
The Paruppu Vadai aka Masal Vada is very simple yet these deep-fried snacks made with yellow split dal are a tea-time favorite of many. There are several names in Tamil Kara vadai, Masala vadai, etc. This is also an excellent combination for a variety of rice.
Difference between Masala Vada & Medhu Vada?
Masala Vada is made by coarsely grinding soaked chana dal or Bengal gram. Then spices, onions & herbs are added to the dough and then Deep fried. Medhu Vada is made with a soft and fluffy batter of soaked urad dal, spices, onion, and herbs added to the dough and then deep fried. Medhu vada has a hole in the middle and needs a special technique to grind the batter and bring it to a doughnut shape whereas Masala vada is very simple and easy you do not need to worry about the shape. Just platten and fry it. These are major Differences between the masala vada and medhu vada.
About the Secret Ingredient of Masal Vada and Tips to make Perfect masala vadai:
For the best crispy moru moru masala vada try with matar dal, we call Pattani Paruppu in Tamil, this is a yellow split pea dal dish originating in India. It's especially popular in Bengali cuisine it is used to make curries with thick gravies or sauces. This dal gives more crispiness to vadai
Give Enough soaking time, we need to soak Channa Dal / Kadalai paruppu for at least 2 hours also soak with enough water.
After Soaking drain the dal completely and don't add any extra water while grinding. Only then the vadai will have the right texture for frying.
Grind it coarsely not a fine paste.
Also, fry this masala vada over medium heat to make sure the surface doesn't get burnt quickly.
How to make Perfect Moru Moru Masala Vadai:
Step-by-Step Masala Vada Recipe Photos and Procedures:
Take 1/2 cup chana dal and 1/2 cup Toor dal and soak them for 2 hours completely. After 2 hours drain the water and add the soaked dal + 1 tsp fennel seeds + 1 tsp salt. Grind it to a coarse paste.
Transfer the ground dal to a wide bowl. Add 1/4 cup of finely chopped onion, chopped curry leaves coriander leaves and green chilies. mix well. Make medium-sized balls and then flatten the balls.
Heat the oil in a Kadai, and keep it at medium heat. To check the temperature, if you pinch a small batter over the oil it should come up immediately that is the right temperature to fry the vada.
Slowly drop the flattened vada into the hot oil. Don't flip it immediately give it a second it will come up and then flip and fry the other side. For even golden flip now and then fry it. Super crispy moru moru masala vadai ready!
No special side dish is required to try this delicious masala vada just tea is more than enough. Check here the How to make Chai(TEA) Recipe
Hope you like this Masala vadai recipe, as tomorrow is the Bhogi Pongal do try this recipe for neivedyam. Do stay tuned to Prema's Culinary for more interesting Thai Pongal Festival Recipes, if you have any doubts about this recipe or If you want any specific recipes you can email me at cpremas79@gmail.com.
Do Follow me on Instagram for more Recent updates and every cooking recipe video share your thoughts with me, Also tag our page on Instagram @premasculinary with hashtag it on #premasculinary
Thanks & Have a Good Day! 😉Enjoy Cooking and Mindful Eating!