Mushroom Pulao, How to make Mushroom Pulao in 30 mins
One-Pot Mushroom Pulao in 30 mins. Mushroom Pulao is made with coconut milk. Very Flavour and Tasty rice recipe. Mushroom Pulao makes for a great option to pack in lunchboxes. Thalapakatti Mushroom Biryani Recipe is the one everyone loves to try. But this Mushroom Pulao is mild and less spicy good for kids lunch box also loads of vegetables added.
I use to make Various types of Pulao for lunch or parties but this one is my favorite that is very colorful that attracts everyone's eyes. If you are a fan of Thengai Paal Sadam, then definitely you will love this Mushroom Pulao, goes well with all types of Spicy gravies and Curries.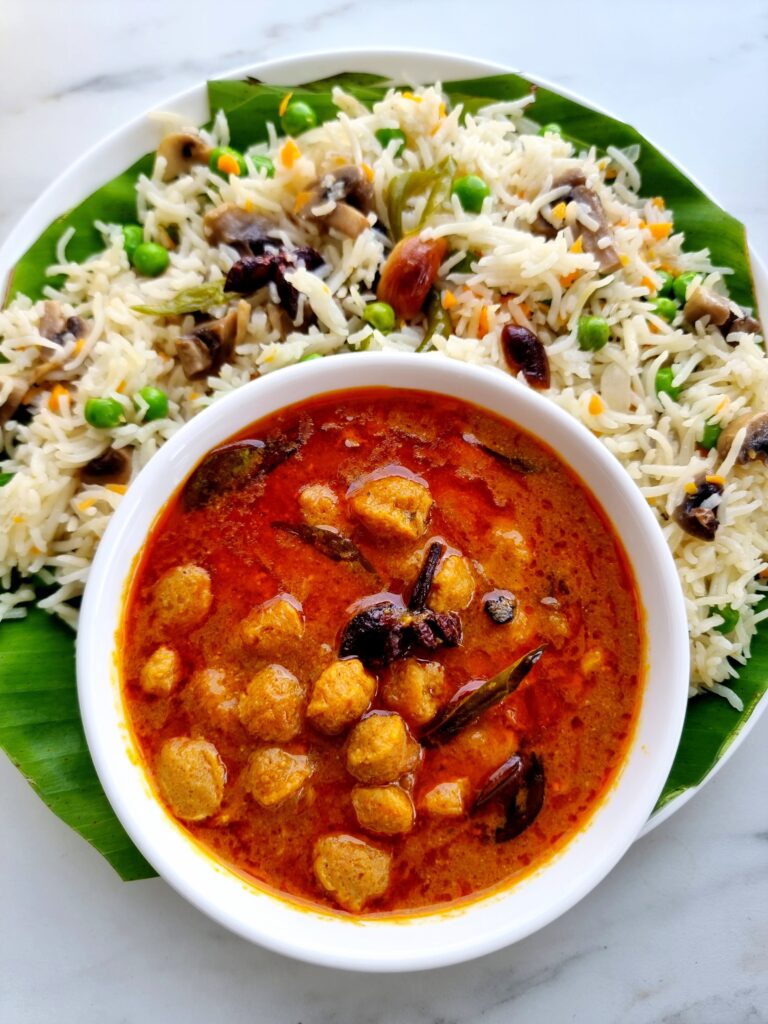 If you are looking for Side Dishes for Mushroom Pulao, Here you go. Mushroom Salna recipe, Empty Salna Recipe
Mushroom Pulao Ingredients:
1 tbsp oil
1 tbsp ghee
wholes spices like 2-inch cinnamon, 2 cloves, 2 cardamoms, 2-star anise, a few black stone flower,
5 cashews
1 thinly sliced onion
1 tsp ginger garlic paste,
3 green chiles
100g mushrooms and some vegetables of your choice
2 cups of basmati rice
1/4 cup of coconut milk
3 & 1/2 cups of water
1.5 tsp salt
Preparation of Coconut Milk Mushroom Pulao recipe under 30 mins,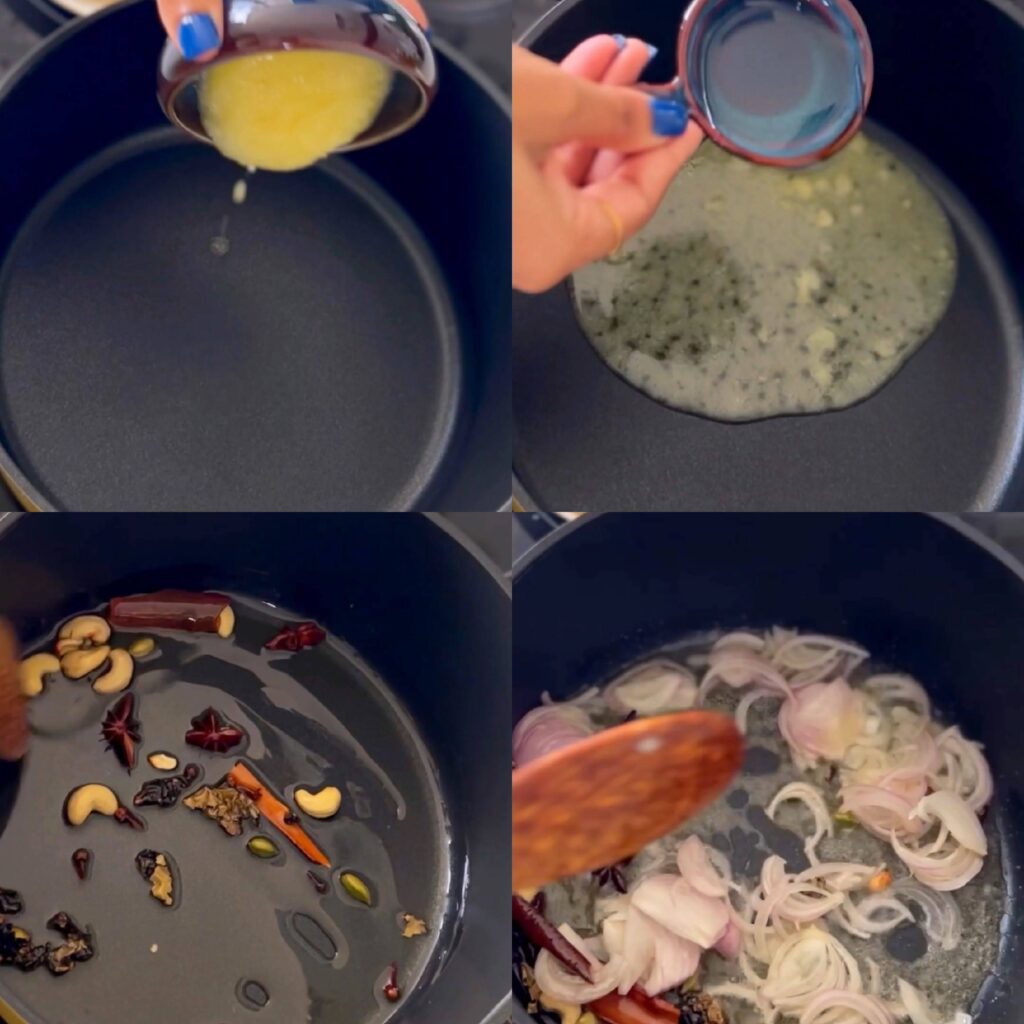 Heat a Pan add 1 tbsp oil + 1 tbsp ghee, add whole spices cashews saute well. Add 1 thinly sliced onion and saute till it turns soft. Add 1 tsp ginger garlic paste, and 3 green chiles saute well.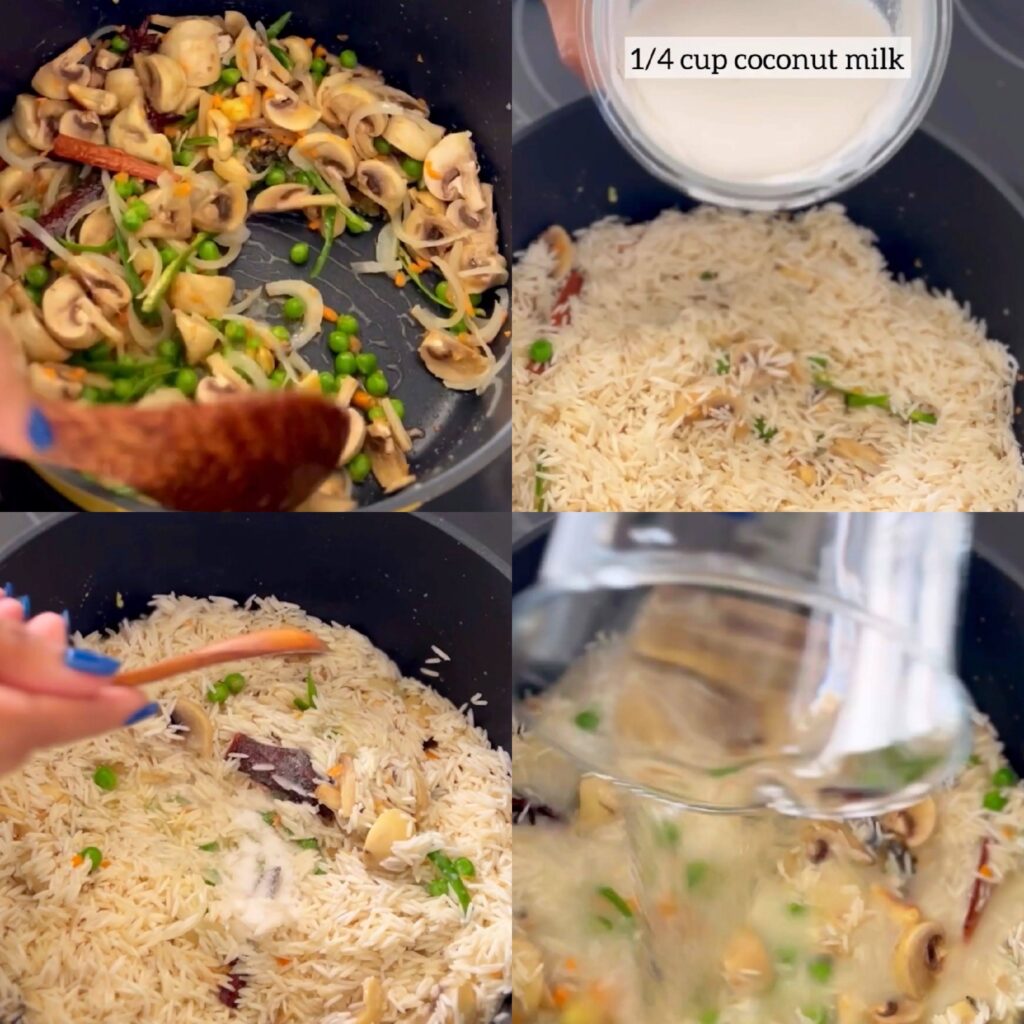 Add vegetables of your choice and 100g mushrooms, saute for a min, and then add 2 cups of basmati rice. Add ¼ cup of coconut milk + 3 & ½ cups of water + 1.5 tsp salt mix well. Cover and Cook for 7 mins or till the rice cook.
That's it flavourful and delicious mushroom Pulao is ready to serve! Serve it with any spicy curry or gravy!
Tips and Tricks to Make Perfect Mushroom Pulao:
Don't overcook the Vegetables, saute them for a min so that you will get the crunchy taste in pulao.
soaking Basmati rice just for 20 mins before cooking makes the rice fluffy!
Adding ghee and oil combo gives the pulao glossy looks and tastes also delicious don't miss it.
I used India Gate classic basmati rice best for pulao or Biryani!
Do try this Delicious Pulao recipe and Let me Know Your Feedback!
Have a Good Day!