Vatha Kuzhambu Sadam, How to make Vathal Kulambu Sadam without onion and Garlic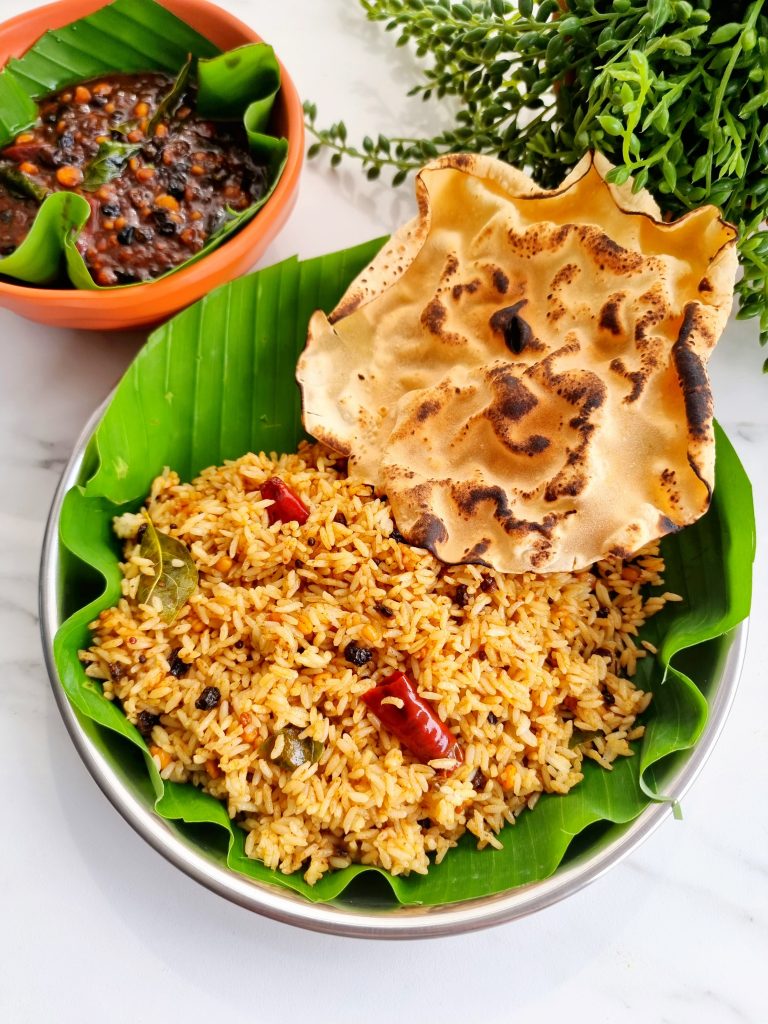 Vatha Kuzhambu Sadam or Vathal Kulambu Sadam is the one made with the combination of Pulisadam and Vatha Kuzhambu, it tasted similar to Vatha kuzhambu and looks like Puliyodharai. If you are a fan of Tamarind Based gravies you definitely love this Vathal Kuzhambu Sadam. This Vatha Kuzhambu Sadam is made without Onion and Garlic and also no Masala Podi that is no Vatha Kuzhambu Podi.
Iyengar Vatha Kuzhambu is the one recipe that is very famous in my blog many food bloggers and readers tried it. Just have a look if you want to make a Traditional Authentic Vatha Kuzhambu recipe. Instant Pulikachal recipe is available if you are looking for Quick Puliyodharai for Lunch Box.
Vengaya Vatha Kuzhambu is made with Shallots, this recipe is super duper hit many tried and sent the pics. Just you need to save these recipes and try if you are shortage of Vegetables. Also Kovil Puliyodharai recipe if you are looking for Temple style Puliyodharai.
What is Vatha Kuzhambu Sadam?
Vatha Kuzhambu is nothing but the Tamarind-based gravy, is simmer to thick consistency called Vatha(thick) and then mixed with rice and cooked is called Vatha Kuzhambu Sadam.
What is the Difference between Vatha Kuzhambu and Vathal Kuzhambu?
Vatha means the tamarind gravy is simmered to thick we called vathiyathi kulambu in short form it came vatha kulambu or sometimes we call vetha kuzhambu too. But Vathal kulambu means dried vegetables like okra, mango, turkey berry(sundakkai), black and night seeds(manatha thakkali) we call these as vathal, the kulambu made with this vathal we call vathal kulambu. Many were confused with vatha kuzhambu and vathal kulambu, hope now it is clear.
This Vatha Kuzhambu Sadam Doesn't have Onion or Garlic If you want to add you can add it.
More Vatha Kuzhambu Sadam Related Recipes like How to make Vathal at home(all types of Vathal Kuzhambu vathal recipes in one link), Vengaya Vatha Kuzhambu Recipe, Sundakkai Vathal Kuzhambu recipe, Manatha thakkali Vatha Kuzhambu recipe, Saravana Bhavan Kara Kuzhambu recipe
Home made Vathal that is Sun dried vegetables recipe here.
How to make Vatha Kuzhambu Sadam Step by Step Procedure:
Soak a small Lemon sized tamarind in ½ cup of hot water extract thick paste and keep aside. Soak 1 tbsp chana dal for 15 mins.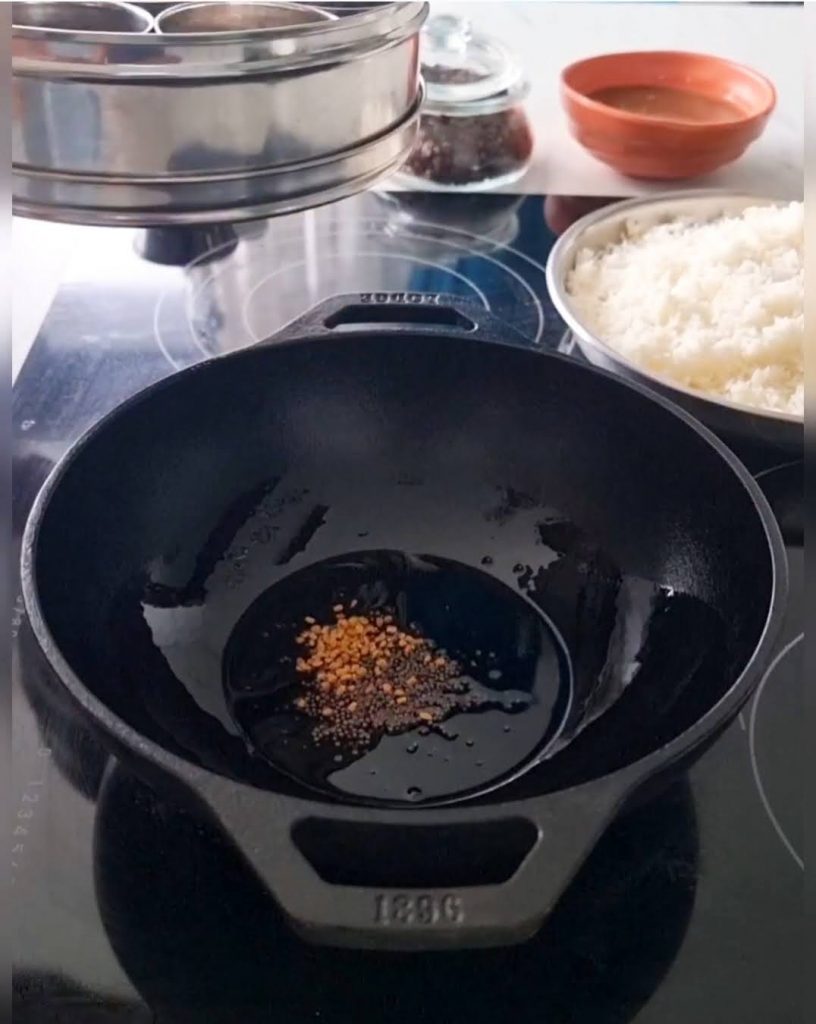 Heat a pan with 2 tbsp sesame oil, add 1 tsp mustard seeds, 1/4 tsp methi seeds. let the mustard seeds splutter.
1 tbsp chana dal(drain the water and add it), 2 dried red chilies, Add curry leaves, Roast well till the dal turn crips.
add 2 tbsp mana thakkali vathal(black and night seeds), fry well it turn crispy (instead of vathal you can add any veggies of your choice). don't burn it. Keep in Low flame fry it.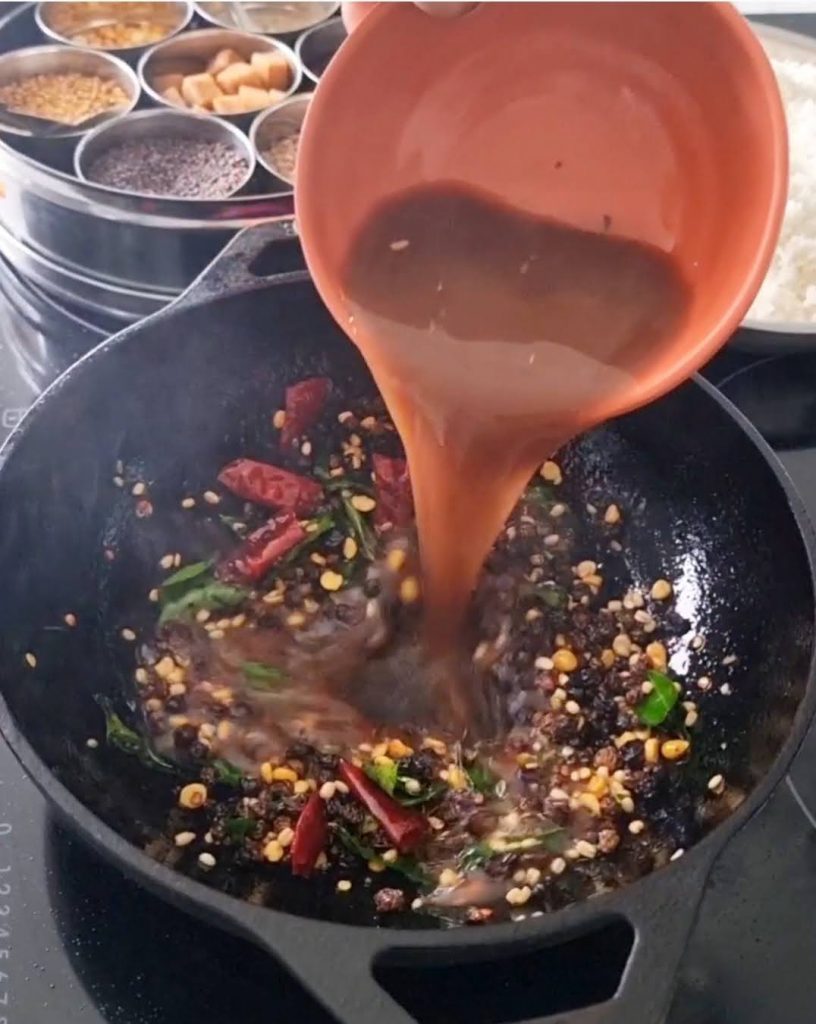 Add the tamarind extract, Dont add water just only the tamarind extract.
a pinch of turmeric powder, 1 tbsp sambar powder(instead of sambar powder you can use 1 tsp chili powder + 2 tsp coriander powder), 1 tsp salt, mix well. 
Let the kuzhambu boil for 7 mins till the raw smell goes and oil separates. Finally add a small piece of jaggery and mix well. That's is Vatha Kuzhambu Paste Ready.
You can Store this vatha Kuzhambu Paste in Fridge and use later.
To make the Vatha Kuazhambu sadam, cook 2 cups of rice and mix well with the entire paste. The above mentioned quantity is good for 2 cups of cooked rice. If you want to make More quantity of Vatha Kuzhambu paste make and mix according to your taste buds. 
Add mixing the rice and vatha kuzhambu paste add a tsp ghee or Sesame oil. Vatha Kuzhambu you can store in fridge for a week in fridge. If you mixed it with rice you need to finish it in one or 2 days. This vatha kuzhambu goes well with kootu, poriyal or simply serve with Appalam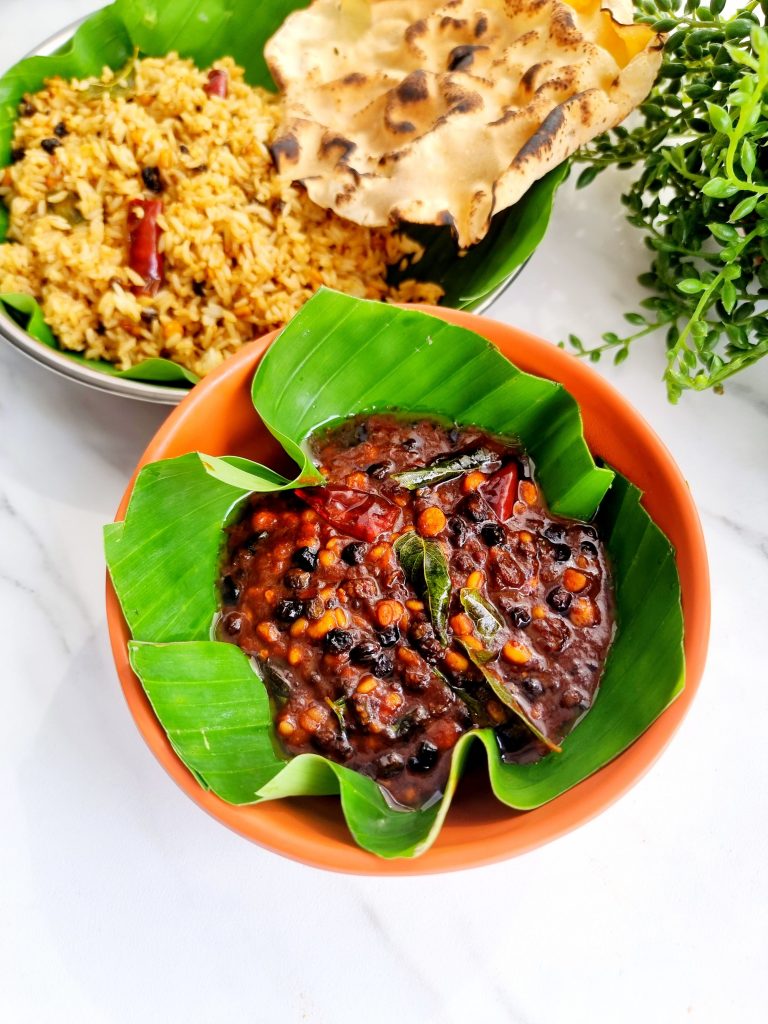 Notes:
Adding jaggery gives nice glossy look don't skip
Try to use Sesame oil.
Do try this recipe and let me know your feedback!!!
Have a Good Day Makkale!!!