Varalakshmi Vratham / Pooja Recipes 2015
Varalakshmi Vratham or Varalakshmi Pooja 2015 is around the corner. I just made my shopping last weekend while I was in Singapore. I have already posted the Varalakshmi Vratham Pooja Procedures with step by step pictures in 2010. Do check that link for varalakshmi vratham procedures.  The Above Picture is my varalakshmi vratham Photo taken in 2014. Yup am taking this pooja for the past 11 years successfully. Varalakshmi pooja 2015 is very special to me because of 2 reasons first is am taking this pooja in our new house and then this year my younger daughter is also going to do along with me:P
I have planned this for a week back and many of my friends from Andhra, Karnataka, north Tamilnadu performing this varalakshmi vratham pooja vidhanam.We discussed and exchanged the ideas how to perform the Varalakshmi Vratham on our own ways and this year I learnt many things from them.Have you started your preparations?
Pre-Preparation for varalakshmi vratham pooja:
Varalakshmi Vratham falls on 28,2015, coming Friday so hardly 3 days more. Plan everything and then go for shopping. I usually make a shopping list before I go and then will purchase everything.
My shopping list includes:
1. Turmeric
2. raw rice
3. Saree or pavada for Amman
4. Saradu(yellow thread)I have bought it from Perumal temple Singapore.
5.Thambulam set (includes blouse pieces or any gifts)
6. disposal plates and cups for prasadam
One day before shopping list:
1.Banana leaves for kumbam
2.turmeric powder
3.betel leaves
4.flowers(preferably sevvarali)
5.milk
6.Things needed for Neivedyam
7.fruits
8.banana leaf
Do clean the vessel and make ready for pooja,
Thinks you need for Pooja
1. Kumbam/kalasam
2.iteams required to fill the kalasam(raw rice or water, coins, a single whole lime, five different kinds of leaves, and beetle nut. The items used to fill the kalasham vary from region to region and includes turmeric, comb, mirror, small black bangles and black beads)
3. goddess face
4. normal pooja items(Plate, Panchapathiram,kunkumachimil,sandham pezha,etc)
Hope this shopping list gives you some ideas and brings you the mood of making pooja,
if you are taking first this varalakshmi nonbu first time then don't get panic its very easy procedure all you need is patience and devotion. In the beginning, small mistakes can happen and later on we can correct it. For my advice to beginners first take this vratham with the elders who are performing it for long and next year start doing it on your own. That is how I did. If you are pregnant and a little one around still you can perform the pooja in a simple way. Make simple neivedyam and chant ashtalakshmi sloka.
Last year I could able to make it elaborately but never miss to doing it, I just kept the coconut on top of the kalsam and amman face. Arrange the flowers and did simple decoration.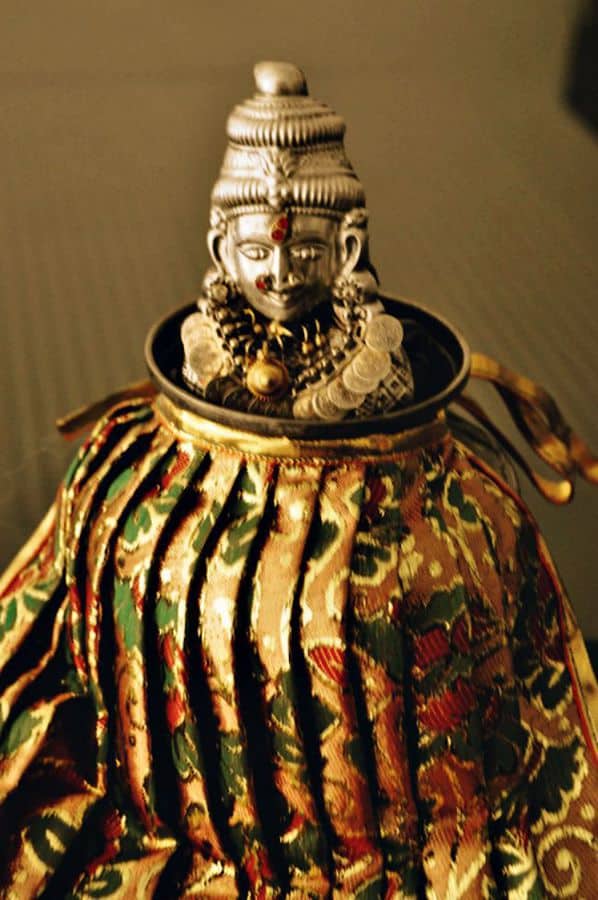 Even if you don't have the Amman face still you can perform it by keeping a Amman frame or photo.
Will share soon how to tie the saree for amman, Usually i will start with ganesh pooja by keeping the manjal pullaiyar(turmeric ganesha), kalasapooja,  saradu pooja, Lakshmi ashtothram(in english here ) and then neivedyam.Finally arathi this is how i will do. Some people engage priest to do this pooja or else can purchase the varalakshmi vratham audio cd which is available in market as well.
Here is the list of simple Neivedyam recipes:
Karamani Savoury Sundal
Black Channa Masala Sundal
V

ella

Karamani Sundal

 
Kondakadalai Sundal
            Kosambari
Pasi Paruppu Sweet Sunday
Soya Bean Masala Sundal
   Verkadalai Sundal
Kadala Paruppu Sundal
No onion and no garlic pandigai menu

Kuzhambu

Sambar,Mor kuzhambu,

Pachadi

Mango Pachadi with neem flower,Mango pachadi,Nellikai Pachadi,

Poriyal

kathamba poriyal,Vazhakkai Podimas,Beans paruppu usili

 

,Broad beans,vendakkai poriyal

Koottu

Raw tomato Koottu,Pasalikeerai Koottu,tindora Aviyal,Aviyal

Rasam

Veppam Poo Rasam,poricha sathamudhu,tomato rasam,

Payasam

 sago vermiceilli Payasam,carrot payasam,rice payasam,aval payasam,paruppu payasam,rava payasam

Vadai

Methu (ulundu) Vadai,Paruppu Vadai

Pickle

Lemon chilly pickle,kadarangai pickle,instant mango pickle,maavadu pickle,Aavakkai Pickle,lemon pickle

Appalam

vadam , moor milagai,

Curd

Curd
Simple Kozhukattai Recipes;
Urad dal Kozhukattai, Sesame Kozhukattai, Suzhaiyan, Mothagam
Hope you all liked these collections. If you try any recipes from this collection, please do share your feedback and a picture (you prepared). You can send it via email or in my Facebook page. In case, if you have any queries please feel free to mail me. I will try to answer you as early as possible. 
My e-mail id is cpremas79@gmail.com