Medhu Vadai Recipe using Homemade Instant Urad dal Powder beginner Guide with Tips Tricks
Crispy Medhu Vadai using Homemade Instant Vada Mix Powder(with secret Tips). Crisp and golden on the outside, soft and delicious on the inside delicious, traditional breakfast quickly in less than 30 mins. No need to soak Urad dal for hours and no special Grinding techniques to make simple vada. All you have to do is just roast and powder the urad dal, Mix in water, and then Deep fry. Crispy and tasty vada ready!
As Diwali is around the corner, if you make this Instant Vada Mix Handy, you can make vada in the early morning in no time! If you are a beginner, not able to shape vada perfectly or vada batter not turning fully on the mixie method or grinder method or it sucks too much oil. This Vada mix recipe is perfect for you, anyone can make vada using this vada mix. Let's Quickly Check the Recipe.
Instant Vada Mix?
Instant Vada mix is nothing but the instant urad dal powder mixed with baking soda and salt. You just need to mix it with water and deep fry it. Hope you heard about MTR INSTANT VADA MIX similar one but we have made them at home in a hygienic way!
If you are looking for an Authentic Vada recipe click here Sweet Vada Recipe, Hotel Style Medhu Vada
Instant Medhu Vada Mix Recipe video:
step by step Instant Medhu Vadai Mix recipe:
Take 3 cups of white Whole Urad dal and wash well(no need to soak, just wash only). Once washed, drain the water completely and then spread it on a clean cloth and let it dry for a few mins. No need to dry completely little moist is also ok.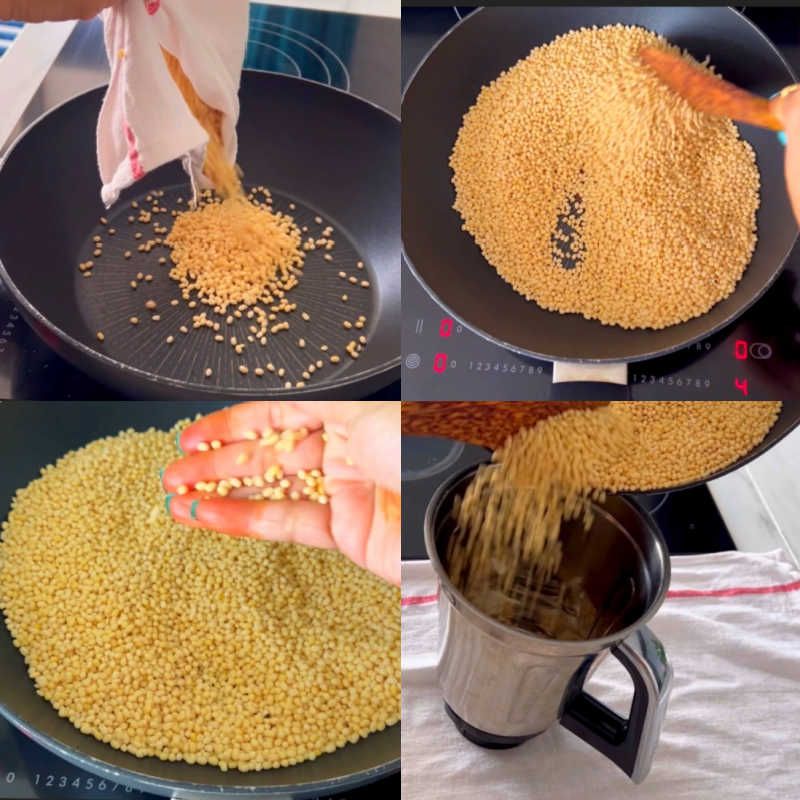 Once dried, roast it on Low flame.
Don't roast it golden just for 5 to 6 mins on low flame, once you get a nice aroma from the dal switch it off. Cool down Completely. Transfer the Roasted Urad dal to a Mixie jar, Powder it to a fine powder.
Sieve the powder, while sieving adds a pinch of soda, add 1 tsp salt, and transfer to an air-tight container. Let's make Vada using the Vada mix! Take ½ cup of vadai mix powder, add ¼ cup of water mix well(batter will become fluffy).
Add onion, coriander leaves, pepper, and chili, and mix everything well. Heat the oil in Medium flame, shape the vadai and Fry it. That's it crispy vadai ready!
Tips and Secrets
This vadai mix stays good for more than 3 months at room temperature.
Don't brown the dal while roasting it should be white only. Once u get the nice aroma switch off and powder it.
Mix the batter well after adding the water so that the air will form and you will get crispy donut-shaped vada!
More Interesting Murukku Recipes Like Butter Murukku, Jeera Murukku, Kai Murukku, Achu murukku
Check More Diwali Recipes 9+ easy ladoo recipe, Diwali Savory Snacks recipes, 5+ murukku recipes
If you have any Doubts about Diwali Recipes or If you want any specific recipes you can email me at cpremas79@gmail.com. Do Follow me on Instagram for more Recent updates and every cooking recipe video
Do share your thoughts with me, Also tag our page on Instagram @premasculinary with hashtag it on #premasculinary
Thanks & Have a Good Day! 😉Enjoy Diwali!