Sesame Kozhukattai Recipe | Ellu Kozhukattai Recipe | Sweet Puranam Kozhukattai
Ingredients:
For Filling:
2 tbsp white or black Sesame
1/2 cup grated Jaggery
1/3 tsp cardamom powder
1/4 cup grated coconut
For Outer Cover:
1 cup Rice Flour
2 cups Water
2 tsp Oil
1/3 tsp Salt
Method:

Dry roast the sesame for few minutes in low flame for few minutes.Take care that it should not burn.Switch off the stove and cool for sometime.

Grind it in Mixie into fine powder.

You can make this step by 2 ways one by make sugar syrup using the grated jaggery separately and then add the sesame powder.other way you can add the grated jaggery and 2 tbsp of water in the kadai.Once its started melting,add the sesame powder and then mix well,till the jaggery melts.

Once it becomes thick add the grated coconut and mix well.

Mix well the mixture and cool it for sometime.

Boil the water in a pan with sesame oil and salt.

Switch of the stove and then add the prepared rice flour and mix well using the laddle for few minutes.

Once the dough mixed well,leave it for 2 minutes and again knead it using your hand ,till it becomes soft.

Cover it with a wet cloth otherwise it will get dry soon.
Make the outer dough into small ball and then flatten it in a greased sheet.Take that and keep it in a mould.Drop a spoon of filling in the middle of the dough and close it.

If you don't have mould just close it and then press the corners.

Steam the kozhukatai using idly steamer or any steamer.Serve the hot khozhukatai.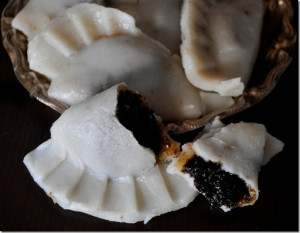 Do try this healthy version of kozhukattai and enjoy!!!
Have Nice Day!!!