Varalakshmi Vratam | Nombu Procedures step by step and Recipes | Varalakshmi Pooja recipes
The Varalakshmi Vratam/pooja is an important ritual performed during the vratam.
I am doing this pooja for the past 8 years.
Here are the some of the tips and procedure that i want to share with you ladies…I hope it will be useful for beginners who wants start the pooja.
Thursday(one day Before the Pooja) itself, i have cleaned the house and kept the god facing the entrance.I put the maakolam and make ready everything for the next day of pooja.
Next day,I kept kalasam,inside that i put 1$ coin,turmeric,bettle Leaves,lemon,water etc and applied turmeric on top of coconut,kept on top of the kalasam.In a plate i spread the rice and kept the kalasam with coconut on the top.If you get the banana leaf you can keep the kalasam on top.I didn't get the mango leaves so i kept bettle leaves for kalasam.I fixed the amman face on the kalasam and decorated with flower,jewels,cotton maalai,new dress etc…
I kept the turmeric vinayagar.First I did pooja for vinayagar and then for lakshmi.
Same day evening i called some sumangali to my home and gave thambulam for them.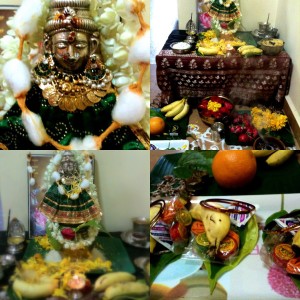 Step :5

And the next day,i changed the flowers and did the arathi and completed the pooja…

Happy Varalakshmi Vratam !!!