Mothagam for Vinayagar Chathurthi with step by step pictures | Sweet Purana Kozhukattai Recipe
Wishing you all Happy Vinayagar Chathurthi before i start.Here i updated the step by step pictures for kozhukattai.Please do check out other kozhukattai recipes like Sweet sesame kozhukattai,Savoury amini kozhukattai ,Savoury Urad Dal Kozhukattai.   Here with Mothagam Making video is uploaded upon readers request.
Ingredients:
For Poranam:
1 cup Chana dhal
1/2 cup grated Coconut
1/4 cup grated Jaggery
1/4 tsp Cardamom Powder
For outer Cover:

How to Make Outer Cover For Kozhukattai:

Boil the water in a pan with sesame oil and salt.

Switch off the stove and then add the prepared rice flour and mix well using the ladle for few minutes.(you can try with Idiyappam Flour also)

Once the dough mixed well,leave it for 2 minutes and again knead it using your hand ,till it becomes soft.

Cover it with a wet cloth otherwise, it will get dry soon.Meanwhile, prepare the filling(puranam)
How to Make Puranam:

Soak the channa dal for 15 mins in water and then pressure cook well till it become soft.Add very little water for cooking.

Drain the water and then grind it in a mixie along with cardamom powder,keep aside.

Dry roast the coconut and then add it to the ground channa dal,mix well.

Mix well and cook till the puranam becomes thick.Let it cool for some time.

Method of Preparation of Mothagam:
Now take the outer layer dough and make it into lemon sized balls.

Take a zip lock cover and grease it with oil and then keep the ball over it.Flatten it using your finger. Keep the pooranam in the middle of the flour.

If u have the mould just keep the flour inside the mould and close it as shown in the picture.

You will get the nice shape of the Mothagam.

Steam the Mothagam in a steamer/idly cooker.Once it steam well, take it out  and serve for vinayagar. Here is the mothagam is ready for nevediyum.
Another way you can drop the dough inside the mold and press the dough on the sides. Then drop little puranam inside and close the whole with dough you will get the perfect shaped Mothagam. Both Method are very easy.
This video will help you make mothagam very easily,
Mothagam Recipe video using the Mothagam Mold,
Here I used the Mothagam mold,if u don't have the mold simply flatten the ball and then close.Gently press the corners and steam it.
Do try this and enjoy!!!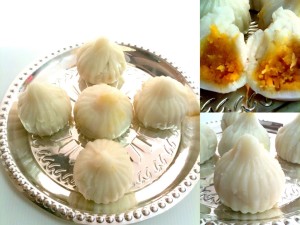 Happy Vinayagar Chathurthi to all
.