Dishwasher Beginner Guide. How to load and unload Indian utensils in the dishwasher?
How to use the Dishwasher? How to load and unload Indian Utensils in Dishwasher. A complete guide for dishwashers. If you have an Idea of buying the Dishwasher or already have one, not able to use it properly this post will guide you to use it wisely and effectively. I already shared some information about my kitchen gadgets such as Instant Pot, Air Fryer, Fridge, and Electric Hob. Some hacks How to Clean the Accessories and everything in Detail. Similarly, this post will help beginners to get an idea about dishwashers. Let me share the Information about my Dishwasher.
My dishwasher is AEG in build and Fully Integrated, with 5 Programs and 3 temperature settings. The advantages of this AEG, are less noise, AQUA Control(less usage of water), and less power consumption too. The Baskets are deep enough to hold big vessels and also very strong. For almost 5 yrs I am using this Dishwasher till it's working fine.
How to load the Indian Utensils in Dishwasher?
Remove the excess food or food waste before placing them in the dishwasher.
soak pots(idli batter vessel) and pans(milk pans) in water before placing them in the dishwasher.
Usually, I don't rinse before loading. If it is too dry or burnt I will rinse it and then place it.
Place hollow objects (such as cups, glasses, and pots) with their openings facing downwards. Make sure the glasses do not touch each other.
Finally, before closing the check, the spray arms can move freely before starting a washing cycle.
Unloading:
Before Unloading make sure we switch off the Dishwasher
Open it after 15 mins or once cool down.
Don't touch the vessels immediately let the vessels cool down and then unload them.
Empty the lower basket, then empty the upper basket.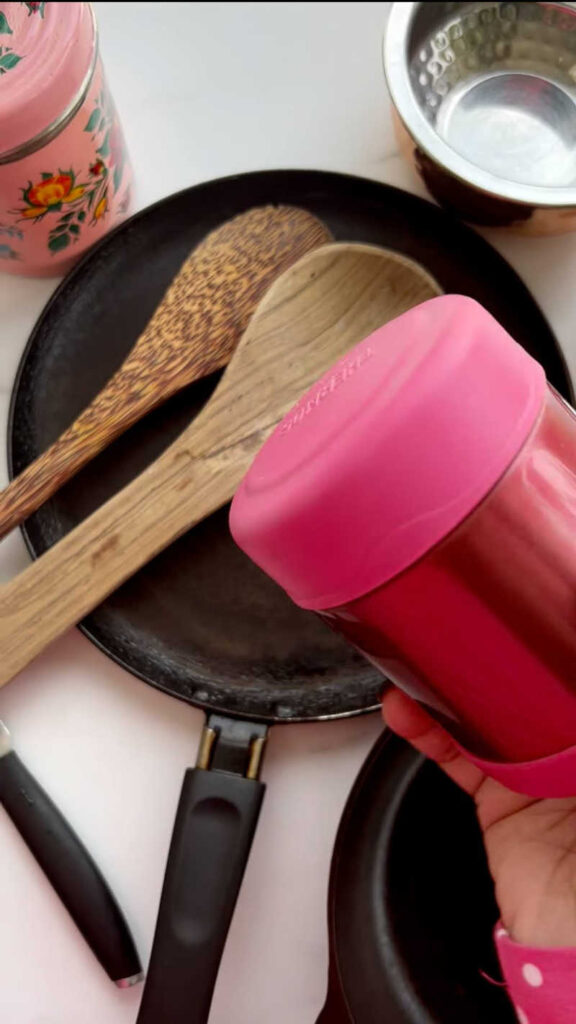 Things that are dishwashers safe?
Stainless steel(idli plates, Pressure Cooker), Ceramic dishwares
Hard plastic(lunch boxes)
Drinking glasses and sturdy wine glasses
Glass and stoneware baking dishes
Silicone and metal utensils
Things that are not Dishwasher Safe?
Insulated items like flasks,
hot boxes,
Copper(color will get changed),
non-stick pans,
wooden spoons, 
cast iron pans,
knife or shape items,
Hand-painted objects.
How to Clean Dishwasher?
Place a dishwasher-safe bowl with a cup of vinegar in the bottom of the empty dishwasher. Set the dishwasher to run on a hot water cycle and set it for 30 mins. The dishwasher becomes clean and Shiny.
Do's and Don't :
Choose the Right Type and Amount of Detergent, I use Fairy Capsules for my Dishwasher Cleaning. Don't add more than 1 capsule(tablet).
Keep the correct setting and Temp, I use to set it for 1 hour and about 130-140°F
Don't overcrowd the dishwasher, if u stack too many items at a time. It will not clean properly.
Do Check How to Season Ammikal, How to Season Paniyaram Pan, How to Clean Stainless Steel Cookware, How to Clean Oil Dispensers
Hope this post will help you use your Dishwasher wisely at Home. If you have any Doubts about cleaning or If you want any specific queries you can email me at cpremas79@gmail.com. Do Follow me on Instagram for more Recent updates and every cooking recipe video
Do share your thoughts with me, Also tag our page on Instagram @premasculinary with hashtag it on #premasculinary
Thanks & Have a Good Day! 😉Enjoy Cooking and Cleaning!