How to Sprout Mung Beans at home – Sprouts without special equipment
How to Sprout Mung beans faster and Easier at Home in 3 to 4 days without any Special types of Equipment. Sprouting Mung beans at home is very economical and hygienic too. Most of the store-bought sprouts are chemically treated and high risk of food poisoning. Why do not make them at home and consume them in a fresh way? very useful post for those who want to reduce weight or healthy lifestyle, include sprouts in your meal in a healthy way. Read the post you will come to know the value of mung bean sprouts.
More Homemade items like Garam Masala, Homemade Tamarind Paste, Homemade 65 masala powder , Homemade Ghee, ginger garlic paste
What are Mung Beans Sprouts?
The Mung Beans Sprouts commonly known as Beans Sprouts grow from the soaked Green Moong Dal. Beans Sprouts are also called Mulai Kattiya Pachai Payaru in Tamil. They're rich in many nutrients. They're also said to improve your digestion and blood sugar levels, Weight loss and possibly even fend off heart disease. Sprouts can be eaten raw or cooked. They are also easy to add to a wide variety of meals and snacks. They have an extremely low-calorie count, with 1 cup (104 grams) offering (31Trusted Source)
How to Store Sprouts and Who should avoid Taking Sprouts:
Sprouts should always store refrigerated in a glass container by placing a paper towel at the bottom. They stay fresh for a week, and always use fresh sprouts. Avoid purchasing or eating sprouts with a strong smell, brown color, or slimy appearance.
Taking raw sprouts on an empty stomach in the morning is dangerous. Instead, we can take it in the form of Dosa like Pesarattu or moong dal kichadi for Breakfast or Dinner. Eating Raw sprouts in the salad form at night causes Gas or bloating or indigestion So pls don't take stress about eating sprouts at night!! Eat them happily, in a relaxed manner at the noon around 12 pm to 5 pm like snacks or raw in sandwiches, soups, sundal, patties, etc.
Avoid taking sprouts if you have a weaker immune system is recommended to thoroughly cook sprouts or avoid them completely.
More Healthy Salad Recipes like fattoush salad, Tabbouleh salad, Kosumalli salad, Couscous Salad, etc.
How to Sprout Mung Beans at Home step by step procedure: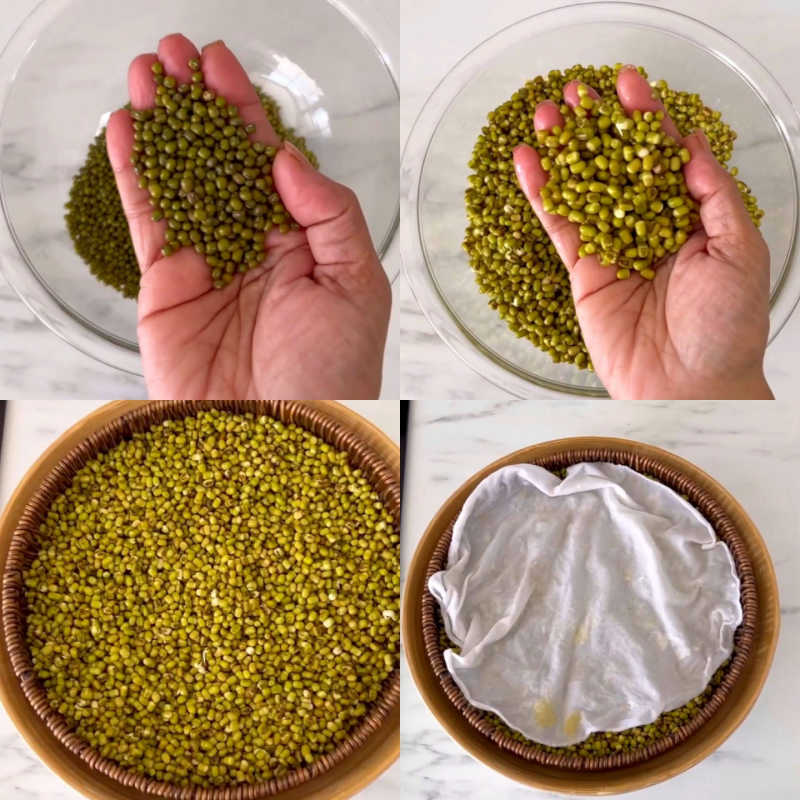 Wash & Soak the green gram dal for 8 to 12 hours and then drain the water, and spread it in a colander or stainer. Cover it with a wet cloth and keep it in a dark place without disturbing it for 8 hours or overnight. 
The next day it starts to germinate and we will get beans sprouts. If you want 1 inch long rinse them and again cover and keep for another 8 hours. That's it within 3 to 4 days you will get 2-inch-long bean sprouts.
Do check here for more Mung Bean recipes like Sprouted beans Chaat, Thai Mung Beans Sprout Salad Recipe, Pesarattu, Moong dal Oats Kichadi, Moong Dal Chilla, Moong dal Sundal, etc.
Do stay tuned to Prema's Culinary for more interesting weight loss or Low-Calorie recipes if you have any doubts about this recipe or If you want any specific recipes you can email me at cpremas79@gmail.com.
Do Follow me on Instagram for more Recent updates and every cooking recipe video share your thoughts with me, Also tag our page on Instagram @premasculinary with hashtag it on #premasculinary
Thanks & Have a Good Day! 😉Enjoy Cooking and Mindful Eating!