Gobi 65 Recipe, How to make Crispy Cauliflower Fry using Homemade Gobi 65 Masala Powder( Indian Street style)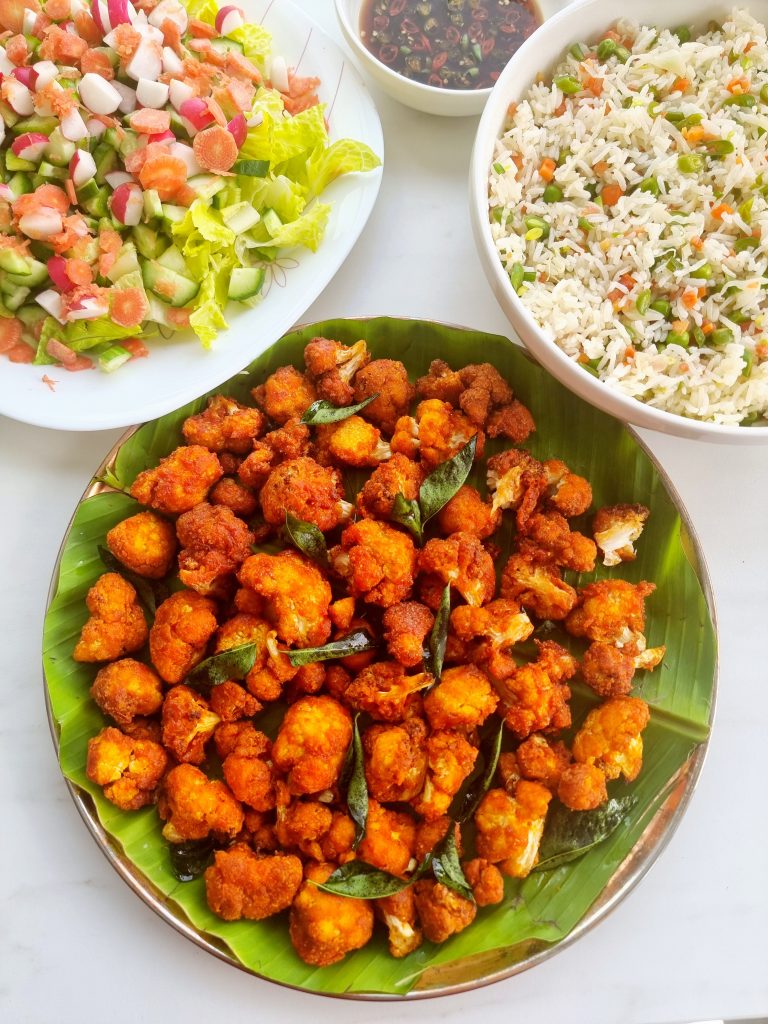 Crispy Cauliflower Fry Recipe in Airfyer and deep fry method – Gobi 65 street Style – How to make Gobi 65 Masala Powder at home, Learn to make Gobi 65 from the scratch. Indian Street Food or in Restaurants Gobi 65 is an important menu without this the Indian menu is not Complete. Most of the Party menu Gobi 65 will be there as a starter. Gobi 65 is one Universal starter or Sidedish that can be accompanied with all types of variety rice and Pulao. I prepared a wonderful 65 masala Powder and made Gobi 65 at home! I have shared Both Methods How to make Cripsy Gobi 65 in Airfyer and deep fry method and Homemade Gobi 65 Masala Powder.
Homemade 65 Masala Powder, one flexible 65 masala powder you can use for all kinds of veg and non-veg 65 items. Homemade masala powders are chemical-free, preservative-free, no soda, and color-free, unnecessarily buying it from shops. Just make a small batch of 65 masala powder and store it handy. It would be helpful for your busy mornings.
65 masala powder is very helpful if you are packing some 65 for school or office lunch boxes. Just mix it with paneer or mushroom or gobi. within 15 mins you can prepare crispy 65 at home. I have shared the Gobi 65 recipe both air fryer and Deep-fried versions using this Homemade 65 masala powder. Just give it a try and make all types 65 like a pro.
More Homemade 65 recipes like Mushroom 65 in an Air fryer, Paneer 65 recipe, Paneer 65 Fried rice recipe, Gobi 65 rice recipe,
VIDEO RECIPE OF GOBI 65 AND HOMEMADE 65 MASALA POWDER
HOW TO MAKE 65 MASALA POWDER AT HOME: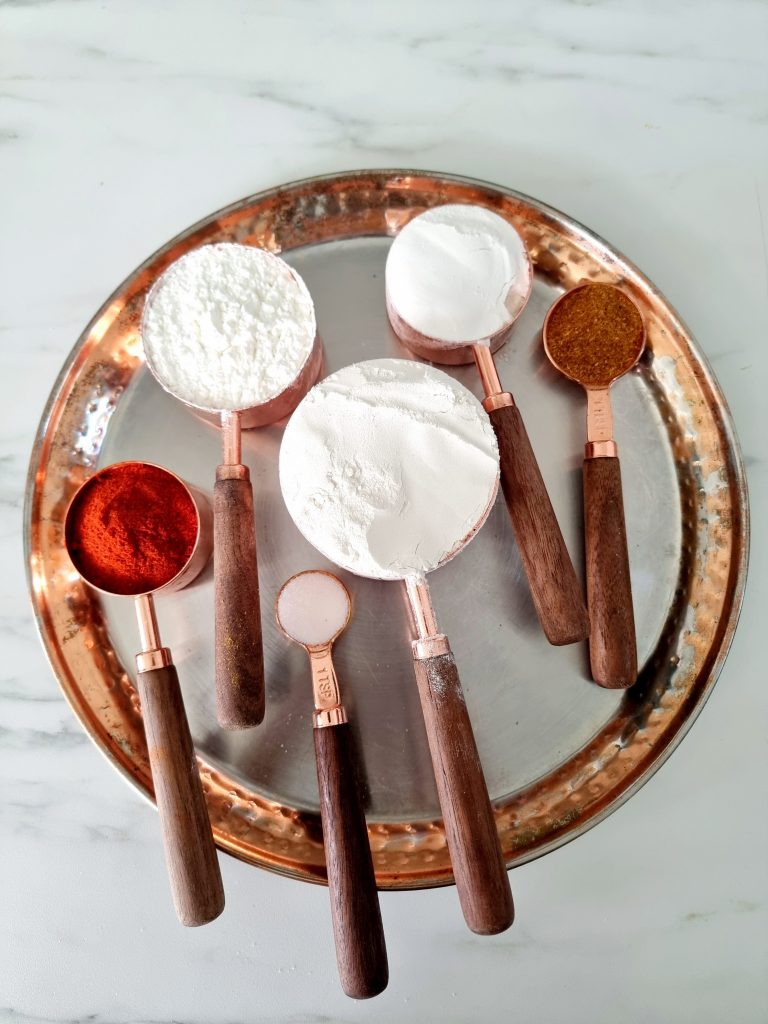 Homemade 65 Masala Powder INGREDIENTS,
1 cup All Purpose Flour(Maida)
½ cups of Corn Flour(corn starch)
1/3 cups of Rice Flour
1/4 cups of Kashmiri Chilli Powder
1 tbsp garam masala
2 tsp Salt
Add all above mentioned ingredients into a mixer jar and blend it nicely. Transfer it to a container and store it. Homemade 65 masala Powder is ready!
HOW TO USE HOMEMADE 65 MASALA POWDER IN 65S,
Use this 65 masala powder 2 to 3 tbsp for 250g Gobi, 2 tbsp for 150g paneer, 2 tbsp for 150g mushrooms.
Tips:
I used kashmiri chili powder for colour, you can use normal chili powder but reduce the quantity.
You can store it at room temperature for 6 months.
STEP BY STEP GOBI 65/CAULIFLOWER 65 RECIPE,
Take 250g Cauliflower, Cut them into small florets.
Boil 2 cups of water in a pan, add ¼ tsp turmeric powder + 1 tsp salt, let it boil well. Once the water starts to bubble. Switch off the stove and then add the cauliflower florets.
Let it sit for just 2 mins and then drain the water. Don't allow it to stay in Boiling water for more than 2 mins. This step is to clean the cauliflower in case they have any pest.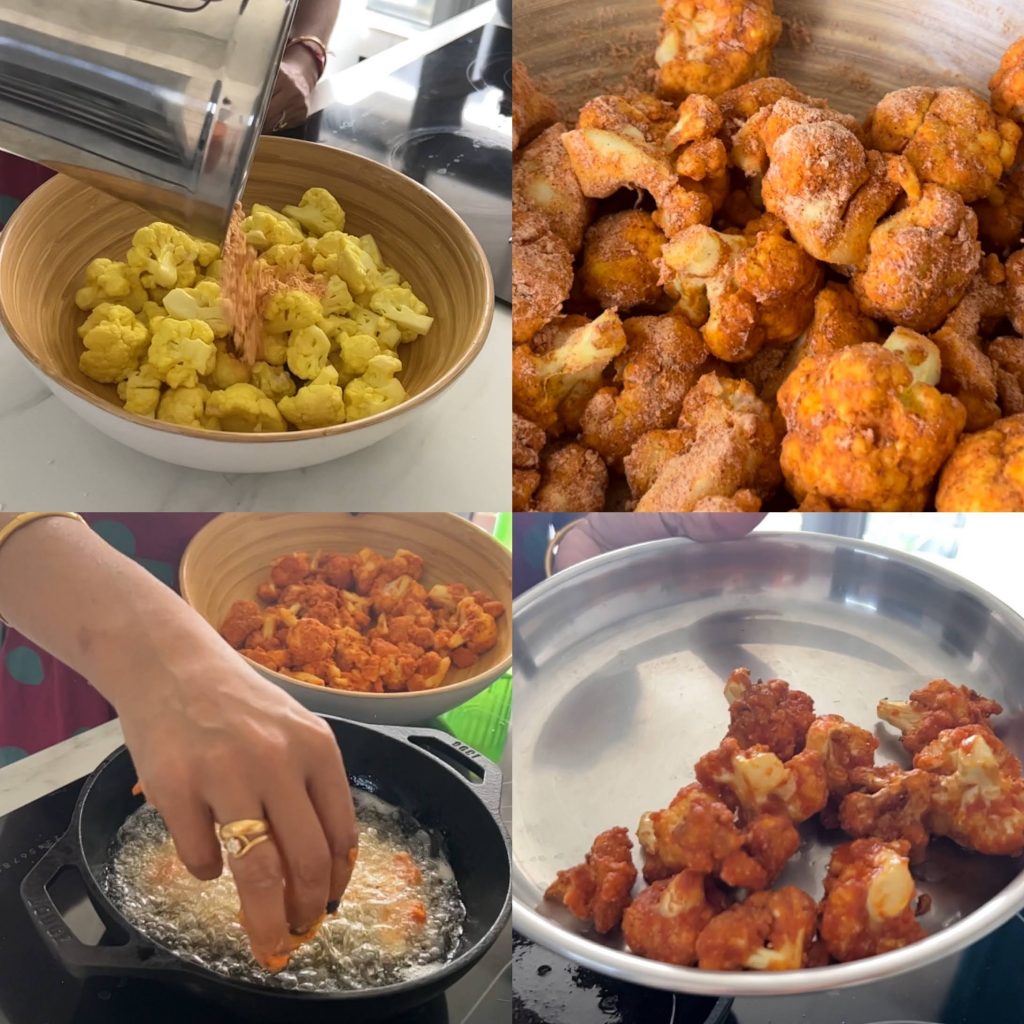 Now add this florets to a wide bowl, add 3 tbsp gobi 65 masala powder, mix well without water. Don't add water or salt. The masala powder has salt and also we have added salt while boiling the cauliflower. So no salt needed.
Dont add water to the masala powder coat nicely in a few mins.
Meanwhile Heat the oil in a pan for Deep frying. Keep in medium Flame.
Now check the Cauliflower, if it is too dry sprinkle 1 or 2 tbsp water, mix it well and then fry it.
Once the oil becomes hot, slowly add a little batch of florets fry it.
Once it turns crispy remove it from oil.
That's Crispy Cauliflower 65 is ready to serve!
Look at the gargeous Cauliflower 65, how much crispy it is. You can send this to kids snacks or lunch box too.
How to make Gobi 65/ Cauliflower 65 in Air Fryer:
Gobi 65 for Weight watchers 🤣 yeah i know we need to stay away from deep frying me something we need to compramise. Here is the Gobi 65 in Air fryer, follow above step and make coat the gobi with masala and keep ready.
Pre heat the air fryer for 5 mins and then spread the gobi in the air fryer basket. Airfry for 15 mins at 180 degree. In 7 mins open the basket just shake and keep back again air fry it. In 15 mins Crispy Air fried Gobi 65 Ready!
Serving Suggetions: How to Serve Gobi 65,
Tamil style we fry some curry leaves and top it, for more flavourful cauliflower fry.
North Indian Style, sprinkle some chat masala on top and serve
Street style, Top with finely chopped onions and some lime juice on top.
My style one full plate biryani and top some gobi 65 on top🤦‍♀️🤣❤️ Which style you like??? Comment Below🛎️
More Intresting Gobi(cauliflower Recipes), Cauliflower Pepper Fry, Cauliflower Soup, Gobi Pakora, Cauliflower Masala Dosa, Gobi Paratha, Dhaba style Gobi Matar Masala, Tandoori Gobi, Gobi Manchurian.
Do try this Gobi 65/cauliflower 65 recipe and Enjoy!!!
Have a Good Day!!