Thai Beans Sprout Salad Recipe, Crunchy Bean sprouts salads, Thai Recipes
Mung Beans Sprout Salad is very famous in Thai cuisine. Germinated thin stalks of Mung Bean sprouts are tossed in soy sauce, sesame oil & roasted Peanuts very flavourful and healthy salad. This Crunchy no cook Thai bean sprouts salad is ready in under 5 mins, too good for your dinner ideas. Little Meal Prep needs to grow your own sprouts or fresh sprouts are readily available in markets.  This salad stays a long like up to 3 days in the fridge stored in a glass jar.
If you are a fan of Asian Cusine Check out more Thai Recipes like Thai Raw Mango Salad, Curry Laksa, Mango Sticky Rice, Tom Kha Soup
What are Thai Beans Sprout Salad?
Mung bean sprouts are bean seeds that have been watered and germinated to produce thin stalks. Further, the thin stalks are removed and cleaned to make Salad. Thai Beans Sprout salad is not like our Indian Mung beans Salad. This is a soy sauce and sesame oil-based salad with a nutty flavor. This Mung Beans salad is something similar to bean sprout Namul(Korean salad) but the only difference is that Korean has green chili, spring greens & sesame seeds, and Thai Salad has Thai red chili, Peanuts. Very a Uniques and interesting salad. People Have this salad with Steamed Thai Rice(jasmine rice).
EASY THAI BEAN SPROUT SALAD STEP-BY-STEP RECIPE: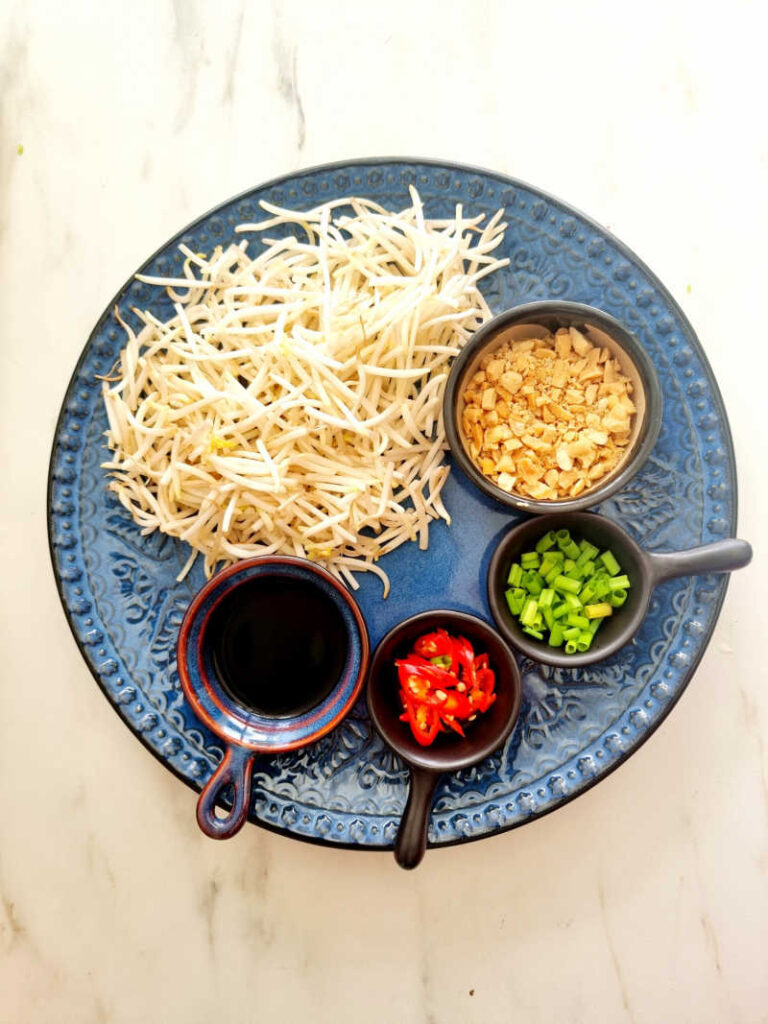 All you need is 100g Sprouts, 1 tsp Sesame oil, 2 tbsp thick soya sauce, 2 Thai red chilies, spring greens, and 2 tbsp chopped roasted peanuts. Let's make the salad.
Rinse the bean sprouts under cold water and clean them. Strain as much water as you can. Add it to a large bowl, add dark soy sauce and other ingredients and mix well. That's it Bean Sprout salad is Ready!
Keep in the Fridge, Serve cold and enjoy!
Pro Tips:
I skipped adding sesame oil since it is added calorie. without sesame oil is just 75g, so it's up to you to add or skip. But taste wise no difference.
If you are new to bean sprouts or don't like to take them raw you can blanch them in hot for 3 to 4 mins and then make the salad. Blanching helps to soften the bean sprouts and allows them to soak in that delicious sauce, tasty too.
I used Roasted Peanuts, so before adding the peanuts make sure that it is roasted.
Instead of Peanuts, you can add roasted sesame seeds too.
More Healthy Salad Recipes like fattoush salad, Tabbouleh salad, kosumalli salad, Couscous Salad, etc.
Do stay tuned to Prema's Culinary for more interesting weight loss or Low Calorie recipes if you have any doubts about this recipe or If you want any specific recipes you can email me at cpremas79@gmail.com.
Do Follow me on Instagram for more Recent updates and every cooking recipe video share your thoughts with me, Also tag our page on Instagram @premasculinary with hashtag it on #premasculinary
Thanks & Have a Good Day! 😉Enjoy Cooking and Mindful Eating!