Indian Style Beans Sprout Chaat, Sprouted Mung Beans Salad, Low-Calorie Recipes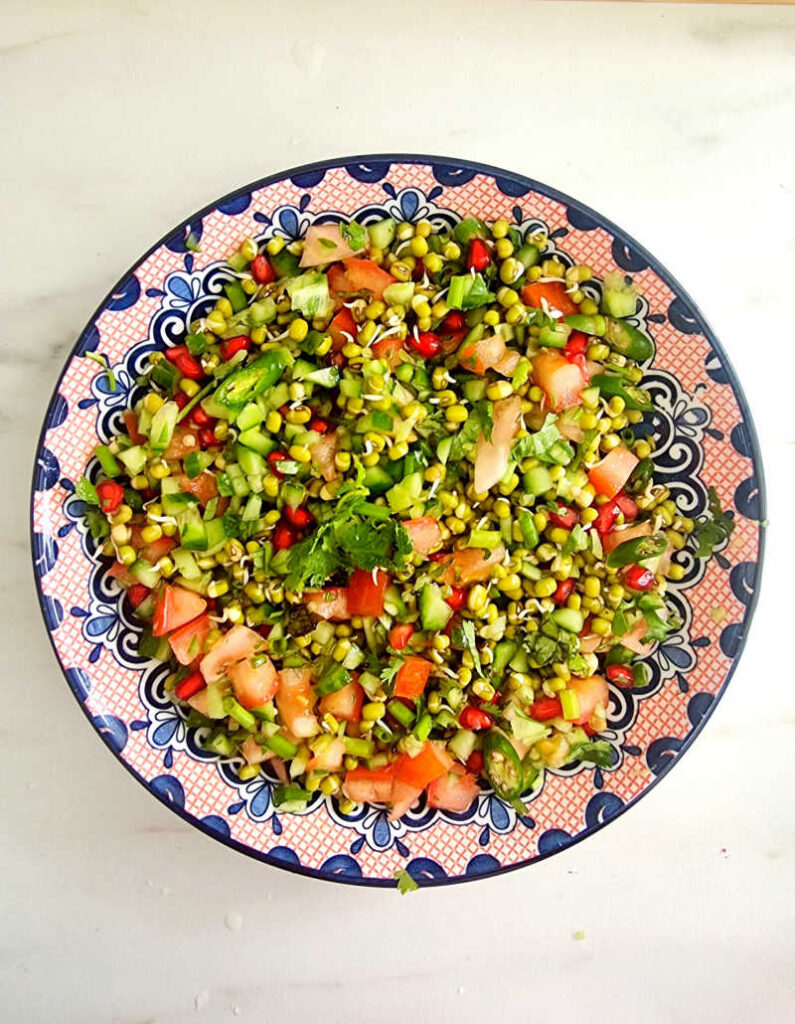 Healthy & Easy Sprouted Mung Beans Salad recipe, Sprouted Mung Beans aka Germinated Green Gram dal Chaat is a nutrition-packed Salad made with Sprouts, crunchy onions, tomatoes, Pomegranates, and spices. This refreshing salad has fresh and tangy flavors and can be enjoyed as a great protein-rich breakfast or snack. Vegan & gluten-free. It takes just 10 minutes to prepare this delicious salad with pre-sprouted mung beans. This salad is perfect to make for your low-calorie breakfast or lunch options. More Healthy Salad Recipes like fattoush salad, Tabbouleh salad, Kosumalli salad, Couscous Salad, etc.
How to make Beans Sprouts at Home is a long-time pending post in my draft and finally, I found a day to publish it. Do Check the post and make your own Beans Sprouts at home because it is economical and hygienic too. I have shared a simple method to make the beans sprout without using any special techniques. Once you make the Beans Sprouts Continue with making the Salad recipe.
Homemade Beans Sprouts:
Look how beautifully sprouted mung beans are. It is very healthy and low in calories. We can have it in raw or cooked form too. Do check here for more Mung Bean recipes Thai Mung Beans Sprout Salad Recipe, Pesarattu, Moong dal Oats Kichadi, Moong Dal Chilla, Moong dal Sundal, etc.
What is Sprouted Mung Beans Chaat?
Chaat is basically a savory snack, served as snacks from stalls or food carts in India. Chaat is usually crunchy, spicy, and tangy all at the same time. There is usually a base, spices, chutneys, and garnishes added to a chaat. Sprouted Beans Chaat is a healthy and low-calorie chaat without Potatoes.
Sprouted Mung Beans Salad Ingredients:
Sprouted Green gram: also known as Pachai Payaru in Tamil & Moong in Hindi. You can get it in-store or you can make it easily at home. If using the store-bought wash and rinse it first.
Pomegranate: I used peeled, pitted pom in this recipe. You can use any fruits of your choice like Apples, Orange, Avocado, etc. make sure you chop them finely.
Tomatoes: Use firm, ripe tomatoes. Roma or cherry tomatoes either can be used.
Onion: I didn't use onion it's optional you can use or skip it. If you are using onions try to use red onions because they work best in the salad.
Cucumber: Try to use firm crunchy cucumbers.
Green Chilies: It's optional you can skip too
Herbs: Cilantro and mint taste best for Indian-style salads
Lime juice: I used the juice of half of a lime. Feel free to increase or decrease according to your preference.
Seasoning: Seasoning completely depends upon our wish. I have added Roasted Cumin Powder, Pink Himalayan Salt, Pepper powder, and Chaat masala is the star ingredient that gives the tangy, zingy flavor. If you don't have chaat masala, you can skip it.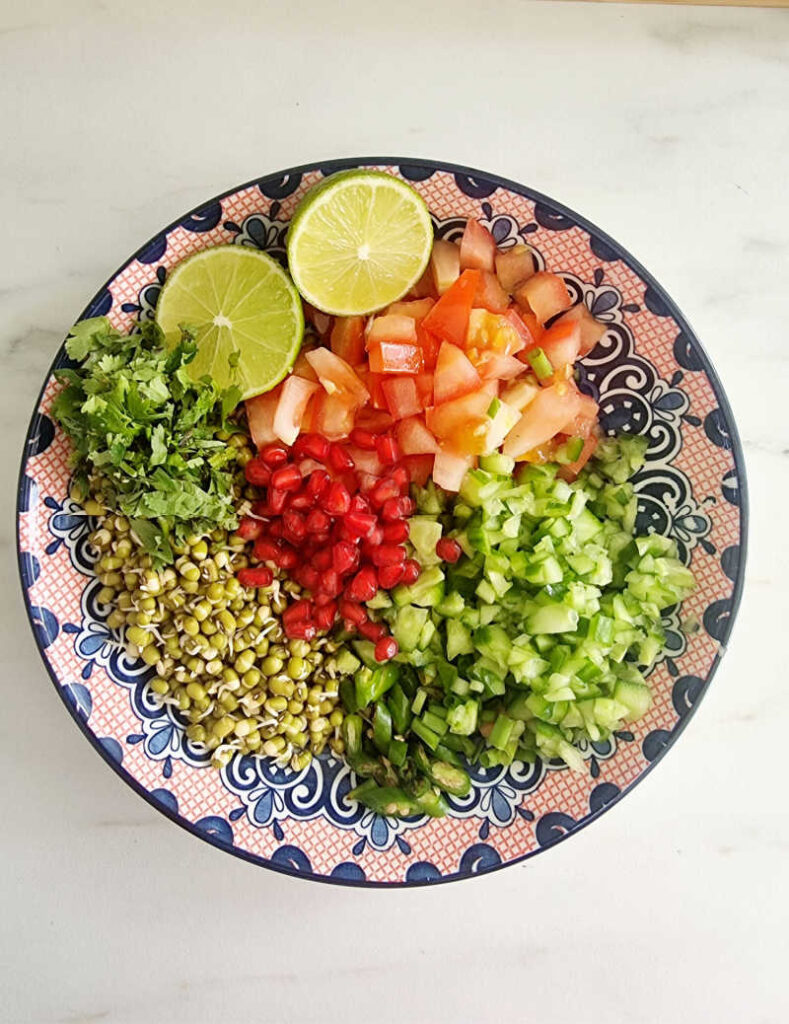 How to make Sprouted Beans Chaat or Salad:
Gather all the mentioned ingredients in a bowl, add lime juice, salt pepper powder, and chaat masala, Amchur powder(if needed).
You can skip green chilies, add whatever fruits you like and mix them well.
If you are going to serve it later, add lime juice and salt while serving. Some people add potatoes you can add them also.
You can also add some green chutney, and tamarind chutney, and top with thin sev to make a perfect chaat. But I skipped I don't want to add more calories.
Keep in the fridge and serve cold. That's it sprouted moong dal salad is ready to serve.!
Storing Suggestions:
You can make it ahead of time by keeping everything ready in the refrigerator and mixing the ingredients just before serving otherwise the vegetables will be soggy.
This salad can be stored in a glass container for 1 or 2 days. Hope you like this recipe.
Do stay tuned to Prema's Culinary for more interesting weight loss or Low-Calorie recipes if you have any doubts about this recipe or If you want any specific recipes you can email me at cpremas79@gmail.com.
Do Follow me on Instagram for more Recent updates and every cooking recipe video share your thoughts with me, Also tag our page on Instagram @premasculinary with hashtag it on #premasculinary
Thanks & Have a Good Day! 😉Enjoy Cooking and Mindful Eating!