Homemade Ginger Garlic Paste Recipe, How to prevent ginger garlic paste from turning green
Ginger Garlic Paste Recipe, Ratio, Storage Tips, and How to prevent ginger garlic paste from turning green. Also Answered some common questions regarding the Homemade Paste recipe below.
Ginger Garlic Paste short Form GGP Now only I come to know. Last week I got Dm from an Insta Follower, can you share the recipe For GGP? Immediately I Googled what is GGP lot of answers, I couldn't able to come to conclusion. Finally asked her she told me GGP means Ginger Garlic Paste, I was like 🤦‍♀️🤦‍♀️Theivame! Navratri was in full swing, couldn't able to share the Ginger Garlic Paste recipe, Now here you Go GGP Recipe in Detail😉
More Homemade items like Garam Masala, Homemade Tamarind Paste, Homemade 65 masala powder , Homemade Ghee
Before Going to the Recipe let me share How to choose Ginger and Garlic to make Ginger Garlic Paste. There are several varieties of Ginger and Garlic available. I choose India Ginger which is very strong and pungent. Buy Younger fresh ginger root with firm, unwrinkled skin that's thin enough to scrape away with your fingernail. The thick roots have lots of fiber not good for making a paste. Buy good quality ginger roots. Coming to garlic, you can choose Himalayan Garlic(malai Poondu) is also good. But I prefer china garlic because they are big in size easy to peel also it yields a good amount of paste. This is How I Choose Ginger Garlic to make Ginger Garlic Paste.
Ginger Garlic Paste Ratio:
Commonly for Ginger Garlic Paste for all recipes ratio is equal is 1:1 that is 1 part of ginger means equal part of Garlic which is how amma is used. But after a few experiments, I realize for biryani If you use More Garlic and less ginger taste is Extraordinary. That is 2: 1, 2 part garlic and 1 part Ginger for Biryani. Some people use more Ginger and less Garlic. The ratio is completely up to our wish there is no strict rule.
Ginger Garlic Paste Making Video:
will be update soon.
Ginger Garlic Paste Recipe Card: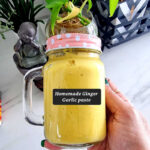 Print
How to make Ginger Garlic Paste at Home
Homemade Ginger Garlic Paste without any artifical Preservatives or Chemicals. This method shows How to grind, store, prevent greening, cooking.
Materials
100

g

Ginger

100

g

Garlic

1/4

tsp

turmeric powder

1/4

cup

water
Instructions
Peel the skin of ginger & garlic. Wash them and add 1/4 cup of water and then ginger & garlic to the mixie jar.

Grind it to a smooth paste along with 1/4 tsp of Turmeric. Ginger Garlic paste ready!
Notes
choose good quality ginger roots
use proper storage and usage method to maintain the self life
always make a small batch for freshness.
Ginger Garlic Paste Recipe, How to make Ginger Garlic Paste at Home: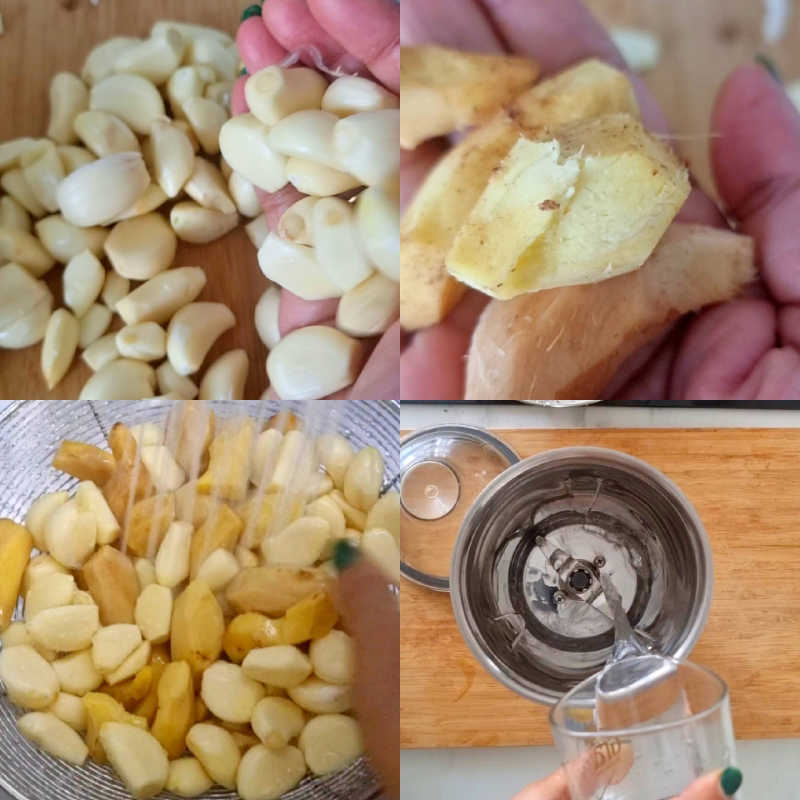 Step:1 Take 100g of Ginger and 100g of Garlic and peel the skin of garlic and ginger. Chop the ginger into smaller pieces (easy to grind). wash it before grinding.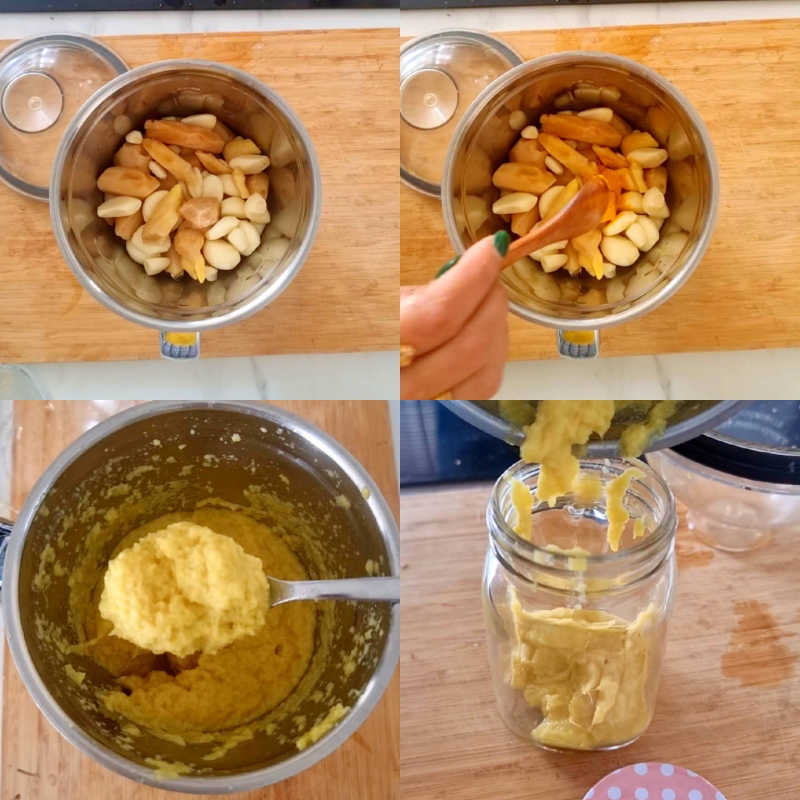 Step:2 Add 1/4 cup of water to the mixie jar(add water first and then add the ginger garlic so that the blade rotates freely) and then add the ginger and garlic. Add 1/4 tsp of Turmeric Powder Grind them to a fine paste. (if you are grinding a large quantity grind it into batches and then mix them well, try to use the appropriate jar for grinding)
Step:3 Now the Ginger Garlic paste is ready to use. While grinding there are chances to develop heat so the paste must be warm or hot so make sure it should come to room temperature before storing.
How to Store Ginger Garlic Paste:
The Ginger Garlic Paste self-life is one month in the fridge. In this method, you will get 180g to 200g of Ginger Garlic paste that will come for a month for me. So I will finish it in a month. If you are making it for 3 to 6 months, grind and split it into batches. Transfer to a Clean airtight container and then store it. Store one batch in the fridge and one batch in the freezer. Once the fridge batch is over and then use the one in the freezer or drop it in an ice tray, like ice cubes stored in the freezer. Take the required quantity whenever required.
How to Prevent Ginger Garlic Paste from turning Green:
Ginger Garlic Paste Turing Blue or Green is a common problem faced by many trying to make this at home. It happens sometimes because of a few reasons.
if you use aged garlic increase the discoloration.
It also might happen simply by storing ginger garlic paste for too long(should not store more than a month in the fridge, you have to store it in the freezer if it is more than a month).
Once you grind the paste don't keep it outside for long, just grind and keep it inside the fridge. Also, take the required quantity using a clean spoon and keep it back immediately in the fridge.
also if you use your hands while making or transferring it to the container the color will get the change to green. Don't use your hand use a spoon to transfer to the jar.
Color changes are simply acidic reactions, if you use vinegar or salt the color may change. I only use turmeric nothing else.
Question and Answer:
Can we grind Ginger and garlic without Peeling them? Yes, Ginger Garlic peel is completely edible but the self-life is very less if you grind them with the peel. Ginger peel soon will get spoil. But if you are going to use the paste on the same day. You can grind them with peel but for storing purposes Big NO.
Can we add Salt, Oil, or Vinegar while Grinding the Ginger Garlic Paste? Yes, you can add Salt Turmeric, Oil, or Vinegar they are natural Preservatives. But according to me adding Turmeric is more than enough to increase self-life. If we are adding Salt we need to be conscious while cooking it may lead to salt. Vinegar spoils the food tastes. oil unnecessary calories. So the choice is yours, you can choose any one Preservative of your choice but not everything.
Shall we add Hot water for Grinding? Add normal room temperature water, no hot water or Cold water. Don't add more water the water quantity that I have mentioned is more than enough this is just to help the mixie blade to rotate freely so that we will get a fine smooth paste.
Shall we Grind and Store for 6 months to 1 year? Yes, there are methods to store Ginger Garlic Paste for up to a year(see the method in storing section) but I always prefer making a small batch and storing it. The freshness and aroma will not be there.
Shall we use the Ginger Garlic Paste if it changes to green color? Color Change is an acidic reaction of what ingredients we use, if we grind it with vinegar or salt the color gets changes. So it is absolutely normal for the ground garlic to turn green or bluish green and is still safe to consume.
How to use Ginger Garlic Paste in cooking:
The ginger and garlic are in raw forms and they need to be cooked well for their flavors to mellow down and complement the other ingredients in your recipe. So make sure that you always saute it with oil, so that the raw smell will go off.
You can find many more recipes using Ginger Garlic Paste just type "ginger garlic paste" in the search bar.
Hope this Post is useful to you!
If you have any Doubts about Ginger Garlic Pasteor If you want any specific recipes you can email me at cpremas79@gmail.com. Do Follow me on Instagram for more Recent updates and every cooking recipe video
If you try any recipes? Do share your thoughts with me, Also tag my page on Instagram @premasculinary with hashtag it on #premasculinary
Thanks & Have a Good Day! Enjoy cooking!!