Pesarattu Recipe | Moong Dal Dosai Recipe | Healthy dosai Recipe with step by step Pictures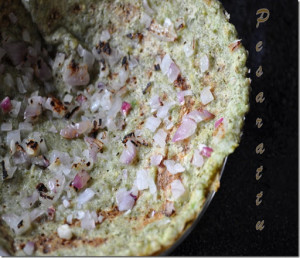 Pesarattu is a healthy dosa using moong dal.This dosa can be easy to make because we no need ferment the batter for long hours.We can make dosa immediately after grainding the batter.Here is the recipe for Pesarattu.
Ingredients:

1 cup green gram dal
2 tbsp raw rice
A pinch jeera
3 green chillies
2 onions chopped finely
2 tbsp grated coconut
ginger a small piece
1/4 cup water
salt to taste
oil (to make dosai)

Method:

Soak rice and dal together or separately for overnight or 1-2 hours.



Grind the soaked rice,dal,jeera,green chillies,grated coconut,ginger to smooth paste by adding water.Add salt into the paste and mix well.



Heat flat pan and spread the dosa batter over it.while Preparing dosa spread some chopped onions on it.sprinkle some oil on it.



Fry both side with enough oil and take out.Repeat this for remaining batter and enjoy.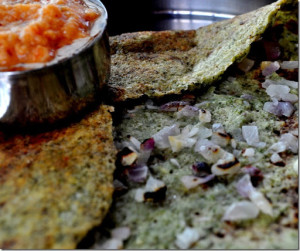 The dosa luks golden brown but the taste is really awesome.Try this dosai and enjoy it with chutney/sambar.
Have a Nice Day!!!