Easy Ganesh Chaturthi Recipes MUST TRY | Vinayaka Chaturthi Video Recipes
Simple and Easy Ganesh Chaturthi Recipes you must try this year 2020! Collection of Best Vinayaga Chaturthi Recipes with Step by Step Video and Photos. This Post will help the readers to plan their Vinayaka Chaturthi neivedyam aka prasadham in advance, if you are a beginner this post will help you make perfect kozhukattai outer dough(kozhukattai maavu), different types of puranam, different types of modakam, effortlessly! All the reader's FAQs are answered at the End of the Post!
Ganesh Chaturthi we call Pillaiyaar/Vinayaga Chathurthi, Hindu festival that celebrates the birth of Lord Ganesha. Vinayagar is the God of Every new beginning or Fresh Start! we pray to him first and then starting is a good sign, brings positive vibes. He is the God of wisdom and prosperity. This year Vinayak Chaturthi will be celebrated on August 31! Wishing a beautiful, colorful, Peaceful, and cheerful Ganesh Chaturthi to everyone!
How we celebrate Vinayagar Chathurthi at home:
The Ganesh Chathurthi celebration starts 2 days before, that is if August 30th is Ganesh Chaturthi means we start doing the preparation on August 29th. we clean the pooja room, and pooja items, and get ready for the celebration. The day before(august 28th) is Gowri Pooja/Parvathi Pooja(mother of Ganesha). We First Do pooja for Gowri a day before Vinayagar Chathurthi. Gowri Pooja Amma does very simple prasadham like steamed raw rice+dal+ghee and a dessert like some payasam! On these 3 days completely no onion no garlic! She makes Gowri Face(Amman's face) in turmeric and prays that is all about Gowri Pooja. The next day Morning again we change the old flowers of the previous day's pooja and put kolam. On the auspicious time, we bring in the clay vinayagar from shop to Home. We do Abishegam with Milk, curd, honey, etc., and then we decorate him nicely with new clothes and malai. We make Kozhukattai Sweet and Savoury, Modakam, Sundal, Vadai, and chant 108 names of vinayagar(click the link to chant). Then we do arati and end the pooja! We keep the Clay Vinayagar at Home for 3 days with 3 days neivedyam and then drop him in the river. Being a NRI it is tough to do with Clay Vinayagar. I have a small Vinayagar idol, I do pooja for that and rest all the procedures I follow!
The Complete Playlist of Vinayagar Chathurthi recipes:
How to make Kozhukattai outer Dough using idiyappam flour: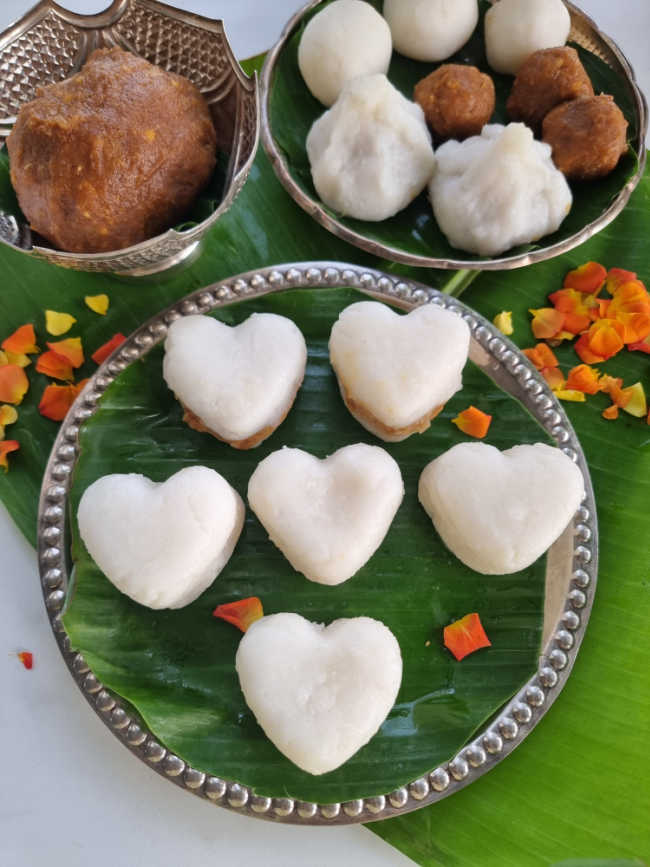 step by step kozhukattai outer dough preparation:
Step: 1 Take 1 cup rice flour dry roast it on low flame, just for 5 to 7 mins once it turns little crips and is able to draw a line using it that is the perfect stage remove it.
Step:2 Boil 2 cups of water, add ½ tsp salt, and 2 drops of sesame oil. The water should be at a rolling boil.
Step:3 add the roasted rice flour little by little mix well and make sure it is lump-free switch off the stove. once it becomes thick rest it for 15 mins. After 15 mins the dough is ready to make Kozhukattai.
How to make Kadala Paruppu Puranam:
This is a Sweet Filling made with chana dal. delicious sweet dumplings made with chana dal + coconut jaggery filling called thengai(coconut) pooranam. Kozhukattai is offered for Pillayar.
Step by step puranam recipe
Step: 1 Soak 1 cup chana dal for 30 mins drain the water add it to a pressure cooker. Add water just to immerse about ½ cup. Pressure cook it for 3 whistles and then switch off. Once cooked mash it well and add 1 cup of jaggery let the jaggery melt.
Step:2 Add ¼ tsp cardamom, and 1 cup coconut mix well and make a thick paste. Finally, add a tsp of ghee. That's it puranam ready!
Step:3 Stuff the puranam inside the kozhukattai and steam it for 15 mins kozhukattai is done!
Kozhukattai Varieties with Healthy Filling,
Ganesh Chathurthi Recipes,
These are the some of the recipe Ideas for Ganesh Chathurthi, Plan your menu and do pooja according to your Family Procedure. Other than Mothagam, Kozhukattai Here is the Collection of Laddo Recipes, Payasam Recipes, Sundal Recipes
If you have any Doubts in Ganesh Chathurthi Recipes or If you want any specific recipes you can email me at cpremas79@gmail.com. Do Follow me on Instagram for more Recent updates and every cooking recipe video
If you any ganesh chaturthi recipes? Do share you thoughts with me, Also tag our page on Instagram @premasculinary with hash tag it on #premasculinary
Thanks & Have a Good Day! Enjoy Vinagayar Charthuthi!!