Boondi raita recipe, Boondhi Thayir Pachadi Biryani side dish recipes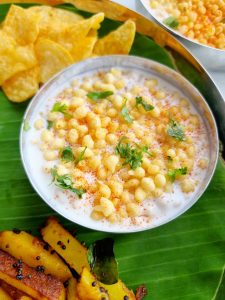 North Indian Style Boondi Raita recipe, delicious sidedish for biryani, pulao. Boondhi raita is Thayir Pachadi made with Crispy Boondhis. If you are looking for North Indian Raita recipes, Paneer Raita is one yummy Raita recipe I posted long back and South Indian Style Okra Thayir Pachadi is made with Vendakkai(bindhi). Raita is one dish that can be made quickly using dahi(curd). We can have Onion Raita, Cucumber raita, Tomato raita, and many more.
Make Crispy Boondhis using this Kara Boondi recipe or you can use the store-bought boondi too. Boondhi Laddoo and Moti Chur Laddoos are made of Boondhi.
Tips and Tricks to make Perfect Raita:
To make Perfect raita, use fresh and thick Dahi(curd). You can check here How to make HOMEMADE CURD, non sour curd is best for making Raita. Make Sure that it is creamy and thick.
Beat the curd well before adding the ingredients
If you are adding watery vegetables like cucumber, pumpkin, onion it will leave the water after adding salt. so it is better to add those vegetables at the serving time.
Once Raita is made it should be refrigerated otherwise it will turn watery. Always serve raita cold.
How to make Boondi Raita Step By step Recipe:
Take 1 cup thick curd beat well, add ½ tsp cumin powder, a pinch of chaat masala, ¼ tsp chili powder, and salt. mix well.
Add boondis mix well(you can soak boondi and then add also), Garnish with coriander leaves and chili powder.
Serve cold.
Soaking Boondi in water and adding to raita give soft Bondi raita and also it will suck excess oil. But I like crispy boondi raita so I didn't soak in water before adding. Its up to you.
Serve Boondi Raita with Biryani or any variety of rice.
Do try this recipe and Enjoy!
Have a Good Day Makkale!!!